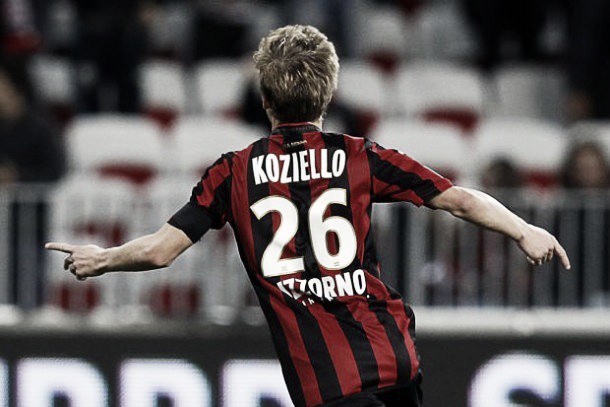 In my seat at the Allianz Riviera, during a barmy Mediterranean evening, my eye was caught by footballing talent. Not by the footwork of Stephane El-Shaawary, AS Monaco's latest big money star who was making his debut, nor even by the grace of ageing Jeremy Toulalan, who sprayed passes around in Andrea Pirlo-esque fashion. Not even by Hatem Ben-Arfa, who after a year hiatus was returning to competitive football and attracting a lot of attention as he did so.
Instead, it was by a five foot six inch tall midfielder playing for the home side, OGC Nice. To a naked eye, his performance was forgettable. No goals or assists in a 3-1 defeat for Les Aiglands. Yet to me his performance was eye opening.
Too often nowadays are central midfielders too lightweight or not dynamic enough to succeed, as they are niched into specific roles such as a ball winning holding role, pioneered by former Marseille man Claude Makelele or the 'Number ten' playmaking role occupied by such players as Christian Eriksen or Mario Gotze. To me he demonstrated not all, but some very key attributes possessed by the different factions of midfield player, which have evolved as a result of an increased awareness of positional tactics, and is able conseqently to play a role as an all-encoumpassing central midfielder, one who can attack and defend in equal measure.
His impact on the game took me aback, and this has been the story of his season. He has been ever present for Nice this term, and at the age of 20 has been talked about widely in the domestic press.
So who is he?
Vincent Koziello is a twenty year old central midfielder, who plays for OGC Nice in Ligue 1. Having played for local club AS Cannes since he was 11 years old, the Frenchman joined OGC Nice's youth set up in 2013. He made his first senior appearance in November 2014, and ever since then manager Claude Puel has maintained great faith in him. A year later he was called up to the French under-21 squad for the first time, and this came as little surprise following the prominent role he had played for Nice in their positive start to the season, which has seen them touted as contenders for European qualification.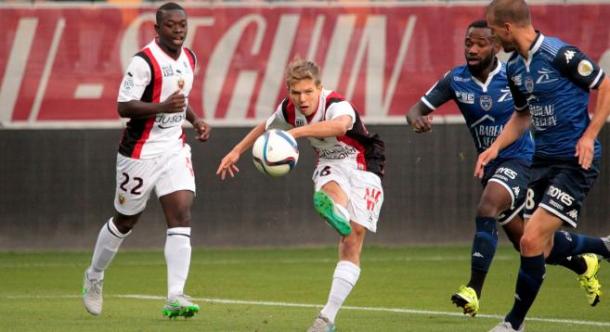 So far this season he has two goals and two assists in Ligue 1, and although this represents a meagre return when using these crude statistics, one needs to delve deeper to understand why Koziello has become so highly rated.
What makes him different?
Fundamentally, the youngster seems different to me in comparison to other central midfielders, as a result of his tireless work rate and energy. This may seem a weird and almost basic thing to highlight, and it would be if there wasn't substance to his style of play also, but Koziello's energy not only allows him to operate in the team but also rubs off on his teammates. Claude Puel has made Nice into top table contenders, despite losing highly rated individuals such as Jordan Amavi, as a result of the high energy philosophy which he has instilled in his side. Quick and positive forward passing, and speed of movement off the ball has led to Le Gym looking very menacing, as was seen in particular during their impressive 3-0 win over Olympique Lyonnais.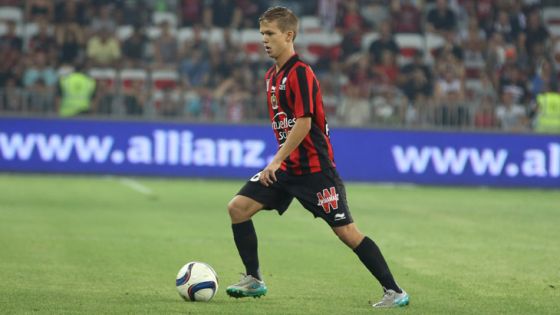 Koziello scored in this game and was one of the stand out performers. He completed 50 out of 55 of his passes (90.9% completion rate), eight of which were in the attacking third, and twenty eight of these were forward, showing how the vast majority of the time Koziello looks to start attacks through positive pass selection. His passing is particularly precise, boasting a pass completion rate of 90% this season, and this is something which cannot be understated. Operating in a central midfield pivot, itis vital that his passing is good, and it is, allowing him to set Nice's rhythm along with partners Nampalys Mendy and Jean-Michel Seri.
Thanks to his energetic demeanour, which is in stark comparison to the more minimalist work rate of OGC Nice poster boy Hatem Ben-Arfa, his movement off the ball is constant, and this results in him seeing plenty of it. Furthermore, when given the opportunity he likes to burst forward with the ball, similar to Ben-Arfa. While his dribbling isn't flashy, he glides forward positively when given the space, and has been successful in over 66% of the occasion he has taken on an opposition player.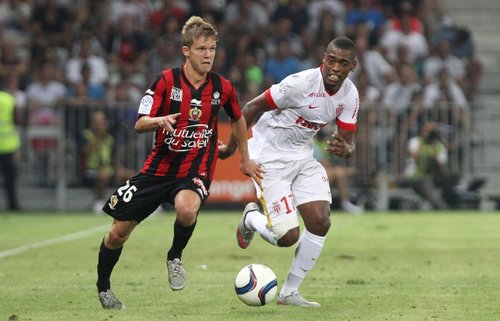 His work rate is crucial in defending as well as attack, and thanks to Koziello's awareness and intelligence he is able to use it to his advantage. Constantly throughout games Koziello is looking for spaces in the midfield or in front of the defence to fill in. This is particularly crucial in instances when midfield partner Seri has broken forward leaving a space in midfield alongside Mendy. Such good positional awareness has led to him averaging one interception and just under three tackles every game,
This defensive impact is surprising given both his attacking abilities and physical stature. Players who tend to fill the advanced playmaker role, and are of similar stature to Koziello, on the whole let their defensive work fall to the wayside, but instead Koziello uses it as another string to his bow. He is tenacious as a consequence of the aforementioned energy which engulfs him, and in addition to his positional awareness this gives him a plethora of opportunities to dispossess opponents. Furthermore, this bolsters his attacking impact, as he wins the ball in both the opposition half as a result of pressing high, as well as in his own half and this allows him to start attacks.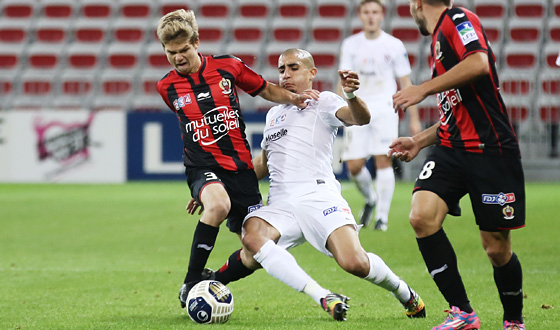 So while Koziello may not be the provider in terms of goals, he doesn't look to unpick defences with speculative splitting through balls too often, and prefers to be ready to foil a potential counter attack, rather than bursting into the overcrowded box as his team attacks, he is instead the enabler. His energy allows him to dispossess opponents and in conjunction with his precise passing, he gives his team a platform to mount menacing attacks from.
What does he look set to conquer in 2016?
While potential suitors seem to be beginning to circle for his services, following reports that English giants Arsenal and Chelsea have been scouting the man born in Grasse, it seems very unlikely that any move would be made in January or even in the summer, mainly because more and more big money moves are seeming unattractive to youngsters who want to forge a succesful footballing career. The prospect of being labelled as a big-money flop, as more and more players are, is not an appetizing one, particularly at an early stage in one's career.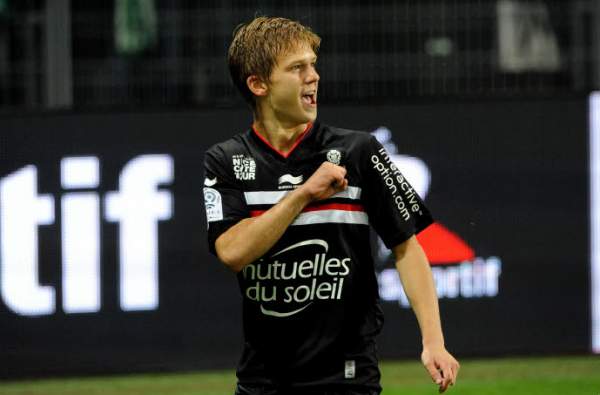 A call up to the France squad for the home European Championships looks beyond him currently, despite the prospect of a central midfield three of him, Paul Pogba and Blaise Matuidi seeming an appetising prospect to Nice fans. Instead, he should look to finish the season strongly for Nice, and hopefully secure European qualification in the process - it genuinely doesn't look beyond Puel's men in black and red.
As a consequence of this, hopefully he will be able to establish himself in the France under-21 side which may allow him to play for the senior team in the not so distant future. He seems a grounded lad, and I'm sure he won't get ahead of himself and become impatient. His performances and those of his team must be his sole priorities if he is to get the recognition he deserves in the long run.
Seeing is believing, and having seen him play live myself at the beginning of this season, I am very excited for Vincent Koziello's future. The prospect of these fantastic talents breaking through in Europe's top leagues are a fantastic advertisement for European football, beyond the occasionally banal Champions League an Europa League competitions, and hence I compel you to broaden your footballing horizons and watch as much European football as you can.