The great US Army General George S. Patton once said, "Battle is the most magnificent competition in which a human being can indulge. It brings out all that is best; it removes all that is base."
The Second World War certainly brought out two great men, in partnership, who would go on to create an everlasting legacy at Manchester United Football Club and overcome the harshest of obstacles to win everything.
As the war drew to a predictable close in 1944, with a victory for the Allies inevitable, Louis Rocca approached a good friend in Matt Busby.
Rocca's family had moved to England in the 1870s from Italy, establishing an ice cream business on Rochdale Road. Living and working with his parents in the Newton Heath area of Manchester, Rocca quickly got involved with Newton Heath LYR, now known as Manchester United.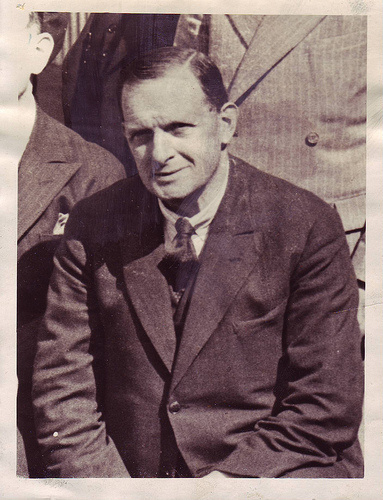 The Italian immigrant (left) became teaboy at the Bank Street ground and quickly fell in love with the football club. As they fell into trouble in the late 1800s and early 1900s, John Henry Davies provided funds to save the club from disappearing. Without consultation, he changed the colours of the club from green and gold to red but decided to call a fan and board meeting to discuss an alteration to the name of the football club. Rocca, although there is no evidence, tells the story that he advised against 'Manchester Celtic' and 'Manchester Central' and instead put forward the name 'Manchester United'. The 19-year-old could, of course, have been telling a fib, but there's no doubt he contributed immensely to Manchester United Football Club in other ways.
James W. Gibson, another great man in United history, called on his board members, having become chairman of the club when providing funds in the 1930s, in 1944. Club secretary Walter Crickmer and Rocca had managed the team in the seasons before war broke out in 1939 and they unanimously decided to find a proper manager to see the period following the war.
Rocca told his colleagues to leave it to him and set about convincing Busby to join United.
It had been a long time since Busby had stepped near Old Trafford. The Scotsman was beaten twice at centre-back by Johnny Halon, in one of the last games at Old Trafford before the war, for Liverpool. Just 12,000 people watched that defeat for Busby, but the crowds would increase hugely years later as he guided United to huge success over and over again.
Rocca had sent him a letter detailing vague information about 'a job' he knew of that was available. Liverpool had asked Busby to become assistant manager, but due to differences of footballing views with the chairman, he turned it down. Rocca was careful not to allow Liverpool to approach their former captain again.
Rocca draws Busby away from Liverpool to become United boss
"I do not know if you have considered what to do when the war is over," Rocca wrote, "but I have a great job for you if you are willing to take it. I would like to make a meeting."
And so, Busby met Chairman James W. Gibson at the latter's Cornbrook Cold Storage, where Walter Crickmer had been working hard to keep the club afloat during the war.
There Busby sat down and began discussing his future as the manager of Manchester United Football Club. It was during a toilet break that the great man decided he could not do with any board interference and told his superiors, who had no choice but to agree.
Again Busby came out victorious in discussions as Gibson's initial offer of a three-year contract was pushed to five by Sir Matt.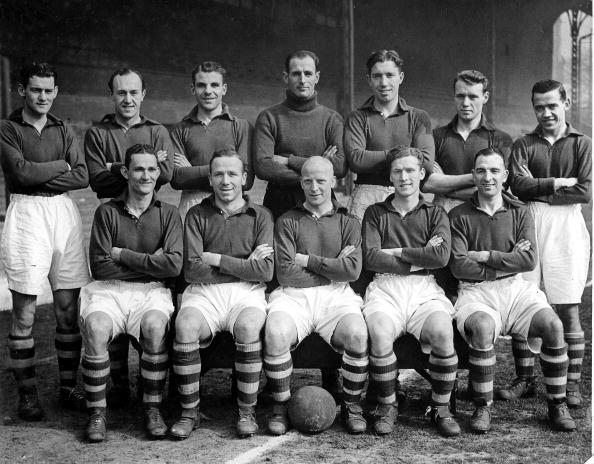 So, former-Manchester City and Liverpool player Busby took over the reins at Old Trafford in August 1946. He did not manage United's first few post-war games. The Football Association had decided that upon the end of the war, a further moral boost would be to have the FA Cup back for the first time since the 1938/39 season. And so, United faced Accrington Stanley for a two-legged third round tie. For the first time since 1939, United were playing in the cup, and they did so well. Billy Wrigglesworth and Jack Smith scored in the first leg at Peel Park before Jack Rowley scored twice at Old Trafford in a 7-3 aggregate victory.
United would go no further. Johnny Hanlon, who had scored twice against Busby in May 1939, scored at home to Preston North End and away at Deepdale but could not stop an exit.
Nine months later, proper football was back. United beat Grimsby Town, thumped Chelsea and Charlton Athletic before beating the team who had tried to sign Busby after the war, Liverpool, 5-0. Jack Rowley, who went on to score 28 goals that season, scored in the first five games. He'd played before the war and came back with Busby and was lethal.
Walter Crickmer and Louis Rocca remained at the club, having fought to keep Manchester United alive during the war. This time, they resumed backroom roles with Crickmer as club secretary and Rocca as a scout and fixer once more.
Rocca continued his stellar work for the club, finding both Johnny Carey and Stan Pearson, who were vital in Busby's team, the latter making 44 appearances in the first season.
---
United's last home game before the war was against Grimsby Town, a big 4-0 win. United then drew 1-1 to Chelsea before losing 2-0 to Charlton Athletic away from home. That was the last league match for United for seven years.
The day after World War Two began, the league was immediately stopped. Old Trafford was quickly seen as an ideal military depot and so the British military took it while The Cliff training ground, which lasted for another 50 years, was used by the British Air Force.
United squad depleted as players join the army
Just seven of United's 40 players at the time were not quickly involved with the war effort. Many had already served for the military and thus were automatically conscripted right away. Others helped in other ways. One player exempt from any service for the armed forces was the Irish Johnny Carey. He carried on playing for the Reds, as well as floating about to various rivals with players during the war allowed to move freely to help teams out.
For the country, any kind of sport was a relief from war so the Football League were happy to allow players to play for multiple teams. Carey appeared for City, Liverpool, Everton and Middlesbrough. Yet he wasn't content with seeing his former teammates fighting and him staying at home helping in munitions production.
In July 1943, he landed at Algiers having conscripted earlier in the year. He went onto the serve in both North Africa and Italy for the British Eighth Army. He returned to England at the end of the war and was luckily based on Yorkshire with the army so could immediately resume his United playing career.
Hanlon was another famous figure in the army. Serving in the Durham Light Infantry, he was captured at Sicily in 1943 and spent two years in a prisoner of war camp in Mulhberg, Germany. Liberated by Russian troops, he returned to Manchester and was back playing football, scoring thirteen times for United that season.
Allenby Chilton made his United debut, having been convinced to drop his Liverpool contract and play for United by Louis Rocca, against Charlton Athletic in 1939. He couldn't play another league match for seven years, with the Football League called off the day after his debut.
Yet that was no bad thing, he provided a significant contribution to the army, landing in France on D-Day. He was wounded in Northern France, fighting at Caen but returned to Manchester to make his second appearance seven years after his first. Charlie Mitten was a member of the squad against Charlton for Chilton's debut and continued playing during the war.
He volunteered for the Royal Air Force in 1939 and became a Physical Training Instructor for Britain. This allowed him to keep playing, now for the RAF team as well as United. While Busby was managing the military side a few years later, Mitten scored thirteen times in one game for the RAF side as well as playing for United and various other league teams like Carey. He came back to play for Busby in 1946.
As Mitten and Carey showed, football certainly carried on during the war. Even so, there were many restrictions placed on clubs and competitions. With German bombers becoming more common each day, Police were concerned for fans' safety at randomly arranged games, generally in regional competitions. Players too were hard to come by.
United used 29 players in 19 games of a War Series in 1941 and 1942, winning the competition for the only time during the war. The last 'real' season before the war had seen them use five fewer players for more than double the games.
Bert Whalley, a forgotten member of the coaching staff that tragically died in the Munich Air Crash, as Jimmy Murphy's replacement for the day, played all nineteen games in that strange season.
Supporters dribbled through the gates at Old Trafford, for the time when it stood. A game against Liverpool in 1940 drew just 1,500 fans.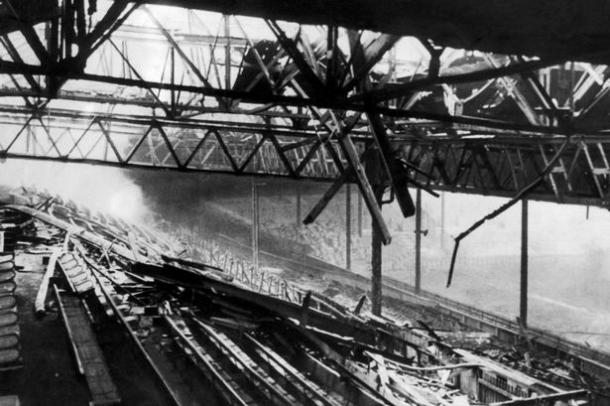 Old Trafford was bombed that year, in late December 1940. One of the biggest objectives for the Luftwaffe was to destroy the Trafford Industrial Park. Yet instead the German V-1 bombers hit the nearby Main Stand of Old Trafford on December 22nd, 1940.
The great football stadium still stood tall while Trafford was in ruins. Parts of the ground were damaged, but not enough to stop United playing there. More than 300 people died in that raid on Trafford just before Christmas.
A Christmas day game against Stockport was moved to their Edgeley Park and Walter Crickmer, club secretary, worked hands on to build Old Trafford back up again. However, with limited resources, it was a difficult job. On March 8th, 1941, Crickmer's work, as well as the help of many local fans, paid off. 3,000 people came through the gates that day to see two hat tricks against Bury in the war series, a 7-3 victory. Jack Rowley and Johnny Carey, not yet on service, scored three each on United's return to their home.

It was short-lived, though, very. The Germans came back to Trafford for further destruction and that sublime victory against Bury was the last at Old Trafford for almost nine years. Just three days later, German V-1 bombers returned, destroying large parts of Trafford's industrial area. This time, Old Trafford was ruined. The main stand was hit and destroyed, along with the offices and dressing rooms. Chairman James W. Gibson realised it was over.
No more resources could be used to rebuild a football stadium. Instead, Gibson took United to his Cornbrook Cold Storage, where he would meet and sign Busby four years later. Crickmer was in charge of keeping Manchester United alive. He acted as secretary, general manager as well as manager during the various war series. He too, alongside the more famous Busby Babes, died in the Munich Air Crash, his role at United during the war was more significant than anyone else's, he gave his life to keep football going.
While Crickmer kept things ticking over in most ways, Manchester City stepped in to help their rivals, drawn together during the 1940s.
At an annual fee of £5000 (now worth about £160,000) as well as all gate receipts, City allowed United to host 'home' games at Maine Road. Another catch was that no matter how the fixture was scheduled, the Manchester Derby never saw United use the home dressing room at Maine Road.
Gibson, a manufacturer of army uniforms, pressurised the War Damage Commission to provide funding for the rebuilding of Old Trafford as the war drew to a close in 1944. Local MP Ellis Smith was also heavily involved, not wanting to see his local team and what he saw as the pride of the area dissipate or move away from Trafford. £4,800 was given to remove the debris which still remained from the original bombings in 1940 and 1941 while a further £12,478 was given to rebuild the main stand. Gibson invested his own money, in hope of seeing the club he invested in back in 1931 become successful again.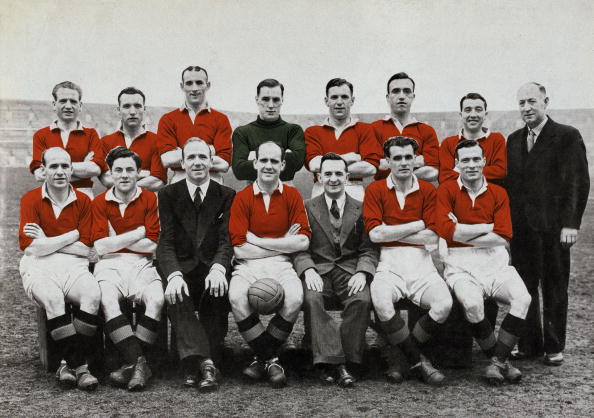 The rebuilding of Old Trafford was completed in 1949, but Gibson could only see his work for two years before his death in September 1951. He didn't live to see the stunning revolution Sir Matt Busby produced at United, although did get to see the FA Cup win in 1948 and their first league title since 1911 in 1949.
---
Louis Rocca had seen it all. From teaboy, to deciding on 'United', to managing the club and then finding the gems of United's future, Rocca was a legend.
That 1948 FA Cup Final was partly his team and the embodiment of his time at the club, having found the Manchester United Junior Athletic Club. Rocca had brought Crompton, Carey, Aston, Anderson, Morris, Pearson and Mitten to United, although more importantly Busby.
He died in 1950, having seen, like Gibson, two final victories to end his 50-year association with the club.
---
Jimmy Murphy went onto line up with Rocca, Busby, Ferguson, Gibson and Davies as the most defining men in United history.
He kept United going, like Crickmer had done, following the Munich Air Disaster and took them to the FA Cup Final.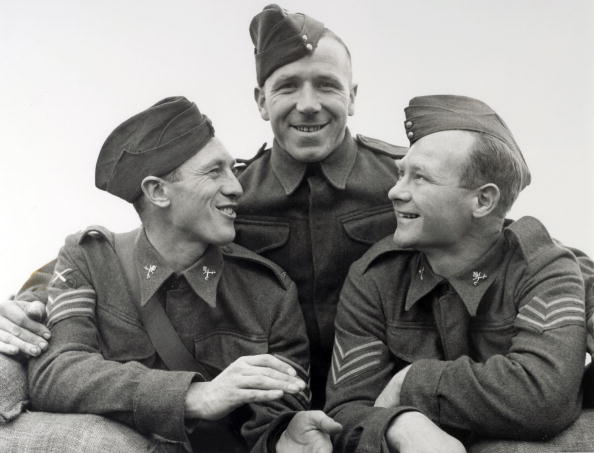 Busby had spotted him during the war. Having completed his service, Busby took the Army football team for a tour of Bari, Italy in the Spring of 1945. There it was that former-West Bromwich Albion player Murphy was giving a speech about football to the troops and Busby, having agreed to become Manchester United manager, agreed to sign him as Chief Coach immediately. Murphy was working for a services sports centre in Bari while with the army.
Murphy left the club 34 years later, having had a managerial partnership with Busby for 25 years.
War left the country reeling, millions dead and millions more in mourning. It shaped Manchester United, though, finding the true legends of the football club. Rocca, Crickmer, Gibson, Busby, Murphy were a special bunch of football people.
---
Three Manchester United players were killed during the war. May Hubert Redwood, Francis Bertram Carpenter and George Curless rest in peace.