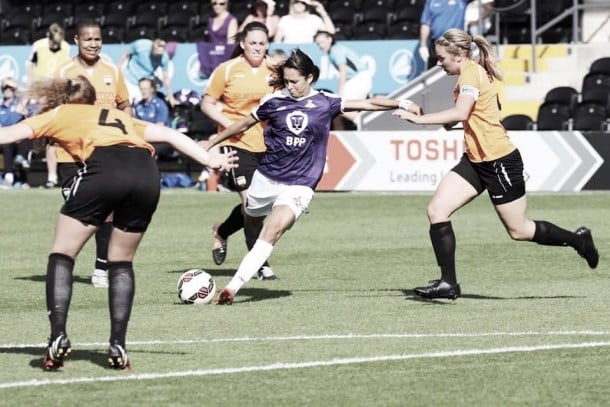 Courtney Sweetman-Kirk has signed a professional contract with Doncaster Belles, following their promotion to FA WSL 1.
The climb into the top flight means that the club now have the funds available to offer their players full-time deals, and Sweetman-Kirk is the latest to secure one, having been the team's top-scorer in their successful 2015 season.
After banging in 20 goals in just 18 league games - 25 in all competitions - it comes as little surprise that the striker is one of those who has been targeted by the club for a commitment as she will be key if they are to establish themselves in WSL 1.
'A dream come true'
Speaking about the new deal, Sweetman-Kirk could not contain her joy, calling it "a dream come true" and "one of the best Christmas presents that [she] could have wished for" as she has "always wanted to be a footballer."
Now, it is happening, and she is trading a full time job as a Sport Development Officer at Warwickshire College for a full time job as the Belles' main outlet on the attack.
This opportunity to be a professional footballer in the top flight is one of many "factors" as to why Sweetman-Kirk has stuck around, with her saying that "the new facility" is another.
Following promotion, Doncaster's 'Project Phoenix' has begun and they are planning to create an elite training centre for a team they are aiming to make entirely professional.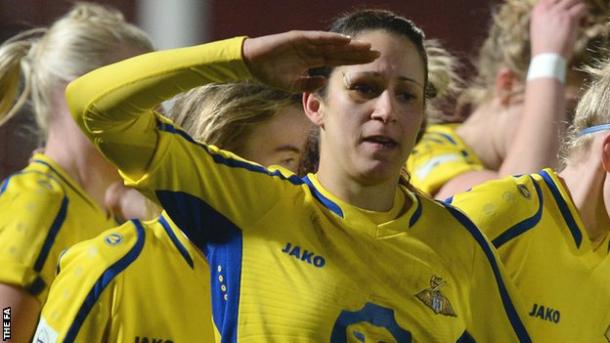 This is something that the 25-year-old is "eager" to be a part of, calling it "an exciting vision" that "helped [her] make up her mind" when it came to deciding what was next in her career.
Harris pleased to secure star striker's services
The Belles' manager, Glen Harris, was full of nothing but praise for Sweetman-Kirk upon her signing the new contract too, and unsurprisingly so.
The FA WSL 2 Players' Player of the Year attracted interest from other clubs, it was revealed, making him even more "delighted" that she has chosen to stay with the club.
"Her scoring record since coming to the club is remarkable," Harris said, "and the challenge is now to take this to the next level."
He continued to sing her praise, saying that "she is not just about goals," but that she has "an unbelievable work ethic" too, "both in games and training," and she is also "always keen to improve."
Now, Harris is looking forward to seeing "many of her 'goal salute' celebrations" in the coming year, as the Belles prepare to compete at the top level once again.