 Swansea City hung on at Selhurst Park to leave with a scoreless draw on the road against Crystal Palace on Monday.
It was a game where the Swans defence was tested consistently and their attack was attempting to recapture their breath, and in the end they will be happy with the point after they spend the majority of the match chasing the Eagles around the pitch.
Slow start to slow game
Both teams started the game slow. With 35 minutes on the clock, the two had mustered up just two shots between them, but it was the Eagles on top as they managed to create two chances against a stubborn Swansea defense.
The hosts ended the half with Mile Jedinak and Yohan Cabaye having tried their luck, but the three efforts they produced were all off target. Meanwhile, Swansea did not create anything in the final third in a disappointing opening 45 minutes.
If anything, the first half showed that neither team wanted to make any mistakes at the back. The majority of the opening period was played in midfield, and the Eagles only enjoyed a slight advantage of possession. However, nothing came from their extra time on the ball.
Improvements after the break - but not too many
The second half brought more action to Selhurst Park, however, the jolt of offense in the second half still failed to produce any goals as the 23,714 people in the stands did not see that many chances created.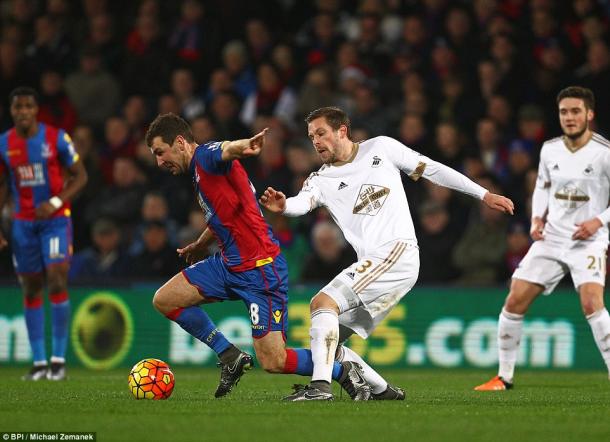 Instead, they witnessed a brawl between two clubs that are currently sat on opposite sides of the table - with a real battle ensuing as challenges flew in and fouls were given as the points were scrapped for.
Lukasz Fabianski was forced into a couple of good saves, whilst Gylfi Sigurdsson was denied in stoppage time - his free-kick tipped over the bar - but, in truth, the deadlock never looked like being broken and it was little surprise to those watching on when the game came to a close still goalless.
Swans remain afloat
With this result, Palace stay in fifth place of the Premier League with 31 points. The good news for Swansea interim manager Alan Curtis, on the other hand, is that the Jacks remain outside of the regulation zone - currently sitting in 17th place with 19 points.
However, they are just two points ahead of 18th place Newcastle United and will need to start separating themselves from the bottom three quickly.
A good result on Saturday against a struggling Manchester United at Old Trafford is exactly what the Swans need to help their cause as they look to build on some promising results - having beaten West Bromwich Albion 1-0 last time out as well.