 The crackers have been pulled, the turkeys have been carved, the presents unwrapped and the alcohol consumed. With it, Christmas has passed for another year and in just a few hours time, people will celebrate seeing in 2016, the New Year.
For many, New Years Eve is a chance to reflect. A chance to look back on what went right and what went wrong over the last 12 months. Then come the resolutions, the promises of self-improvement and the vows to do things differently in the coming year.
In that sense, New Years Eve will be a welcome opportunity for Liverpool Football Club to evalute their tumultuous last 12 months. They won't look back all too fondly at 2015 - the past three months and a few fleeting highlights perhaps exempt, but there are a lot of lessons to be learned from it. It has been another turbulent year for the Merseyside outfit, one particularly well summed up by the events of the last three or four weeks.
Since a stunning 6-1 demolition of Southampton in the quarter-finals of the Capital One Cup at the end of November, the Reds have drawn twice, lost twice and won twice. They have beaten none other than top-of-the-table Leicester City, who had gone into the game three months unbeaten, and lowly Sunderland - yet fallen to defeat against Newcastle United and Watford in dismal fashion, as well as drawing to West Bromwich Albion and FC Sion, teams they should ideally be breezing past.
That predictable unpredictability almost sums up every single one of Liverpool's 25 years since winning their last league title, but it especially goes some way to concluding their 2015 - one that has lurched from low to high and low again.
It all started so well...
After a damning 3-0 defeat away at Manchester United in mid-December, the Reds saw out the end of 2014 - and began the start of 2015 - in fine form, sealing a berth in the semi-finals of the Capital One Cup and taking seven points from an available nine in tricky games against Arsenal, Burnley and Swansea City.
Until now, it had been a tough first few months for Brendan Rodgers' charges, who desperately missed the tenacity and star quality of Luis Suarez after he departed for Barcelona in the summer. In his absence, the Reds lacked goals, self-belief and fight and as such crashed out of the Champions League in the group stages and lagged desperately behind the top-four. But it seemed that, despite a woeful start, things were finally on the up and a strong second-half of the campaign beckoned.
The New Year wasn't quite welcomed as simply as had been hoped, though. We didn't know it then, but the first game of the New Year - a home game against Leicester City, who at the time sat bottom-of-the-table with just 13 points, would sum up the remainder of the season well. One step forward, two steps back.
Two Steven Gerrard penalties gave them a comfortable lead until stunning goals from David Nugent and Jeffrey Schlupp brought the visitors level and earned them an unlikely point. Though it preserved an unbeaten run, it was seen as two points dropped at a time when the Reds were supposed to be building momentum towards a run to the top-four. This, however, still left them seven points from the final Champions League spot with 20 games gone. Rapid improvement was still needed if they were to finish inside the top-four.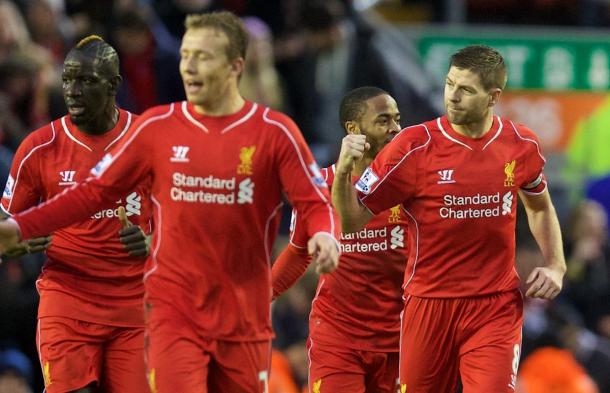 Then, just hours later, the club was dealt a sucker-punch. Out of nowhere, Gerrard announced his intentions to leave the club and sign for Los Angeles Galaxy in the summer. The man famous for being the Scouse heartbeat of the side over the years would be calling the curtains on a 17-year senior affiliation with his beloved boyhood club, something that took more than a few days to sink in for many.
On the pitch, over the next few weeks, confidence steadily began to increase. Dodging the banana skin that was AFC Wimbledon away in the third round of the FA Cup was a good start, before back-to-back away wins over Sunderland and Aston Villa bridged the gap between themselves and fourth to five points.
But, as with Liverpool, the next setback was only ever around the corner. Sandwiched either side of one of the dullest goalless draws Anfield has ever seen, an FA Cup stalemate with Bolton Wanderers, the Reds fell just short of a place in the final of the League Cup after crashing out in extra-time of their second-leg semi-final clash with Chelsea - their disappointing finishing the thing that ultimately let them down.
That said, there was pride to be taken from the fact that Liverpool gave Jose Mourinho's Premier League frontrunners the toughest test they had faced so far this season. Surely, then, that would only bode well for Rodgers and co. If they can match up against the best team in the league, they can surely do the same against the lesser sides?
For a long while, the emphatic answer was that yes, they could. Immediately afterwards, Daniel Sturridge's return inspired a 2-0 win over West Ham United before a late volley from Raheem Sterling and a stoppage-time stunner from Philippe Coutinho saw the Reds push past Bolton in a 2-1 FA Cup replay victory.
Tactical changes reap the rewards
Things were going well. The 3-4-2-1, upon which the Reds' revival had been mounted, made them a more efficient unit. Sterling filling in for the injury-stricken Sturridge up top gave them the pace and movement which they had lacked when they stuck Rickie Lambert or Mario Balotelli up-front earlier in the year, whilst they looked more solid at the back after having leaked goals previously.
Another major success story from the formation was the freedom it gave the unnatural wing-backs. Take Jordon Ibe, for example, who cut his season-long loan at Derby County short to rejoin the Reds and walk straight into the starting line-up against Everton in Steven Gerrard's final Merseyside Derby.
Ibe, despite playing in an unfamiliar position, shone against their bitter rivals and crashed a shot against the woodwork from range after a mazy run, though both sides eventually shared the spoils in what turned out to be one of the least explosive derbies in the Premier League era.
But despite the dull affair against the Toffees, Rodgers' men continued their good form with a huge 3-2 victory over Tottenham Hotspur, an away win over Crystal Palace in the next round of the FA Cup and a first-leg win over Besiktas in the Last 32 of the Europa League.
One foot into the Last 16 of Europe, into the quarter-finals of the FA Cup and just three points away from fourth - things were still going well. In fact, the gap was shortened to just two after a 2-0 away win at Southampton - an excellent team performance and Coutinho's 25-yard screamer meaning they had taken 23 of the last 27 points on offer.
And whilst they tumbled out of Europe for a second time in three months with another spineless showing, falling 1-0 to Besiktas away in normal time before losing out on penalties at the same end of the Ataturk Stadium in which they won their fifth European Cup 10 years ago, few could have predicted the bounce-back that came just three days later.
Manchester City were the team that awaited. The reigning champions were just five points off top and strolled into the game off the back of a 5-0 win over Newcastle United last time out, but the Reds defied the odds to further strengthen their credentials - sublime goals from Jordan Henderson and Coutinho inspiring them to one of the best wins of Rodgers' reign so far, up there with even the greatest heights of the previous season. The front-three of Sterling, Coutinho and Adam Lallana overawed the visitors in an impressive attacking display which demonstrated the true best of their abilities.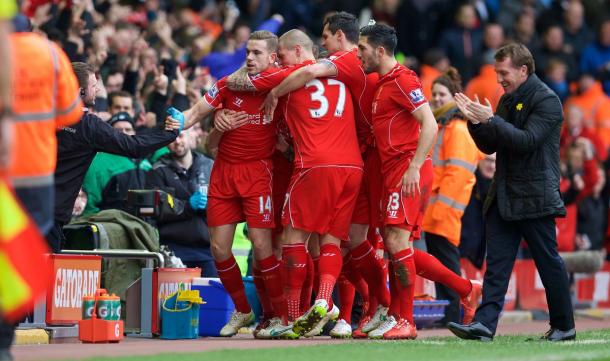 Day to forget brings Liverpool's run to a grinding halt
By this point, confidence was sky-high and momentum continued to build. Though another dull cup draw meant yet another replay, wins over Burnley and Swansea continued the unbelievable unbeaten run in the league to 13 games with fourth-placed Manchester United, who were just two points above them in the league, next on the agenda.
It seemed perfect. Entertaining United at Anfield in the highest-stakes affair between the two since the Reds bounced into Old Trafford and won 4-1 as both sides fought for the title in the back-end of 2008-09 suggested that the script was written. Even more so, the home side hadn't lost in the league since their last meeting with the Mancs in December. Revenge time?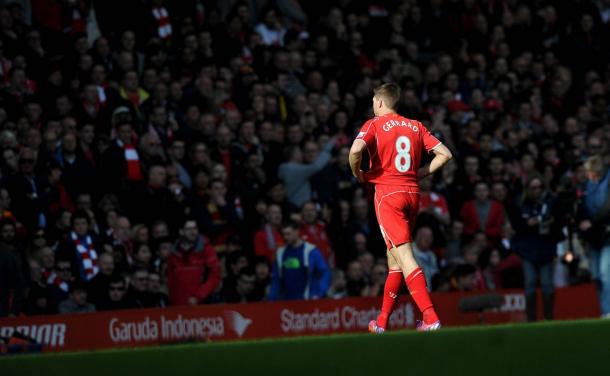 Well, no, actually. Apparently not. Whether it was overconfidence or just sheer complacency, the optimism of Liverpool's unbeaten run was brought crashing down in a 2-1 defeat. Juan Mata's scintillating overhead kick from the edge of the area, his second of the game, was bad enough. Gerrard being shown a red card by referee Martin Atkinson just 38 seconds after coming on as a half-time substitute was worse. It was a limp, lifeless display - one completely lacking the grit and determination shown in previous weeks, but it was just the start of things to come.
Arsenal away awaited the Reds and yet again they failed to turn up. One moment could have changed the game, Lazar Markovic wasting an excellent chance on the counter-attack, before the Gunners hit three goals in nine first-half minutes to go into the break 3-0 up. Henderson's second-half penalty wasn't enough to kickstart a comeback and Olivier Giroud made the victory more emphatic late on, adding a fourth to leave Liverpool's top-four hopes in tatters and seal a 4-1 thumping. That two point gap, just two games later, was now seven - with just seven fixtures left of the season. They would have to scale Mount Everest if they wanted to be playing amongst Europe's best again in 2015-16.
Reds limp shamefully over season's finish-line
There was brief respite when Coutinho's strike saw the Reds overcome Blackburn to book a semi-final showdown with Tim Sherwood's Aston Villa at Wembley, before a 2-0 win over Newcastle lifted them up to fifth, again just four points away.
But the opportunity to set up an FA Cup final on 30 May, which would be Gerrard's final game for the club on his 35th birthday, proved too good to be true. Yet again, their inexperience showed as Villa's superior effort - and even quality - saw them respond just six minutes after going behind, Christian Benteke slamming them level after that man Coutinho had put Liverpool ahead. But Gerrard's dream farewell was well and truly scrapped when Fabian Delph put Villa 2-1 in front and that was how it stayed, with the Reds' skipper himself the only one to go near to forcing extra-time. Nevertheless, it was not to be and another embarrassing performance removed any hope of a first piece of silverware under Rodgers - making him the first manager not to win a trophy in his first three years as manager since the 1950s.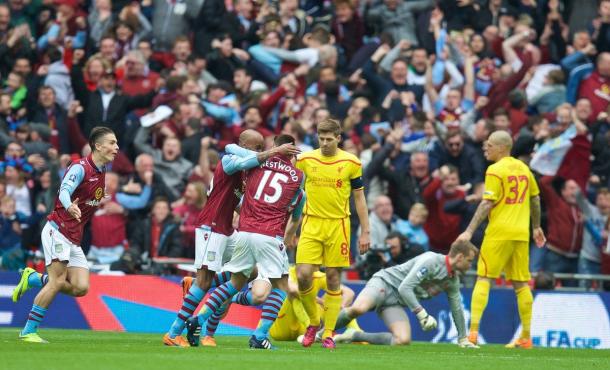 More subdued showings and disastrous results followed. A 1-0 loss to Hull City, who were eventually relegated, came after a mind-numbingly dour 0-0 draw at West Brom. They looked set to give up more points to relegation fodder as they drew 1-1 with Queens Park Rangers at Anfield with just minutes left, until Gerrard - as he so often used to in his peak years - rescued his side with a late winner. It was a glorious moment, the first in a while, that felt more important than it was because of the scorer.
But with three games remaining, Champions League qualification hopes were slim at best. Instead, the focus had to be on ensuring Gerrard was given a fitting send-off. He scored again as they battled to a hard-earned point away at Chelsea, who they clapped onto the pitch as the new champions of England, but the final two games of the season arguably proved the lowest points of Rodgers' reign, nevermind the season.
First up, Crystal Palace. Gerrard's final home game. It was always going to be emotional and it proved exactly that, but the result wasn't exactly as expected. Although Palace had proved a bogey team since that 3-3 draw in the final months of 2013-14, Rodgers' side were expected to see out the three points after they took the lead through Adam Lallana. They didn't. Instead, they did what they'd done well in recent weeks, collapsed spectacularly.
Jason Puncheon equalised on the stroke of half-time before goals from substitutes Wilfried Zaha and Glenn Murray put somewhat of a dampener on proceedings, though it did not affect the reception which the club's iconic No.8 received throughout.
That wasn't the worst of it, however. If that was a disappointing send-off on home soil, the one that came in his final game - away at Stoke City - is a game that will never be forgotten. Five goals in 23 first-half minutes saw the Reds retreat into the tunnel at half-time bruised, battered and bewildered - having conceded five goals in the first 45 minutes of a top-flight game for the first time ever. Gerrard spared some blushes by scoring himself, but Peter Crouch's late header condemned the visitors to their heaviest defeat since a 7-2 loss against Tottenham way back in 1963.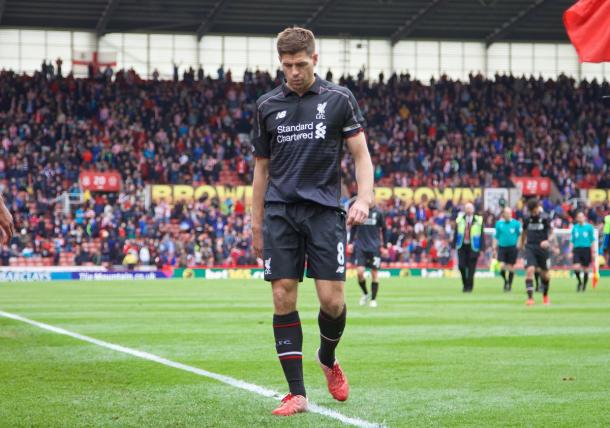 It was by far the lowest low of a season that seemed to drop off quicker than a sinking stone. A shambolic heartless humiliation, it was ineptitude at its very best. Quite simply, the wheels of Liverpool's season fell off and they never managed to save themselves. Rodgers was certainly fortunate to still find himself in a job come the end of May, that's for sure.
Strange summer sees incomings and outgoings aplenty
With issues off the pitch having dogged the end of the 2014-15 season, regardless of how disastrous it was, summer always promised to be an eventful one, and it was.
Rumours aplenty, the Raheem Sterling saga ended with a £49 million move to rivals Manchester City, whilst Gerrard, Brad Jones, Glen Johnson, Sebastian Coates and Iago Aspas all left the club on 1 July - the latter commanding combined fees of £9 million.
Lambert also ended his dream of playing for the Reds after just 12 months, leaving for West Brom in a £3 million deal, whilst Javier Manquillo's two-year loan was cut short and Fabio Borini left for Sunderland in a £8 million move.
As many as 19 players also went out on loans, with the most high-profile players - Balotelli, Markovic, Andre Wisdom, Luis Alberto and Tiago Ilori all leaving on season-long spells.
It was yet another busy summer in terms of incomings, Rodgers spending near £80 million on seven signings - the little-known Joe Gomez coming in for £3.5 million before being followed by James Milner and Adam Bogdan on free transfers. Danny Ings signed from Burnley, with his fee still yet to be decided by independent tribunal. Nathaniel Clyne replaced Johnson at right-back, securing a move from Southampton for £12.5 million, whilst the Reds finally stumped up the money to sign Christian Benteke after a summer-long saga, paying £32.5 million to secure his services.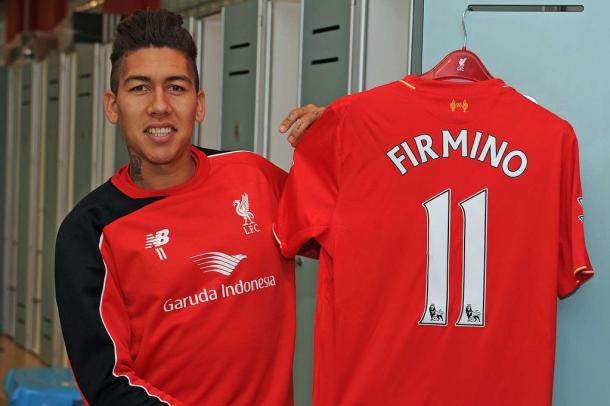 But there was one signing that stood out amongst the others, because it showed that Liverpool can still compete in the transfer market. Roberto Firmino was signed for £21 million from Bundesliga outfit Hoffenheim, with the fee rising to £29 million per add-ons, almost out of nowhere. Only three or four days after rumours first arose, the Brazilian became the club's new No.11 and the euphoria was profound, particularly due to the fact that the competition they faced to bring him in. It was a world away from previous windows, in which they had been rejected in favour of teams competing at a higher level than them, or those who could offer more financial incentives.
A new season, a new start?
Fast forward through a fairly straightforward pre-season, five wins from six on a tour of the Far East and Australia, and with Rodgers having survived a scrutinous summer - the fixture computer granted Liverpool with an ironic opening game - Stoke City away.
With the summer having been seemingly well used to bolster their attacking options but also strengthen other areas of the pitch and add some more depth, this was the chance for the Reds to prove that they had improved since that unforgettable afternoon in North Staffordshire just three months earlier.
With Liverpool's line-up seeing young Joe Gomez handed his league debut after an impressive pre-season as well as four others making their first appearances for the Reds, neither side seemed too eager to overexert themselves. And so it fell to Philippe Coutinho in the 86th minute. Shrugging off the attentions of Steve Sidwell, Coutinho strode inside onto his right foot and hit a rasping 30-yard drive which dipped over the goalkeeper and into the top corner. It wasn't the most convincing of performances, but it was a much-needed win all the same.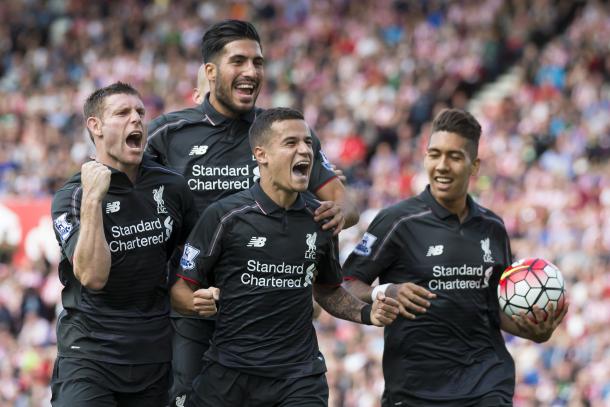 And they followed it up well, beating newly-promoted Bournemouth at Anfield courtesy of Benteke's first-half strike - though they were afforded some fortune by the fourth official, who failed to flag one of the Belgian's team-mates for being offside during the run of play.
Six points from six after two tricky games was a welcome return, but there would be a step-up in class as they travelled to Arsenal. Yet again though, Liverpool had the answers. In fact, they blew the hosts away in the first 45 minutes - Coutinho running the show and somehow not getting on the scoresheet thanks to a sensational save from Petr Cech, who also had his woodwork to thank twice. The Gunners edged the second-half, meaning Simon Mignolet was called into action enough himself, before the full-time whistle saw it end 0-0 to give both sides a deserved point.
At this point, confidence was rising. The team were playing well and it seemed that improvements could only be made. Seven points from nine, three successive clean sheets and growing momentum. But then, as is so common with Liverpool over the years, West Ham United brought it all crashing down.
Their biggest Anfield win since 1963, a Coutinho red card and home supporters leaving in their droves well before full-time brought the pressure hurtling back down onto Rodgers' shoulders. Another massively miserable defeat.
The end of an era - Rodgers given the boot
The international break should have come at a good time, allowing Rodgers and co. to reflect and analyse what went wrong, but little improvement was shown with them equally as abject in losing 3-1 to Manchester United. Christian Benteke's sumptuous overhead kick completely out of context with the rest of the team's performance, in which they never looked close to troubling their opponents.
Back-to-back 1-1 draws to Bordeaux and Norwich City, in their Europa League opener, and a home league game followed. More abject, dull football. Perhaps a 1-1 draw at home to League Two Carlisle United in the third round of the Capital One Cup was the tip of the iceberg. 58 shots in 120 minutes, just 16 on target. In the end it took penalties for them to progress. Talk about scraping the barrel.
Daniel Sturridge's return from injury, and an excellent brace, as Liverpool just about beat Aston Villa 3-2 to end a dreadful run of results at home to the West Midlands club brought a first win in six in all competitions, but on the whole it did little to help the cause.
Another 1-1 bore draw, this time at home to Sion in their second European game of the campaign, saw the pressure increase. By now it was boiling point, and even a battling performance capped off by Danny Ings' strike in a Merseyside Derby draw at Everton wasn't enough to save Rodgers. Just hours later, Brendan Rodgers was sacked as Liverpool manager. Cue gasps and shock from Jamie Carragher and Thierry Henry live on television.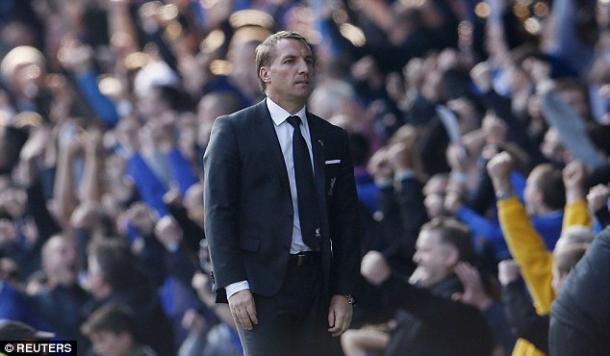 Three-and-a-half years, over. Just like that. Not that it was all that surprising, the mood around the club had become toxic and poisonous. The hope and optimism of 2013-14 had long gone and Rodgers' repetitive buzzwords in his post-match press conferences soon became regular ammunition for rival supporters. It seemed as though not even the Northern Irishman had the answers to their problems anymore and it was an inevitable conclusion that he would have to be relieved of his duties.
It's a new dawn, it's a new day...
Only four days later, Liverpool had their new man. Jürgen Norbert Klopp. The charismatic German who had transformed Borussia Dortmund back into the superpower of yesteryear was the new boss and whilst there was plenty of acknowledged the size of the task that Klopp faced, and faces, there was also plenty of hope that he could revive a dormant force.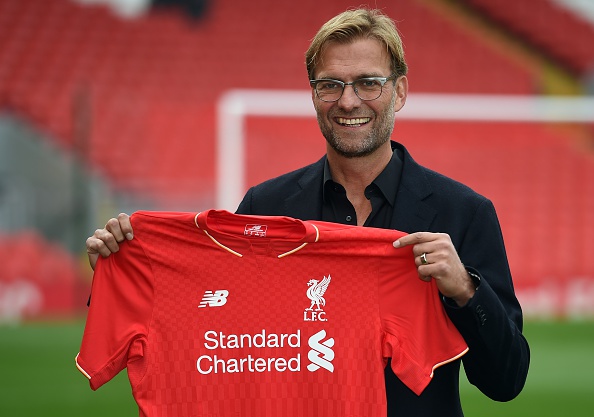 The international break and the nine days between Klopp's appointment and his first game felt like an age, but finally his first game arrived. Tottenham Hotspur away, not the easiest game for the best of managers. The away end was decorated with German flags and there was plenty of evidence of the 'Gegenpress' - the word used almost constantly in the predictions and tactical analyses of how Klopp would shape and set up his Liverpool team.
All in all, his first game petered out too be a bit of a non-event. A quiet goalless draw. It was okay though, because this was just the start. That was too the motto after back-to-back 1-1 draws against Rubin Kazan and then Southampton, the latter a cruel blow with the Reds just minutes away from a first win under Klopp's leadership.
That had to wait until their next game, a 1-0 win at home to Bournemouth in the next round of the Capital One Cup, as a youthful side brought refreshing excitement and intensity. The first-team, clearly inspired, went one better as we saw the first real evidence of how Klopp can motivate and instill passion into his players away at Chelsea.
The reigning champions, albeit in dire straights, still represented difficult opponents at Stamford Bridge. Klopp's men were having none of it, though. Despite falling behind early, Coutinho single-handedly inspired his team-mates to a famous win - bending one in from the edge of the area seconds before the interval before another outside-of-the-box put the away side in command with quarter-of-an-hour to go. Christian Benteke came off the bench to help round things off as Liverpool secured a monumental three points in the manager's first league win.
That was then followed by another impressive win, though in different circumstances, as they travelled to the sub-zero surroundings of Kazan but came away with a priceless 1-0 victory to boost their chances of finishing top of their Europa League group.
Peaks and troughs, peaks and troughs, Liverpool are a bit like a broken record...
But yes, you guessed it, there's always a comedown. A point where the house of cards come tumbling down. Yet again, Crystal Palace were the architects of that downfall. With three wins and three draws from six games so far, Klopp's reign had only undergone a few minor hiccups. This was their first real setback, as Scott Dann's late header stole the visitors the points after goals from Coutinho and Yannick Bolasie before the break. It was a suckerpunch, but Palace earned it - preying on Liverpool's weakness of being unable to break down teams once they sit deep defensively and stay compact, despite allowing the hosts the lions' share of terrority and possession.
Then, another international break. This time, one that wasn't met with groans and moans from supporters, because it gave Klopp and co. a chance to sit back and reflect, something they'd not had time to do in a whirlwind first four weeks.
And so, after a two-week break - Manchester City away, arguably one of the toughest fixtures in the Premier League - was next up on the agenda. But no-one quite anticipated the ruthless fashion in which Liverpool would tear City apart on their own ground. 32 first-half minutes gone, they found themselves three goals to the good, and three brilliant goals at that. Just about everything Klopp asks of his side was on display as Liverpool pressed, pressed and pressed their opponents into oblivion. It worked wonders and the Reds took advantage of their chances once it did, running Manuel Pelligrini's men ragged.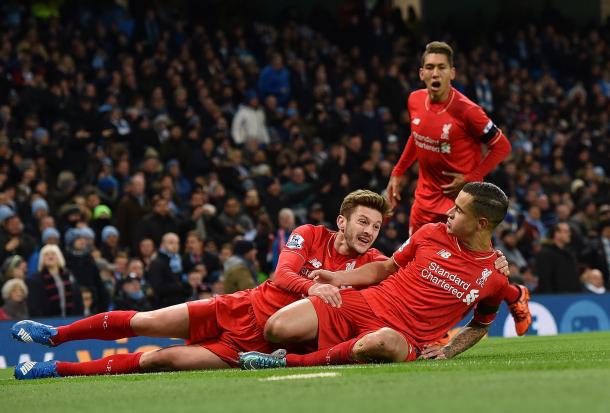 Sergio Aguero threatened to change the tone of the game after making it 3-1 but Liverpool showed a different side to their game when they stayed resolute to maintain their lead before Martin Skrtel put the gloss on the win with a thunderous half-volley from inside the box at a corner kick. 4-1. 4-1 to a Liverpool side against Manchester City at the Etihad Stadium. Lovely stuff.
Again, they continued to string together a good run of form. A 2-1 home win over Bordeaux put them in pole position to finish top of their Europa League group, before a gritty 1-0 win over Swansea - thanks to another bit of luck in winning a penalty - demonstrated their ability to grind out results in tough conditions.
Then came the small matter of a cup quarter-final away at Southampton. Not the easiest place to visit at the best of times and when Klopp chose to field a relatively second-strength side, even with Sturridge leading the line, expectations weren't too high. Sadio Mane's header after just 42 seconds seemed to show why, but Klopp ensured heads wouldn't drop.
By the half-hour mark, a swipe of Sturridge's left boot and then another of his right, reversed the advantage in their favour. It was 3-1 before the break, Divock Origi scoring his first goal for the club with a neat flick from Alberto Moreno's well-hit drive from range.
The Reds were far from done. Origi, in fact, got another with an exquisite hit from Jordon Ibe's through ball. Ibe then scored with a well-taken volley, before Origi scored a sixth to put the cherry on the cake - heading from Brad Smith's inch-perfect cross for an emphatic 6-1 win. Four straight wins in all competitions. Three wins from three on the road with 13 goals scored and all from trips to Chelsea, City and the South Coast. Things were going well. A little too well, maybe.
Klopp's first real test as Reds endure rough patch
On a four-match winning streak, a clash against a Newcastle team that had amassed just 10 points from 14 games was too straightforward a game for Liverpool to go on and win. They strolled into St James' Park full of swagger and left with their tails between their legs, with the Magpies having wanted to win every second ball that bit more. As a result, Klopp oversaw his second defeat - a 2-0 loss as Steve McClaren's team won only their third game of the season.
A final group stage game at Sion next up saw the Reds finish Group B unbeaten, as a lifeless affair in Switzerland finished 0-0 and saw them pitted against Augsburg in the Last 32 of the competition.
And they had to battle to another draw just days later, with West Brom the opponents on L4. Two set-pieces and two goals saw them make it 2-1 with 17 minutes to go, after Henderson had marked his return with a goal early on, before Origi's 96th minute strike took a huge deflection off a defender to wrong-foot the Albion 'keeper and rescue a point. It wasn't quite the result they wanted, but in the circumstances it represented a result - and the celebrations at reviving the atmosphere that Klopp had so desperately craved from the home fans, even if just for a few late minutes, led to many misconceptions afterwards.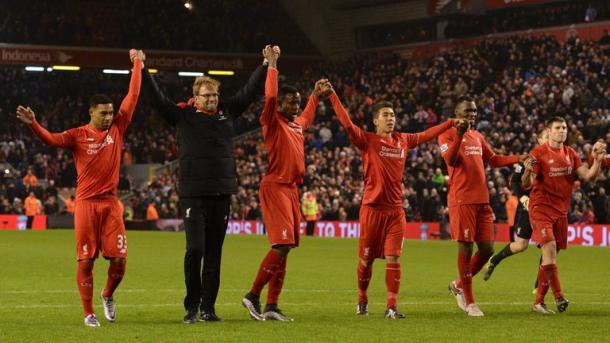 But with a trip to high-flying Watford, defying the odds to sit in the top-half, next - Liverpool's run didn't get any easier. Yet again they were found wanting when the partnership of Odion Ighalo and Troy Deeney bullied Klopp's charges into submission, handing them a 3-0 win - their biggest ever over the Reds. Come Christmas day, they would be 9th in the table - looking up at the likes of West Ham, Palace and Watford - and five points from fourth place.
What better way to end that run than again a Leicester City team who sat 14 points above them in the table? Logic often tends to defy Liverpool and that proved true again as Benteke provided the goods, even if he frustrated by somehow missing a five-on-one counter-attack in stoppage-time as they emerged victorious. They succumbed Claudio Ranieri's side to just a second defeat of the season and bizarrely, became the first team to prevent them scoring this term in the process, as the centre-back duo of Dejan Lovren and Mamadou Sakho produced a sturdy showing at the back.
That set things up nicely for the calendar year's final fixture. Another game that would seem easier on paper than it would inevitably turn out to be, Liverpool made it harder than it should have been for themselves as they faced Sunderland at the Stadium of Light.
After a first-half in which Klopp's side did what they frequently seem to do against less attacking teams, dominate the ball but fail to take their chances, a slice of fortune allowed Benteke to grab his second in two games and his seventh of the season overall, and though he again wasted a golden opportunity late on, it proved enough for them to end the year on a high. Seventh, on the same amount of points as United and only nine off of first-place - a fine way to see out the year indeed.
After three insightful months into Klopp's tenure - 2016 promises to be just as crazy
And so that brings us here, the final day of the calendar year. 58 games have been played with 28 won, 17 drawn and 13 lost. 72 goals were scored and 59 conceded. A mixed bag, it's fair to say.
There has been plenty to be learned, and plenty for Liverpool still to learn - first and foremost, how to break down defensive teams and how to learn against committing avoidable amateuristic errors that lose them points, but that is all another matter.
It's clear to see much work remains to be done. Klopp can only do so much with the current resources he has at his disposal, as shown by the sheer inconsistency in their performances over the last six weeks or more, but who'd back against him being able to do all that work? After all, the German has already engineered some wonderful things in his short spell at the club.
It's been an eventful 2015, and you can bet your house on the fact it will be equally as strenuous and hectic in 2016. Quite what will happen, who knows? But that's all part of being a Liverpool fan, you just have to strap yourself in and stay prepared for the ample highs and lows that will most definitely follow. Just make sure you've got a few electrocardiogram machines spare.