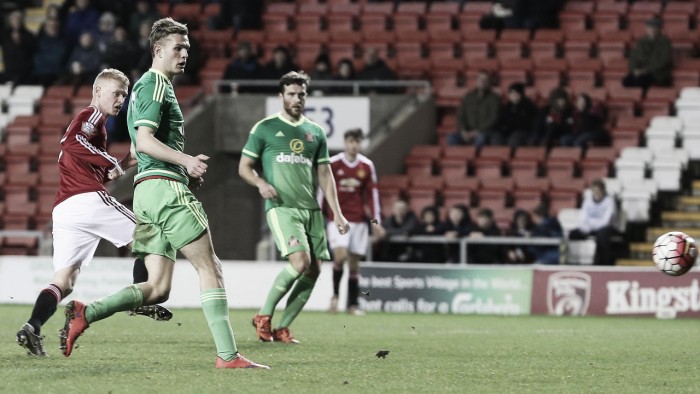 Manchester United's under-21 made it a year unbeaten at home in the league with a well-deserved victory against top of the league Sunderland.
The academy at Man United is currently in a poor state, but a wonderful team goal finished off by James Weir, who has trained with the first team squad on many occasions, removed that from the thoughts of fans for a while.
Adnan Januzaj ran the first half show, displaying that he remains a class above under-21 level and should be given a chance in the first team on his return from a Borussia Dortmund loan, although his decision making was poor at times. Alongside Guillermo Varela, another young first team member, he was vital in United's win, that leaves them second in the league but three games in hand of their opponents on Monday, the league leaders.
United continue to impress at under-21 level
The pair took a hold of proceedings early on, right-back Varela lifting it to Januzaj who couldn't quite reach it, the wind taking the ball out for a goal-kick.
Januzaj touched down Joel Pereira's excellent ball with the outside of his boot and looked to attack again immediately after. Varela, meanwhile, was involved in defence, with a superbly calm tackle on Rees Greenwood inside the penalty area, managing to earn the ball without even an appeal for a spot kick.
Januzaj's good feet saw him cut inside from the right flank, as he did so often throughout the game. Combining with Andreas Pereira, another first team member, he passed it well, filling the central midfield role too. Pereira looked for a clever pass through the defence, but it didn't come off.
Greenwood and Varela had another face off inside the area, the latter winning the battle once more, excellently.
James Weir tackled and drove forward in the centre of midfield, bursting forward before Matty Willock delivered to Januzaj, who used strength, which has often been a weakness of his, to keep the ball well.
Sunderland had a rare chance against the run of play that Mikad Mandron couldn't quite get his head on, with number seven Carl Lawson crossing in well.
Despite no attempts in the opening quarter of an hour, United dominated and created many half-chances, but couldn't get shots on goal away. Mandron could for Sunderland though, powerfully storming through midfield before hitting well wide.
Januzaj's feet earned applause from the crowd once more, dummying two players and intro the penalty area, earning a corner. It was from that where the Belgian hit the post, a cheeky effort as goalkeeper Maksymilian Stryjek was away from his near post.
Willock had a chance in a crowded penalty area, unable to get the ball out of his feet and shoot.
Pereira set Joe Riley, becoming a better left-back by the game, off on the flank. He overlapped and stormed down the wing, cutting back to Weir who, with great skill, crossed to Will Keane, but it was too high.
Josh Harrop drove through the midfield with power but finesse, dancing through two players but unable to offload the ball quickly enough. Pereira did the same minutes later, this time having a shot deflected off Tom Beading for a corner.
One of Januzaj's best moments came as he swerved beautifully in the box but chose to shoot instead of crossing to a teammate, hitting well over the crossbar and wasting his best chance.
Sunderland noticed the danger of the Belgian, finally putting two men on him, but that could not stop a great first half performance. On the right flank again, he floated a ball into Will Keane, chesting it down well but volleying into Stryjek's arms.
After half-time, Riley had a long range shot easily saved as United piled the pressure on with no response from the Black Cats. Martin Smith was booked for a poor challenge on Pereira, lucky to escape without an injury.
A daisy cutter from Januzaj was caught easily by Stryjek and Keane couldn't get the ball out of his feet after excellent work from Riley. Januzaj's follow-up to Keane's weak shot was powerful but parried away for a corner.
Riley was the centre of attention again, combining with James Weir to give Keane another chance, but he couldn't get it from under his feet, again, and scooped it high.
Harrop played the ball of the night, a Paul Scholes-esque floater that Keane took down brilliantly and Stryjek had to come out quickly and make himself wide to deny the 23-year-old.
Weir gives United lead with great team goal
It took 17 attempts, but United finally took a very well deserved lead. Started off by Matty Willock, he played it to Keane who quickly moved it onto Weir, dancing through two players and striking it past a helpless Stryjek.
United looked like getting another immediately after but couldn't take advantage of many chances, with Will Keane having an off-day in front of goal, having scored five in the two previous matches.
Scott McTominay got his under-21 debut for three minutes, replacing Januzaj.
It is Januzaj who, alongside Varela and Riley, performed excellently and can be hopeful for time with the first team.
United have three games in hand on Sunderland, who remain top of the league with twenty-eight points. Champions United are three points behind on twenty-five, in second place.