Sam Allardyce has made a lot of changes since taking over on Wearside in November. One of his most significant and immediate alterations was one of formation. Whilst Dick Advocaat preferred and insisted on a 4-2-3-1 that, most of the time, simply did not work, Allardyce has taken into consideration the personnel at his disposal and tailored the shape to suit them.
He gave the 4-2-3-1 a go to start, but soon found similar problems that Advocaat did not do much about - with the isolation of Steven Fletcher one of the main issues. To fix this, he was bold and brave in using 3-5-2 for the very first time at Goodison Park. The results were mixed - more attacking threat but six goals conceded - albeit they were steps forward and certainly gave the manager a lot to learn from.
With Patrick van Aanholt in his element in a freer wing-back role and DeAndre Yedlin also allowed to show his attacking prowess, there were many positives. The big reason six goals were conceded, ultimately, was because of a lack of centre-backs available, not because of issues out wide.
When Allardyce reverted back to the 4-2-3-1 in the following fixture, Sunderland were defensively sturdier - albeit helped by the return of Younes Kaboul - but quieter going forward, drawing a blank in a 1-0 defeat. These few games early in the new manager's reign taught many lessons and have proved crucial in the development of their formation over the last four months.
Laying the foundation
The 3-5-2 came about when a lot of fans were getting on the back's of their team; a team that had lacked ambition and adventure in their play up to this point, which had resulted in the derby day win over Newcastle United being their only victory - and that was against 10 men.
The switch to a more attacking formation helped win back the support of many turning fans. Sunderland weren't just going into games looking for a point anymore; they weren't just looking to defend for 90 minutes and hope that they got a chance on the counter.
Allardyce's fifth game in charge was something of a tactical mastermind. The Black Cats headed to Selhurst Park on a Monday night in November, looking to overcome an in-form Crystal Palace, and they did exactly this.
The manager went back to 3-5-2 and it worked a treat. The wing-backs nullified the attacking threats of Yannick Bolasie and Wilfried Zaha, whilst the front two gave them more of a chance of doing something on the counter. It was on a breakaway that the Black Cats got the game's decisive goal too - Jermain Defoe making a nuisance of himself to force an error out of the defence which he capitalised on. Sunderland ran out 1-0 winners.
The balance was perfect. The team had width and options through the middle, whilst the defence was well organised and never out-numbered. It also got the best out of players like van Aanholt, Fletcher and Defoe, who had been inconsistent and criticised up to this point.
The same set-up got them a 2-0 win at home to Stoke City a week later and helped them put in a more than commendable display at the Emirates the following weekend - even if that ended in a 3-1 defeat.
However, it was a system reliant on personnel. The absence of Kaboul was crucial in the loss to Watford, whilst the manager's decision to play Billy Jones over Yedlin at Chelsea was a mistake that proved costly - though the team as a whole struggled to replicate the performance levels shown in recent weeks at Stamford Bridge.
The 3-5-2 was a starting point. It taught the team many things about themselves and Allardyce a lot about the players he was working with. However, it was not sustainable with the constant changing of personnel and the inconsistency of certain players key to it.
Building the blocks
The set-up was scrapped at the Etihad against Manchester City, but it's absence has hardly been missed since. Defeat to Liverpool wasn't an ideal response to a 4-1 loss in Lancashire, but Allardyce has since proven that the team don't need the 3-5-2.
Defoe is working well on his own up front, proving that he doesn't need the support of another striker - especially when they only seem to come in the form of incompetent partners. Van Aanholt has improved his form as a standard left-back, even on a hot streak in front of goal, and Jones is certainly the more complete right-back, something he has proven since getting back into the team on a regular basis with the return to the back four.
Allardyce initially scrapped the formation due to a lack of central defenders. When he brought in Jan Kirchhoff and Lamine Kone last month, many anticipated the return of a back three. However, if any one player proved that Sunderland are past what could be described as a desperate measure to fix their defensive woes, it is their first signing of the winter window - Kirchhoff.
Thrown in the deep end as Allardyce changed to a back three midway through the defeat to Tottenham Hotspur, Kirchhoff struggled in a new league, with a new team, in a new formation, all at once. His infamous debut will go down as one of the worst in history, with a half-hearted block giving Spurs a goal before he also gave away a penalty, but his full debut was much different.
At home to Manchester City on Tuesday, the big German played in a holding midfield role in a 4-1-2-3 set-up - also known as the Christmas tree formation. On paper, as the line-up was revealed, it looked like a 3-5-2, but it was not. Kirchhoff was exceptional in his new role, with his performance described as such by his manager after the game. The key to survival for Sunderland is certainly defending better - but this does not necessarily mean in defence.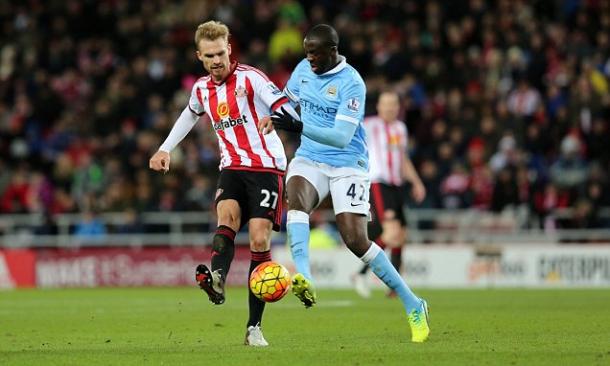 Christmas tree doesn't have to be solely seasonal
The midfield has been thrown into question and under the microscope this season, particularly after just one - an attacking midfielder in Wahbi Khazri - was recruited in January. Kirchhoff's performance demonstrated a new, fresh idea from a player aiming to prove his worth in a new, fresh formation from the manager.
The back four is obviously more reliable than the three, or five depending on your perception, of the past, whilst the one holding midfield provides stronger protection than two. This sounds strange, but the one is given the job to simply sit and nothing else. The two, however, don't just sit. Because there are two of them, they feel less responsible and stray forward more.
The deployment of Kirchhoff as what is commonly called a 'number four' gives more freedom to Yann M'Vila and Lee Cattermole, who are suspect defensively at times, particularly the latter, but who have plenty to give going forward. Both capable of posing a threat striking from distances and with an eye for a pass, they can influence the attack more with a player behind them.
Though it is essentially nothing more than a standard 4-3-3, the 4-1-2-3 perfectly outlines the roles of everyone in the starting XI, which is exactly what a struggling team like Sunderland need. The players need clarity on the pitch to ensure the game plan is conducted efficiently to claim the points they desperately need.
What the 4-1-2-3 represents is the lessons learned by Allardyce in his first four months on Wearside. The manager has tried several formations, with countless different combinations of personnel, and the Christmas tree is a collection of everything he has gained from his experimentation.
In Big Sam, Sunderland have a manager who actually takes things from games, not one stubborn enough to persist with a system that simply will not work. Though their situation right now isn't the most inspiring, sat second-bottom in the standings and four points from safety, Allardyce's tactics are certainly ensuring they are not written off yet.