 Sunderland Ladies shot-stopper Hilde Gunn Olsen has spoken of her pleasure to keep a clean sheet in the opening pre-season friendly against Glasgow City.
Good preparation
Sunderland Ladies started their pre-season campaign off with a goalless draw against Scottish Women's Premier League champions Glasgow City and goalkeeper Olsen labelled it a 'good game' but admitted Sunderland must improve their 'attacking side of play'.
The Norwegian did then admit that there was 'plenty of time' to improve before the new season kicks off next month.
Olsen only featured for 45 minutes of the friendly before being replaced by fellow 'keeper Rachael Laws but stated it was 'nice' to keep a clean sheet in the first half. She also offered her thoughts on Sunderland's good 'defensive shape'.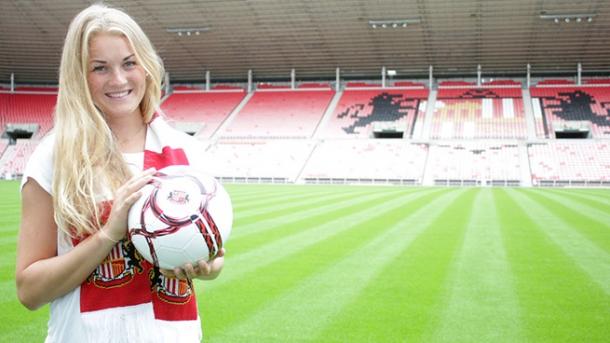 New additions
As well as the game providing a fitness test for the ladies, it was also a chance for Sunderland's new signings to get their first run out for the club.
Newcomers Kylla Sjoman, Krystle Johnston, Lucy Staniforth and Rachel Pitman all made their debuts for the Lady Black Cats and Olsen believes it was good test for the signings.
Olsen claimed the girls did 'very well' before stating the club had a 'bright future ahead'.
Building from last season
Sunderland Ladies finished fourth last year but were 12 points off the top of the table. The ladies will be hoping to get closer to champions Chelsea this term.
To do this they will need striker Beth Mead in a similar vein of form as last season. The forward hit 12 goals last season, which was five more than any other player in the FA WSL.
Sunderland begin their league campaign on March 26 against Reading, who have recently been promoted after winning the FA WSL 2 last year with a total of 45 points.