It's April 2013 and the FA have just announced the restructuring of the FAWSL, changing it from one eight team division to two tiers, the top - WSL 1 - consisting of eight teams and the second - WSL 2 - consisting of 10.
It's a move that has been made to increase competition - coming at a time when Arsenal are in complete control of the game in England - and to generally improve the sport in the country. The Gunners will compete in the top tier alongside Birmingham City, Bristol Academy, Chelsea, Everton, Liverpool, Manchester City and Notts County, it is confirmed.
For Manchester City, it's incredible news. They are in the top flight for the first time, ready to emulate the success that the men's team have suddenly started to enjoy.
However, their happiness is at the expense of one of the founding members of the FAWSL - Doncaster Belles. The two time champions of England and six time FA Cup winners are demoted to the second division, and not because of their performances.
"It's the most farcical thing I've ever heard," said manager John Buckley. "The Belles have been relegated after only 90 minutes of football," vice-chairman Alan Smart satirically commented. "It's morally scandalous," added Arsenal manager Vic Akers.
Now, it's 2016. At the back end of last year, Doncaster won promotion back to the top flight after a two year absence, finishing second in WSL 2 to climb the pyramid.
The sense around the club is to make up for lost time and to be back challenging for trophies - like someone of the Belles' stature should be. Club legend Karen Walker described the club as being back "where they belong," and the feeling is certainly shared by many.
Courtney Sweetman-Kirk wasn't part of this side when they suffered that heart-breaking demotion three years ago. The forward was then with Notts County, a club where she was unable to really make her mark during her time there.
However, to say she played a part in the Belles returning to the top flight would be an understatement. The 25-goal forward was one of the hottest properties in England in 2015, despite plying her trade in the second tier, and now she's looking to carry that form into the new season for the benefit of her team.
Heads turned in the transfer window
The eyes aren't just on Doncaster this season because of their controversial demotion from this level three years ago though, but also because of the preparation they have been doing.
In the transfer window, they have done more than just turn heads. The recruitment of players such as Natasha Dowie and Becky Easton has impressed many, with their innovative Project Phoenix more than attractive to players in the game.
It's not just bringing players in that they have managed though, but keeping them too. Sweetman-Kirk is one of many to have signed a new deal in Doncaster, with the core of the promoted squad remaining and having been added to over the off-season.
"The squad is coming together really well," Sweetman-Kirk exclusively told VAVEL UK. "Although we have brought in some great players, we have also kept a good core of the squad which was really important. [Doncaster] is very much a family and it was always important to bring in good people as well as players and, to be fair to the gaffer, he has done that really well."
Having played such a key role last season in this club's brilliant campaign, manager Glen Harris recently revealed that other teams had been keeping tabs on Sweetman-Kirk. However, fortunately for him and the club, he was admitting this as the club announced that the player had signed a new deal in Yorkshire.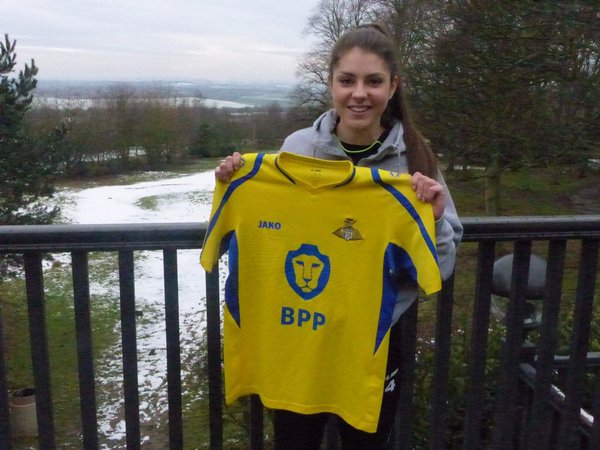 Doncaster's off-season hasn't been flawless, with Bethany England moving to Chelsea and Emily Roberts also departing. However, securing Sweetman-Kirk's services for the upcoming campaign was a huge bit of business and a deal that the player herself revealed was almost a no-brainer to sign.
"There were a lot of factors in the decision," she said. "I love the club and have always said from day one, [Doncaster] is where I have felt the most at home and I feel I owe them a lot for that. We are like a family and I feel like I am able to thrive in that atmosphere."
"Obviously, Project Phoenix was also a big draw," she added. "To become a full time professional is a dream come true and I was massively impressed with the vision of the club going forward. It's something I couldn't say no to."
Other players to sign new deals at the Keepmoat include goalkeeper Nicola Hobbs, captain Leandra Little and legend Sue Smith, and Sweetman-Kirk believes that these deals have been "massively important" as they have ensured the core of last season's team remains.
Ambition from the off
Now, Doncaster move into WSL 1 with a group that share the same aims and ambitions, which is important as these goals aren't ones that just ask the club to stay up.
"Everyone in the club is hugely ambitious and make no mistake we are not there to make up numbers," Sweetman-Kirk said. "There has been a lot of talk of us avoiding relegation. I understand why people would say that, but we are going in the league to compete and win things, it's as simple as that."
The ambition is clearly there. When asked whether the club's aims for the season are about more than just staying up, "without a doubt" is the answer from the forward.
"The club is full of ambitious people from players right the way through to the management and every member of staff around the club," she explains.
"We want to compete with the best, win games and everything else will take care of itself in that sense."
The confidence is there. The ambition is there. Now it's about application. With the majority of the team turning professional, Sweetman-Kirk believes they can be properly prepared for their return to the top flight, describing the full time training as "the biggest difference" in pre-season this time round and as something which is resulting in noticeable "improvements."
"I think the attitude within the squad towards training has always been great and people went above and beyond last year, fitting extra training around work and education. So, now having more time and more resources, the girls are really flourishing."
It's this high work ethic that the team need to continue to show if they want to hit the ground running in WSL 1 too: "It's more about working really hard to improve individually and as a whole," says Sweetman-Kirk, as opposed to "looking to adjust [to the top flight]."
Sunderland - an act to follow?
On paper, Doncaster's ambitions and aims might seem far-fetched but, after the success of Sunderland in 2015, we've already seen just what a bit of momentum from the previous season can do for a club.
The Lady Black Cats were a team that the Belles enjoyed a competitive rivalry with in the second tier a couple of years ago, with them matching them brilliantly in 2014 and being the only team to beat them in their promotion campaign. They can certainly take heart then from Sunderland's fourth placed finish in the top flight in 2015 too, with the Wearsiders well involved in the title race and able to secure some huge results - including a 4-0 win over eventual champions, Chelsea.
However, though their success is "something that gives [Doncaster] confidence," it's not something they are "looking to emulate."
"I would say it's something we could learn from," the forward said, but she also added that the Belles "are a different club" who have "[their] own aims and objectives going forward."
Behind Sunderland's incredible success in 2015 was a prolific striker in Beth Mead. The youngster bagged 12 goals in 14 games, finishing top scorer in the league in her first season at the top level. Can Sweetman-Kirk be the prolific striker behind success for Doncaster in 2016? She's certainly hoping to be; extremely keen to take "advantage" of the opportunity the club have granted her.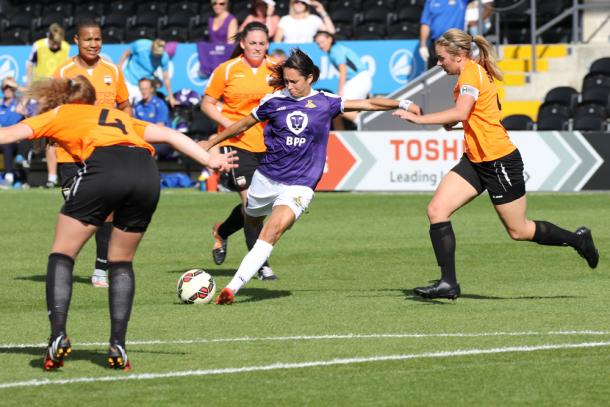 "I believe I have the right attributes to carry on performing well," she said. "It's about working really hard on my strengths but more importantly my areas to improve so I can kick on from last season."
Mead's form put her in the England senior picture too in an incredible year for the country in women's football and, whilst she insists Doncaster and herself have their own aims and ambitions, Sweetman-Kirk certainly wants to be turning heads just the same.
"First and foremost," she says, it's about "enjoying" herself in the top division, especially because she believes she "play[s] at [her] best" when she is. However, as the Lionesses continue their Euro 2017 qualification campaign, an England call-up is still at the back of her mind.
"I have always said that representing your country is the biggest honour you could have and I always aim for that international call-up. Since Mark Sampson has been in charge he has shown that he picks players on form, so I would like to think if I have another good season, the right people will be looking."