 Jürgen Klopp says he is relishing the first European instalment of the ferocious rivalry between Liverpool and Manchester United when the two go head-to-head on Thursday evening.
The Reds host their old rivals at Anfield for the first-leg of their UEFA Europa League last 16 affair with Louis Van Gaal's men, and Klopp is highly anticipating what he called "the mother of all football games."
Klopp looking forward to massive game
Speaking ahead of the monumental double-header, Klopp told the press at Melwood on Wednesday that occasions like this are why he loves football, insisting: "I can't get enough of this."
He admitted that he "couldn't imagine years ago" he would be Liverpool manager whilst they took on Manchester United, saying that it's "one of the best thing I can imagine."
Klopp revealed how he was "really happy" with drawing the Reds' arch rivals, but not because it will "be easy" but rather that it's "exciting for everyone" and "all the Liverpool world is excited about it."
"Games like this are the mother of all football games," declared the German, who said that matches with such stature are "what you really want when you're young" because they are "the best thing you can do in football."
Klopp added that this particular fixture is "really, really big" and "very important" with it the first ever meeting between the two teams in continental competition, but said that he hopes it's "not the biggest game" during his Anfield reign.
Reds boss unconcerned by United's recent record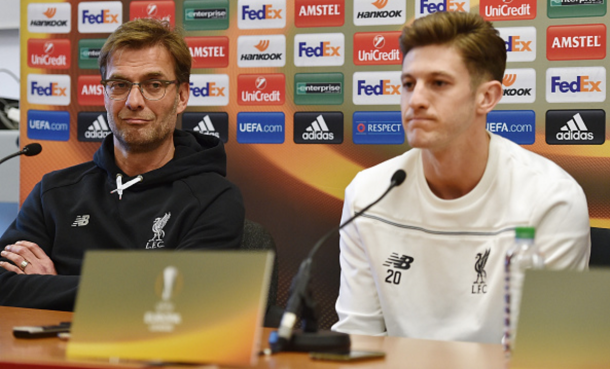 With the game taking on extra meaning on Thursday, winning the Europa League seemingly the only possible route by which either team can reach next season's Champions League, it also marks the sixth clash between Klopp and his opposite number, Van Gaal.
Having lost three times to the Dutchman, who was formerly the Bayern Munich boss when he was at Borussia Dortmund, Klopp has insisted he doesn't have a particular rivalry with the United manager.
He explained that he doesn't believe in "enemies" in football but rather "real opponents", adding: "I have absolutely no problem with Louis van Gaal, but the last thing I want is for him to win."
Klopp referred to the "difficult situation" which United have gone through, suggesting that "maybe they're not completely through" that period and therefore his Liverpool side "want to make their problems bigger."
He admitted that he's "really pleased" for the veteran manager, who he called "one of the most successful managers in the world", because he has "changed it a bit" to come through "a lot of pressure", but said that the Reds "don't have to be sorry" for United.
"For sure they are more confident then they were a few weeks ago, but we're in a good moment too," continued the Reds boss, when asked about the 1-0 loss to the Red Devils back in January.
United and Liverpool on a similar level, believes Klopp
That meant that Van Gaal has won all four games as United manager against Liverpool, but Klopp says they fancy their chances this time around.
"I was only part of one of those defeats to United," he said, acknowledging that he remembers the loss to them a few months ago as he said his team "didn't play our absolute best" although they played "well enough to win."
Though United boast a better record in recent meetings, Klopp insisted: "I don't think they are much better and have much more quality than us. I'd say it's pretty close."
And the Reds boss believes his side approach this fixture in a "better situation" than the last against United, explaining that they have "more players available" and "can make changes when we want to" although he said that he doesn't know "who will be ready" until a few hours before the game.
"This is the best moment for us to play very important games," said Klopp, speaking about the squad depth he has available to him, but challenged his players to "show that on the pitch."
German believes Europa League is more realistic route of qualifying for the Champions League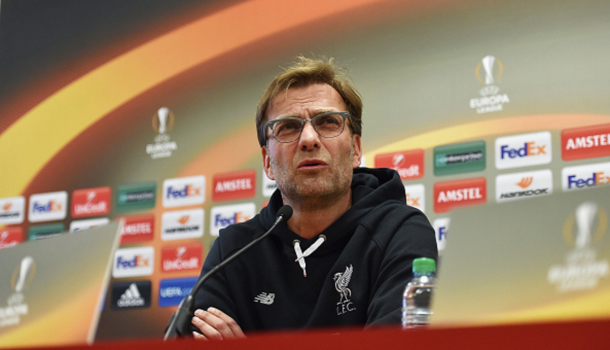 Ever since arriving on Merseyside a few months ago, Klopp has spoken highly of the importance of the Europa League to Liverpool's season - and he repeated that belief on Wednesday, although he told the press that they are refusing to look beyond this stage.
He admitted that they could "win all our [league] games and have no chance of the top-four" because the situation is "not in our hands" and despite saying that there "are a lot of quality clubs" in this competition, they should "take what we can get."
"It's enough of a target just to want to go through to the next round without thinking about the final," Klopp continued, as he called the Europa League "a great tournament" which he insisted he "said from the first day I was here."
He said that there's "a long way to go" but that they "can see the line" and there's "only top quality teams left in this tournament" which make it feel "something like a small Champions League." And he believes the clash between United and Liverpool only proves that, insisting: "At the moment, this is the biggest game I can imagine."