Jürgen Klopp has spoken of the impression Allan Rodrigues de Souza left on him after witnessing him in Liverpool training, with the teenage midfielder recently called up for Brazil Under-20s for the first time.
The 19-year-old is currently out on loan at Sint-Truidense in Belgium having spent a spell on loan at Finnish outfit SJK earlier this season, where he helped them to the league title.
But Allan - who signed from Internacional in the summer - spent a short time back on Merseyside between those two spells, with Klopp having been left sufficiently impressed by the player, who will be involved in his country's preparations for the South American Youth Championship in Ecuador.
The Reds boss even went as far to say that "for sure" the former Internacional captain will be an important member of the team under him, once they can sort out his work visa.
Klopp taken aback by Allan's "outstanding" quality
"When I came here, one or two months later Allan was here and I said 'who is this?'," explained Klopp, who said that he was told he was unable to play for Liverpool because he of "the FA rules and things like this."
The German added: "I saw him in training and I thought 'oh my God, what can we do to keep this boy here and bring him into the line-up?' He's 19 years old, an outstanding talent, a good player with a good attitude.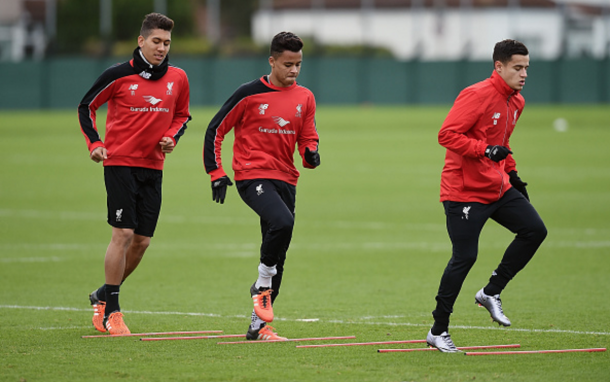 Klopp also said that "everybody" around the club "loves" Allan because he's "a nice lad" and "a smart player" which he described as "really, really good."
Although Allan currently has "no chance in this moment" to play in England, as he waits on a work visa, Klopp has been keeping tabs on his progress abroad and says he's done "really well until now" in Belgium, saying the club "had no doubts about this" because "it was a good transfer for both sides."
National team call-up fully deserved, says Reds boss
The Liverpool manager also called it "great" and "really deserved" that Allan has received his first call-up to Brazil's national U20 team, calling him "an outstanding talent."
Despite the wealth of options available to him in central midfield currently, with a summer transfer window expected only to bolster that, Klopp insisted: "We hope we can find a solution in the future because he will be a fixed part of the squad in the future, for sure."
He continued that he must use his time before then "to improve" and to take "the next step" which is representing his country at U20 level, which Klopp labelled "a great story."