 Manchester United under-21s became Barclays U21 Premier League champions for the third time in classic United fashion, Guillermo Varela scoring in the last minute in a 3-2 victory at White Hart Lane against Tottenham Hotspur.
The academy at United has been at the forefront of their season, particularly with Marcus Rashford's incredible rise to first team star. All those who have performed so well for the senior team have come through Warren Joyce's excellently coached under-21 side.
United score in 94th minute to lift title
There will be more to come through over the coming years, and claims of the academy beginning to fail are continuing to be dashed by Joyce and his side. Those who did come through for the first team played a huge role throughout the season and did so at White Hart Lane on Tuesday night too.
Donald Love, given his debut against Sunderland this year, scored in the fourth minute for the perfect start and his first goal in three and a half years. Another first team member, Andreas Pereira, laid it off wonderfully with a backheel and Love struck it first time past Spurs goalkeeper Luke McGee.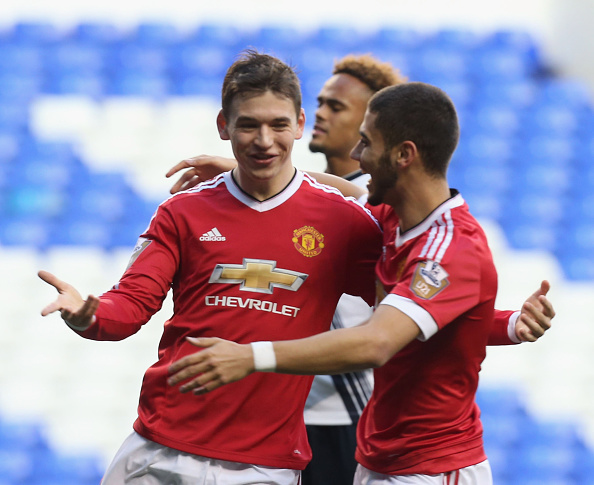 2 goals in opening 16 minutes for Warren Joyce's United
United made it 2-0 through Pereira just 12 minutes later. Perhaps against the run of play, with Tottenham growing and holding most of the possession, the Brazilian attacker calmly volleyed home with precision. Guillermo Varela had plenty of space to exploit after receiving a great crossfield ball from Joe Riley, Varela took his time on the ball before crossing right onto Pereira's boot, which converted the chance past McGee.
Tottenham Hotspur were impressive despite going 2-0 down. They looked the better side after Pereira made it 2-0. William Miller got a deserved goal for Spurs, another excellent goal. Similar to Love's strike, he placed it past Joel Pereira well from 20 yards.
Harry Winks was Spurs' most impressive player. He forced a wonderful save from J. Pereira, right in the right bottom corner. After the resulting corner was scrambled around the box, Kazaih Sterling curled it just wide, given too much space by United.
Winks showed his defensive qualities moments later. With Sadiq El Fitouri through on the right flank, Winks reaches round with a great tackle. After tht, he got up calmly with the ball at his feet and reverse passed to a teammate despite two United players closing him down.
Tottenham continued their dominance after the break, and almost scored immediately but for captain Joel Pereira. Axel Tuanzebe was nutmegged and McNair nor Williams failed to close Spurs down, but Pereira blocked the shot.
United almost extended their lead, and should have done. Spurs goalkeeper McGee passed straight to Love and the Scotsman taking a tough allowed McGee to track back rapidly into his goal. That closed the angle down for Love, who hit it over the bar.
Pereira made excellent runs throughout the game. Dribbling through two defenders having turned infield well. He faced one, realised he couldn't get past him and made space for a shot, but struck it too powerfully over the crossbar.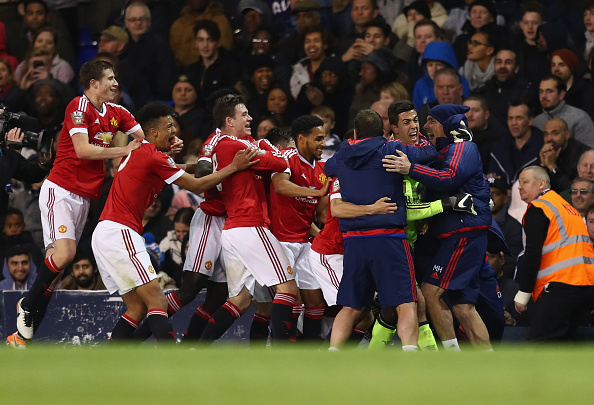 Varela, the hero at the end, shot from long range but it was well over McGee's goal. McTominay, on for a quiet Devonte Redmond, almost netted too. Love whipped a ball in but the goalkeeper charged out to meet McTominay and scramble it away after three saves.
Kyle Walkers-Peter was in a great position but wasted the chance from wide, crossing far too deep and allowing Pereira to catch a weak header.
Pereira had another wonderful run that he couldn't quite finish. He was played through to be one-on-one with the Spurs defender, who dealt with the dangerous Pereira well. He forced the Brazilian to cut back inside, but Pereira smashed the post instead of it nestling past McGee.
Varela showed his own pace just moments later, catching Spurs off guard. He had to hold it up for his teammates, also off guard. Amongst three defenders, he could do nothing but lose the ball.
Pritchard almost drowns title celebrations
It appeared as if United would regret those missed chances when Spurs substitute Joe Pritchard made it 2-2 late on, appearing to deny United their title celebrations.
No one ever doubts United in the final moments, though, and the academy players who have come through the system have it ingrained in them to never give up.
Paddy McNair had a shot blocked in the last couple of minutes before it broke out moments later to Guillermo Varela who struck it home calmly under pressure. The entire team, subs and coaching staff joined in celebrations, knowing Spurs couldn't respond, with no added time remaining.
United are U21 Premier League Champions for 3rd time
It was true Manchester United-style, and a title they fully deserve again, especially manager Warren Joyce who has seen multiple key players out with injury throughout the season.