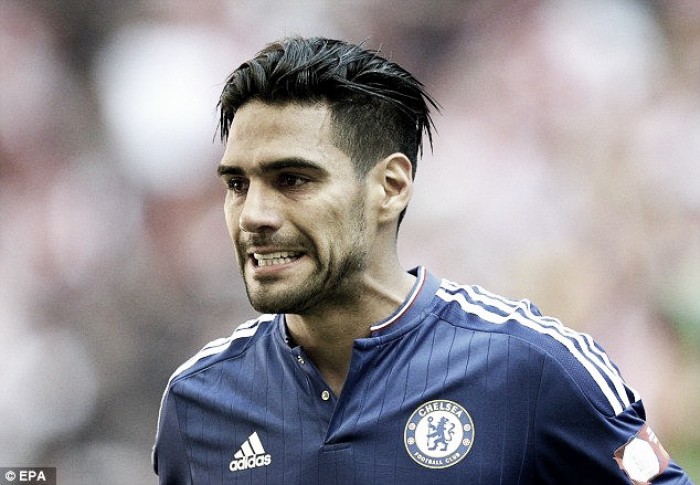 After his injury ridden season at Manchester United, Radamel Falcao hoped his season loan at Chelsea would get his career back on track but after starting just two games all season his spell in London hasn't worked out as he'd hoped.
The defending Premier League Champions took a gamble bringing in the striker originally after failing to impress during his time in England the season before and unfortunately that risk hasn't paid off, which now leaves Falcao in a difficult situation. Knowing that it's extremely unlikely the Blues will look to sign him permanently and that his home club, AS Monaco are also unlikely to be keen on offering him much game time he now faces the task of finding a new club for next season.
Whilst his contract does run until 2018 at Monaco, he will be assessing his future when he gets back to the club in the post-season, and at the age of 30 his next move could be his final one to have any real impact at a high level, should that be what he hopes to do.
Waiting until the summer
Despite admitting he "does not know" what his future holds, Falcao is "waiting until the season is finished" before he begins to think about the future, even though he has had a "tough" experience in England over the past two years. Falcao attributes his struggle to adapt to his lack of game time at both clubs, as he has not played as "constantly" as he wanted to.
However Falcao claims to still be as determined as he was at the start of the season to "fight for an opportunity to play" and he believes that the past few seasons have made him "better in other ways" which he claims to be happy about.
But the ultimate problem for the striker is his performances are not at the level they once were. Which is why he is going to look over his options at the end of the season and moving to the MLS could be one he is taking seriously.
America next?
One of the main options available to Falcao this Summer will likely come from the MLS, with Columbus Crew reportedly interested in signing him and it is an idea that he hasn't rejected. Falcao already knows numerous players in the MLS, and admits that he "follows the league." However he does also believe the division could be bigger than it already is because they, "have everything they need to become stronger."
But regardless of the interest that both parties may have, Falcao has revealed his main intentions are to remain in Europe, as he believes he has, "more years to fight in those leagues," but after two disappointing years, what clubs would take the risk this time around?