Manchester United's fairytale-maker Marcus Rashford received the prestigious Jimmy Murphy under-18 Young Player of the Year award at the club's ceremony last night in Manchester.
It has been a sensational start to his career with four goals in his first two games for United's senior side. He's also been a star at youth level, which some have forgotten. The 18-year-old has played for the under-18s, under-19s, under-21s and senior side this season, and got his first call-up to the England under-20 side after his senior debut.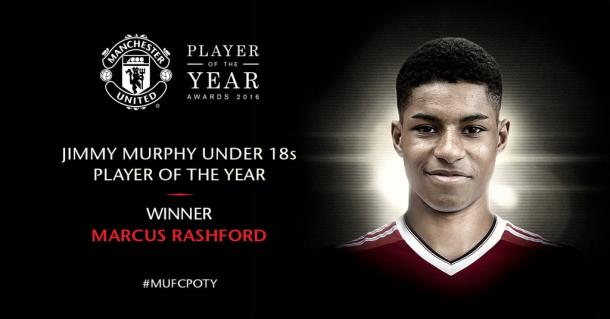 He's scored 18 goals across all the levels at United this season, including a goal for each side. Perhaps his efforts for older sides played on those voting for the award previously won by Ryan Giggs, Paul Scholes, Phil Neville, Wes Brown and Danny Welbeck. He had a wonderful season for the under-18s before February when he was called up to the senior side, but others in the young side have been in similar form this season such as Angel Gomes, Indy Boonen and Tyrell Warren.
Rashford awarded for brilliant under-18 season
Rashford has rarely spoken to media since breaking through in such stunning fashion but did so to MUTV in front of those at the awards ceremony on Monday night.
He told Hayley McQueen that "this season has been a bit crazy" and "a bit difficult to take in". He said that the award "means a lot" and "it's what dreams are made of."
The award is named and in memory of Jimmy Murphy. The former-Welsh footballer was a vital figure in the history of the club. After the Munich Air Disaster in 1958, when Murphy did not travel with the team due to coaching duties for the Welsh national team, he took control of Manchester United, bringing together players from around Manchester to fill in for those either dead or injured in Munich. While Sir Matt Busby was treated, Murphy kept Manchester United going and took them to the FA Cup Final, incredibly, having had so few players available to him.