Well, that's all we've got time for today. The 1-1 scoreline doesn't quite suggest so, but that Championship play-off semi-final second-leg was arguably among the best you'll see. It had all the ingredients of a cracking game and somehow Brighton & Hove Albion come away disappointed once again. You can't fault their effort. They gave everything in their search for victory, but it just didn't happen for them and it's Sheffield Wednesday going to Wembley for the final. They move one step closer to ending their wait for top-tier football. 2000 was the last year they tasted it, and now they're incredibly close to a long-awaited return. It wasn't easy, and for long periods of the game it seemed as though Brighton would truly pull off the great escape, but Wednesday got a stroke of luck when Ross Wallace's cross found its way into the back of the net to make it 1-1 on the night and 3-1 to the visitors on aggregate after Lewis Dunk earlier opened the scoring for the home side. Both teams had an abundance of chances to add to the scores, but neither could take them and 1-1 (1-3) was how it ended. Make sure you return to VAVEL UK for the other semi-final second-leg between Hull and Derby tomorrow. We'll have live coverage of that game also, and if it's even half as good as tonight's offering - you're in for a treat. Thanks for joining me Charlie Malam, and enjoy the rest of your night.
Sheffield Wednesday captain Glenn Loovens, nominated Man of the Match, speaking to the Sky Sports cameras afterwards: "It is a big relief. It wasn't our best game but we don't care. We are there and we can enjoy it fully now. The spirit has been good all season - not only the players but everyone involved." Goalscorer Ross Wallace adds: "Defensively the back five were great. they put a lot of balls into the box and we had to weather the storm. We are going to have a magnificent day out. We'll enjoy the moment and then get back to it."
Tripods and GoPros on the go amongst the Wednesday players celebrating in front of their travelling supporters. You tell me. Still, they've every right to celebrate. They're going to Wembley Stadium on Saturday May 28th to face one of Hull City or Derby County in the Championship play-off final. If I were a betting man, I'd put my money on Hull. They are 3-0 up after the first-leg, after all.
What a game of football. Excellent stuff. Both sides gave it their all but it's Sheffield Wednesday who progress. Skalak and Bruno having to be consoled by their opponents. The tears are flowing for Brighton, who must be sick of the play-off semi-finals by this stage. They've still yet to win one since 2004.
Had Brighton produced this performance in the first-leg, who knows what may have happened? They were dealt a bad hand, in fairness. They suffered a lot of injuries, but tonight they've been fantastic. Having gone unbeaten in 21 games earlier this season, a league and club record, somehow they've not managed to go up. Not that the Sheffield Wednesday contingent care as they celebrate in the away end. Can they end a 16-year hiatus from the top-flight? They're 90 minutes away from a lucrative return to the Barclays Premier League.
It's heartbreak again for Brighton, who fall at the play-off semi-final hurdle for the third time in four years. Despite finishing on 89 points, the same amount as automatically promoted Middlesbrough, they remain in the Championship for the 2016-17 season. They'll be crestfallen. They gave it everything in their efforts to become the first team to rescue a two-goal deficit after a first-leg, but they just couldn't muster enough to do it. What a performance they gave though.
Sheffield Wednesday are going to Wembley. They're in the Championship play-off final!
FT: Brighton & Hove Albion 1-1 Sheffield Wednesday (agg. 1-3)
90+5' CHANCE! Was that it?! Dunk has time and space in the box but he can't beat Westwood, who makes a great stop to keep it at 1-1. Stockdale comes up for the resulting corner, but the home side can't make anything of it.
90+4' Wednesday's place in the final almost confirmed as Forestieri nearly races on to a loose ball, but Stockdale is quick off the mark to clear at the edge of his area.
90+2' Good chance but Knockaert shoots wide after spinning and meeting LuaLua's delivery.
90+1' Into the first of those six minutes added on, with Brighton trying to push the ball forward. LuaLua cuts inside from the left and hits a low right-footer, but it falls just wide of the mark.
90' A Brighton corner, their 10th of the game, sees Knockaert swing in another decent delivery but the referee blows for a foul by Bruno. A vital chance to slow things down again for the visitors.
89' Dunk tries to spin and shoot after Knockaert's low ball into the box, but a stray foot carries the ball away from him. Rumours of six added minutes here as Nuhiu uses his body to shield the ball in the Brighton half.
88' "Hull City, we're coming for you!" roar the Sheffield Wednesday supporters. An all-Yorkshire play-off final certainly seems likely at this stage, with the Tigers 3-0 up against Derby in the other semi-final.
87' Not long left for the hosts, who are getting a bit frantic in their attempts to force a goal. Doesn't look like one is coming, with Wednesday on the verge of booking a first visit to Wembley in 23 years, but anything can happen in football.
86' Oh look. Another booking. Nuhiu clatters into Rosenior and goes into the book as a result.
85' Still time for Brighton to turn this around but they need to be clinical. Wilson shoots on the turn but can't get his shot on target. Poor from the on loan-Manchester United frontman.
84' Plenty of frustrations for the hosts, who are annoyed that Forestieri is taking his time to rise to his feet after being fouled. Game management, I think they call it.
83' Bruno goes into the book, bringing down substitute Helan who threatened to get in behind with pace and bear down on Stockdale's goal. An important intervention, if a cynical one.
82' Another Skalak free-kick, deep from the near side, as he bends it into the box. The final touch is adjudged to be by a Wednesday player and Knockaert sprints over for the corner, but it's headed clear by Loovens.
81' It almost doesn't matter, but Stockdale punches clear and Kayal runs it away. On the counter, Brighton can't quite find their final pass - as they've been unable to in much of this second period. They may be forced to rue wasting their first-half chances after all.
80' Corner to Sheffield Wednesday in front of their away fans. Their first of the match. Not many coming forward for it though.
79' Brighton going direct in these final 10 minutes and they're going to need a big push. They still need two goals remember, and because away goals don't count, that will only take it to extra time. Whether they'll manage to breach Wednesday twice in these final minutes though is questionable.
78' That change has sent Dunk up the pitch, with Bong, Bruno and Rosenior making up the defence. The substitute's first touch isn't helpful though as he brings down Forestieri and grants the Owls a chance to take the sting out of the hosts.
77' Substitution for Brighton & Hove Albion: Captain Greer off, Rosenior on. Three at the back for the home side. Ballsy.
76' Brighton looking towards a third and final change themselves, with Hughton speaking to Rosenior on the touchline. On the pitch meanwhile, Forestieri feeds Lee who hooks a cross into substitute Nuhiu at the back post but he heads over.
75' Another long Bruno throw is again dealt with and the linesman flags Sidwell for offside after he looks to bring a lofted ball under control.
74' Brighton decide to use the right foot of LuaLua as he tries to drill a shot goalwards, but it bounces straight back off the wall.
73' Free-kick to the home side as Loovens brings down Skalak on the edge of the box. All too easily conceded as Wednesday concede possession in their own half.
72' Long throw-in from Bruno reaches the penalty area where Dunk flicks a header on, but no-one is quick enough to react and Westwood gathers under no pressure.
71' Sheffield Wednesday substitution: Hooper off, Nuhiu on. That's Carvalhal's final change of the evening.
70' Not nearly as many chances as in the first-half and a lot of that owes to Sheffield Wednesday's solidity, as much as a dip in intensity from Brighton. They'll have to make use of every move forward in the final minutes as Wilson just misses out on a header from Skalak's cross.
68' The Seagulls beginning to get on top of the game again as they keep Wednesday contained inside their own half. Carlos Carvalhal's side defending well in numbers as they protect their two-goal cushion.
67' Brighton going in search of a second as LuaLua gets to the byline and pulls the ball back for Skalak, but after he drives into the near post he can't find anyone with his cross stuck up into the back post.
66' Wallace hobbles off, replaced by Helan. The goalscorer seems to have pulled his hamstring taking that show as he gestates to the club's medical teams that he's tweaked a muscle.
65' Sheffield Wednesday potentially sensing a chance to kill this tie off as they get forward more and more. Forestieri's pace in particular is causing problems. Back to the action, though, and tempers are fraying with Wallace down on the turf for treatment. Bong isn't happy with his decision to go down and has some words in pretty close proximity to him, but the situation is soon cooled. Wallace to come off momentarily, it seems.
64' Wallace rolls the ball downfield with Brighton holding a high line and Wallace forges a shooting opportunity, but Dunk hangs out a foot to block it and the ball loops up and into Stockdale's grasp harmlessly.
63' Not quite as fast-paced as it was earlier, but still plenty of drama left in this game. A few players are on the cusp of red cards, for both sides, while the home faithful are still backing their side brilliantly. They require two goals in the final 25 minutes, as Knockaert goes into the book for bringing down the lively Forestieri from behind.
62' Substitution for Brighton & Hove Albion: Baldock off, LuaLua on.
61' Hunt brings down with Skalak with a stray foot and the midfielder will take the free-kick himself with a chance to drop the ball into the six-yard box. He puts too much height on it though as it drifts above everyone and out for a goal kick.
60' Hunt goes into the book for time-wasting with LuaLua coming on imminently. It's all getting a bit tense and nervy here.
59' Knockaert running the show for Brighton as he drives forward through the centre and stays strong to keep his feet under some challenges but he can't slide a ball into Wilson. Substitution incoming for the hosts, meanwhile.
58' No let-up in drama yet as Kayal scythes Wallace. The midfielder had only just picked up his first booking and is brought back to have a word with the referee. Seems like a final warning for the Israeli international, who is perhaps slightly fortunate to get away with it. One more and he's off, which is the last thing the home team need at such a crucial point in the game.
57' Pinball! The ball pings across the box but doesn't fall for anyone in a blue and white striped shirt. Forestieri tries to counter and drives forward with pace before Kayal cynically comes across to bring him down. He's rewarded with a yellow card. Had to make the tackle though, or the striker is running through one-on-one.
56' Foul by Hutchinson, who goes into the book less than 10 minutes after coming on as a half-time sub. He shouldered Kayal to the floor, but it's a harsh booking. Meanwhile, it's another good chance for Knockaert to ask some questions.
54' Some good possession play from Wednesday, who have been a lot better since the break, Bannan seeing a lot more of the ball than in the first 45 minutes. Hooper is almost sent through on goal by Lee, but Stockdale's quick off his line to beat him to the pass.
52' Bong almost slides a great pass into Knockaert's path from the left side, but it's just slightly overhit and it runs through for Westwood to collect.
50' CHANCE! Stockdale produces a good save to deny Bannan after a Wednesday counter-attack. The midfielder has space in front of him and hits a dipping strike from distance, but the 'keeper palms it away before Sidwell mops up the danger.
49' Sheffield Wednesday are 45 minutes away from Wembley, and a final against Hull City or Derby County, but Brighton ensuring the Owls are going to have to fight for their place in the final. They still need two goals, but they're making a real fist of it as Wilson shoots on his left foot from the edge of the box. He slips while he strikes it though and it's a comfortable save for Westwood.
48' Brighton corner as Skalak is tackled down the left-side. The midfielder takes it himself, but though it's a good delivery - Dunk can't climb high enough to meet it. Again, the home side managed to keep the pressure on but Westwood saves from Skalak and then Wilson with good low stops.
47' Still a great atmosphere inside the ground, which isn't really that surprising given what's on offer. The tempo isn't quite the same just yet, from Brighton's side, but who expected it to be? They must be absolutely knackered already.
46' Substitution at the break, Hutchinson - having suffered from glandular fever and knee problems recently - replacing Lopez to add to Wednesday's midfield. Welcome to the party, Sam. Hope you're prepared for a quick start.
How nice it was to have a few moments of peace during the break. The Great Escape is playing again at the Amex, with all the home fans joining in. Can they complete a stunning comeback tonight? Let's find out. Second-half coming now.
Oh to be a fly on the wall. It'd be interesting to be in Chris Hughton's half-time team talk right now. He must be delighted and disappointed in equal measure. Brighton have been sensational in so many parts of their game, and are unlucky only to have scored once this evening, but then they conceded all too easily. We really should have more goals than we've already had until now.
A truly sensational first-half. A game of true Premier League quality, though more so from Brighton's perspective. You can see why they finished so far above their opponents, but then you can also see why they didn't go up automatically. For as good as they've been, they're still only drawing 1-1. Sheffield Wednesday's goal, admittedly, could have quite easily been a foul - but they conceded all too easily. The visitors haven't had many chances, but taking that one could be enough to see them through this evening.
What a game of football. That was pulsating in every sense of the word. Brighton have been spectacular, but for all their effort - and trust me when I tell you they've exerted a lot in that first 45 minutes - they're no closer to Wembley. A deserved lead, a close-range volley hammered home by the returning Lewis Dunk, was soon cancelled out by Ross Wallace's cross which managed to find the bottom corner. Sheffield Wednesday in pole position for the play-off final as it stands, but they've rode their luck a lot at times. The only surprise is that there hasn't been four, five or even six goals in that first-half. So many chances.
HT: Brighton & Hove Albion 1-1 Sheffield Wednesday. (Agg. 1-3)
?45+4' HUGE CHANCE! We've not seen much of Wednesday's attacking threat yet but that was excellent evidence, Foriestieri and Hooper playing a one-two before a sublime outside-of-the-boot cross invites Hooper to head goalwards. Stockdale, however, is having none of it and beats the effort away with a strong hand. Match-defining save? It certainly could be.
45+3' HUGE CHANCE! Not quite up to standard from Knockaert, but Lees puts it out for another corner across the opposite side of the pitch. It's Skalak's turn to take and his delivery causes no end or problems but Lees is on hand to clear before they somehow manage to clear the danger.
45+2' Wednesday absolutely desperate for that half-time whistle, they're on the ropes here with Brighton asking a lot of them defensively. Wilson runs the channel well, meeting a pass down the right and winning a corner. Step up Knockaert.
45+1' Knockaert decides against delivering a free-kick into the box this time, playing it to Sidwell down the right side. After an exchange of passes, the midfielder's cross picks out Greer but he can only head over the bar.
44' Tackles flying in all over the pitch. Some well-timed, some not. Minimum of four minutes stoppage-time signalled by the fourth official Kevin Friend. Could be more goals before the break here.
43' Fantastic opporunities for both teams to counter within seconds of each other, but misplaced passes are the ultimate downfall of both. Wednesday and then Brighton both had numerical advantage with both moves but couldn't make the most of it.
42' Very well-timed tackle from Dunk on Forestieri inside the Brighton box. Time that ever so slightly wrong and it's a penalty, but the goalscorer makes a flawless tackle to prevent the striker from getting the ball in a good area.
40' Knockaert delivers, after East is forced to keep the order, and it's another incredibly enticing delivery. Wednesday manage to force it away for a corner, which Skalak delivers deep - but Bruno's leaping header is well caught by Westwood at the back post.
38' Wednesday somehow escape a third booking as Lopez swings wildly and catches his man, before giving referee East a piece of his mind. After a brief pause, Knockaert looks set to swing a ball into the box. Good position for it, too.
37' Roger East offers the players, and me, some welcome respite as he talks to Hunt and Skalak. The Wednesday defender seeming to accuse the Czech Republic international of leading with his elbow in a challenge.
36' Knockaert and his left foot stand over the ball too, but Skalak opts for it. He curls an effort from fully 30 yards over the wall and towards the top corner but it bounces just above the woodwork and onto the roof of the net. Westwood was scrambling for it though.
35' Relentless pressure, and no I'm not talking about my university assignments, as Brighton continually get forward. Wilson gets the better of Lee, who brings the striker down and offers the hosts another free-kick. That must be their millionth by now, mustn't it? Something like that, anyway. Skalak's on this one again.
34' WHAT A SAVE! Republic of Ireland international Westwood gets down excellently as Wilson's touch allows him to skip away from two men inside the box after meeting a through ball, before attempting to poke the ball over the outcoming 'keeper, but he can't get enough lift on it and Westwood does well to prevent Brighton scoring a second.
33' Plenty of blue and white shirts inside the box and I seem to have got my facts wrong, as Skalak takes the free-kick rather than Knockaert. Probably why it leads to nothing, with a throw-in seeing Westwood easily claim Skalak's cross.
32' This really is something. It's difficult to quite do it justice. Wednesday don't deserve to be equal on the night and Brighton are setting out to rectify that now as Skalak wins a free-kick out of Hunt. Another chance for a Knockaert cross? You betcha.
31' Replays indicating Dunk isn't happy with that Wednesday goal. As Wallace's cross drifts over everyone and into the bottom corner, he appears to be pushed by Hooper as he attempts to deal with the incoming ball and as such he can't get anything on it. Should that goal have stood?
30' Do they not realise that I'm trying to cover this live? Both sides barely stopping in what has been a relentless first half-an-hour. Brighton win a corner but can't make anything of it this time.
29' And just like that, Brighton's hard work is cancelled out. Wallace finds space and delivers a cross which evades everyone and finds the bottom corner to make it 1-1 here and 3-1 on the night. That's his second goal of the tie and suddenly, the home crowd are a little less noisy than they were.
28' GOAL! WHERE DID THAT COME FROM? WEDNESDAY LEVEL AND IT'S 1-1.
27' This is the kind of performance which makes you realise how and why these footballers are where they are. I'd be absolutely knackered after this. I'd probably be knackered just after that goal celebration, Dunk sprinting back to the halfway line and roaring. Meanwhile, on the pitch, Bruno's enticing ball to the back post falls but Sidwell is guilty of a foul.
26' The Owls' unbeaten play-off record looking a little more rickety with each passing minute. They do enjoy their longest spell in Brighton's defensive third for a while, Forestieri buying himself a free-kick with strong body work but they then squander possession all to cheaply.
24' Sheffield Wednesday just cannot get a minute to settle and recover. They're still yet to have a chance and that's testament to the scintillating start from their opponents, backed by a boisterous 12th man. Question is, can they make their pressure count?
22' Yet another free-kick for the hosts, which Knockaert chips over the defence and into Dunk in space at the by-line but he's flagged for offside before Bruno smashes a shot wide. The away contingent look very, very nervy behind Westwood and you can see why. Brighton are an absolute whirlwind of confidence, momentum and passion at the moment, as Alan Partridge-esque as that sounds.
21' What a noise. A relentless Brighton finally get their reward and what happens next is anyone's guess, but Wednesday need a strong reaction. There's a fair few of their players that haven't even touched the ball, I'm sure.
20' Knockaert's delivery is straight into the danger area and with Westwood stuck to his line, the ball falls to Dunk - returning from suspension today - who simply has to apply any kind of touch to bundle the ball over the line, and that's what he does. It's 1-0 on the night and 2-1 to Wednesday on aggregate. Here. We. Go.
20' GOAL! IT'S 1-0 AND FINALLY BRIGHTON SCORE! LEWIS DUNK WITH THE GOAL.
19' Almost another yellow card, this time for Pudil as he goes sliding in on Bruno and completely gets it wrong, but Roger East lets the defender off. Knockaert will whip a ball into the box from near the corner flag.
18' How hasn't there been a goal here?! This is all a bit mental. Brighton sustain the pressure from that corner and work a ball into Knockaert at the far post, but he heads down and wide from a great position. Albion could be in front on aggregate, nevermind level. Incredible that it's still goalless at the Amex.
17' CLOSE AGAIN! More long balls, more problems for Wednesday as Baldock gets in behind Lees and latches on to a lofted through ball. He spins on it and lashes a powerful strike towards the top corner but Westwood manages to tip it over his crossbar before punching the resulting corner kick delivery wide.
16' CLOSE! Knockaert shoots from range after Sidwell's great turn and it takes a wicked deflection from Lees which almost threatens to loop over a diving Westwood and into the back of the net, but it goes wide for a corner. That then leads to a free-kick after Westwood is fouled in his own six-yard box.
15' There's barely time to get your breath back in this one. Five attempts in the first 14 minutes from the home side, with none from their opponents. Wednesday just cannot get a hold of the ball to take the crowd out of the game and change the tempo of this game.
14' Knockaert is the sole Brighton player over the ball again, from a position slightly more central than the previous a few minutes ago. This time the midfielder attempts a clever low free-kick underneath the jumping wall but Westwood dives low to prevent it creeping inside the post. Good stop.
13' Brighton desperate to reduce the arrears early on and they're a good bet to do so before half-time. The visitors simply cannot deal with them yet as Lees goes into the book, giving away another dangerous free-kick after the centre-half downs Kayal outside the area.
12' Wednesday attempting to settle the tempo of the game but the hosts simply will not allow them. They're pressed well and Brighton win the ball and break forward in numbers, but Lees makes a perfectly-timed block to stop Knockaert's cross reaching a teammate in the centre of the box.
10' WOODWORK! Knockaert himself lines it up on his left foot, looking to bend it up and over the wall and into the space behind them. He does exactly that and his effort has supporters up off their seats, and some were even celebrating, but with his shot looking destined for the top corner, it instead crashes off the inside of the post and falls wide with Westwood comfortably beaten. So, so close.
9' Wednesday skipper Loovens brings down Knockaert outside the box after a long ball forward and goes into the book. Free-kick in a dangerous area for the home side.
8' The home fans doing their all to unsettle the away side, who have been on the back foot so far but don't appear to be struggling with the pressure. It's more the intensity and pace with which Brighton have got at them in these early stages, Wilson and Baldock in particular.
5' Brighton enjoying a good spell of possession in their own half. They steadily surge forwards before a long ball allows Baldock to almost open up a shooting opportunity. Wilson runs in after his strike partner miscontrols, but he can't squirm his way out of pressure. Great start from the hosts thus far.
4' Wow. That escalated quickly. The corner drops in towards the far post where Westwood, under pressure, is unable to get anything on it. However, Lees and Lee both stand strong to block shots from Sidwell and Wilson towards goal before Skalak spoons an effort wide.
3' What an atmosphere, by the way. You can't accuse the fans of not getting up for it. Fantastic noise, particularly by the home supporters. That only intensifies the further the hosts move up the pitch as Baldock wins a corner after his cross is deflected wide by Hunt.
2' Well, that was a fast-paced start. Brighton attempt to run straight through the middle of the pitch but Wednesday intercept the ball inside about five seconds, then win a free-kick. The visitors work the ball forward down the right, but Wallace's cross after cutting inside on his left foot drifts out of play.
1' And we are underway at the Amex! Seems like 4-4-2 formations from both sides as Brighton get the ball rolling inside the centre circle.
Here we go then. The players are out of the tunnel and on to the pitch to a raucuous reception from both sets of supporters, the Great Escape theme tune and a sea of blue and white flags also greeting them. Brighton & Hove Albion against Sheffield Wednesday in the second-leg of the Championship play-off semi-finals coming right up.
The anticipation's building as Sky Sports show their first-leg montage. "It's a long way back now" it finishes, of course talking about Brighton's task tonight. The Great Escape was playing just a few minutes ago, not by coincidence, and the atmosphere is already picking up at the Amex, not least because of their insanely loud tannoy system. These two teams are bidding to join either Hull or Derby in the final, with the Tigers 3-0 after the first-leg with the second tie tomorrow. But who will do it? Stay with us to find out. Kick-off in just over 10 minutes.
The two teams are both out on the pitch for their warm-ups and the sun is shining. It's a lovely day, or should that be evening, for it. Let's just hope this game lives up to the billing. Brighton have scored two goals or more in 23 games this season. Making it a 24th here would certainly make things interesting.
Rather unsurprisingly, the last five second-tier teams to win 2-0 in the first leg of a play-off semi-final have reached the final, most recently West Ham in 2012. Although the odds are stacked firmly against them, Albion fans will at least be boosted by their starting eleven - which is stronger than many expected given injuries and suspensions. They don't however have a recognised striker to bring on off the bench, so will be hoping their XI has enough to do the damage from the outset this evening.
In fact, they've not even won a play-off game since winning the Division Two final in 2004, drawing one and losing the other four since then. Not exactly the greatest of records. Alternatively, The Owls have won all of their four play-off games, winning three in 2004-05 and the first-leg of this tie.
What potentially doesn't bode so well is that Brighton have conceded at least twice in three of their four home play-off games and Sheffield Wednesday have also kept six consecutive clean sheets against them, last conceding to them in October 2013.
45 minutes until kick-off. Two strong teams from both tonight, with Brighton needing to overturn a two-goal deficit. Away goals don't count in Football League play-offs remember, but the Seagulls still need at least two clear goals to force extra-time. It's a big ask. That said, they have scored two or more goals in seven of their last 10 home league games, which may bode well for them.
Knockaert and Sidwell return from the injuries which forced them off on Friday to return to the Brighton starting eleven, but there's no room for Goldson or Hemed. Both of them miss out entirely, having not made the bench. In total, the hosts tonight make just the two changes - James Wilson and Lewis Dunk coming in, while as expected, Sheffield Wednesday are unchanged from the first-leg.
Sheffield Wednesday Bench: Wildsmith (GK), Hutchinson, Matias, Nuhiu, Helan, Lucas Joao, Sasso.
Brighton & Hove Albion Bench: Maenpaa (GK), Calderon, Crofts, Rosenior, Towell, Murphy, LuaLua.
Sheffield Wednesday XI: Westwood; Hunt, Lees, Loovens (c), Pudil; Wallace, Lee, Lopez, Bannan; Forestieri, Hooper.
Brighton & Hove Albion XI: Stockdale; Bruno, Greer (c), Dunk, Bong; Knockaert, Sidwell, Kayal, Skalak; Baldock, Wilson.
Tonight's two teams have been officially announced...
That said, Carlos Carvalhal - the Sheffield Wednesday boss for those of you unaware of the name - insists his side are "absolutely 100% focused and ready to go." They will treat it as a 0-0 (another cliché) he says, acknowledging Brighton as a "dangerous opponent" who "know what they must do." Regardless, he declares that his side are "feeling good" and feeling "fresh" both "mentally and physically" and that they "do not even think about the final" because they will be "100%" focused on tonight and coming down south to East Sussex to "give our absolute best." Both sides saying all the right things off the pitch, but can they translate that on to the pitch later on?
Brighton forward Sam Baldock has also been speaking to his club's official website, trying to urge supporters to get behind the team and roar them on to victory, at least in theory. He says: "We've got nothing to lose now and the pressure is completely on them. We're positive and we're going to go for it. We've got 90 minutes for them to come to the Amex with a full stadium, with screaming fans egging us on. Stranger things have happened. I came off the pitch thinking, 'Come on, bring on Monday,' because believe me, this tie is not over."
Did you know? Brighton have lost three of their four home play-off games, including losing the last three in a row. The Seagulls have not won a home play-off encounter since 1991. How they could do with changing that, and in style, tonight.
Elsewhere, Tom Lees has insisted Wednesday must not be too defensive in their approach this evening. The centre-back said that they "can't allow Brighton to stamp their authority on the game" on what he believes will be "a long 90 minutes." He added that 2-0 "is a dangerous scoreline" and that they "can't get carried away" thinking it is already over because it's only half-time. A fair few clichés, but he's right. It's not over by any stretch of the imagination.
Team news: Meanwhile, Sheffield Wednesday could have the luxury of naming an unchanged side. They have no new injury worries. Midfielder Filipe Melo, out until June with a knee problem that has kept him out since November, is their only absentee.
Team news: Just a few hours until kick-off and less than an hour until we find out tonight's starting line-ups, so here's the latest. Brighton could be without all four players who went off in the first-leg, Tomer Hemed, Connor Goldson, Anthony Knockaert and Steve Sidwell. Lewis Dunk returns from suspension, but Dale Stephens is still banned and Bobby Zamora's hip injury keeps him sidelined.
There we have it. Two very good teams in their own right, but only one can progress to the final this evening. Which will it be? Tweet us your score predictions to @VAVEL and if you're right... well, you get the pride of being right. And maybe even a retweet, if you're lucky.
Brighton & Hove Albion have had an even more impressive season, and must be perplexed at how they've missed out on automatic promotion. Chris Hughton took over in December 2014 and could not prevent them finishing 20th in the 2014-15 season, but their improvement since has been remarkable. They went a record-breaking 21 games unbeaten before their first defeat this season, that a demoralising 3-0 defeat to Middlesbrough. That led to a rocky run of form where they lost three of their next four, but they soon got back to their best from mid-January onwards. From there, they went on to lost just once from 19 games leading up to the final day, including another 14 games unbeaten. Having plundered a league-high 71 goals, they needed to beat Boro to leapfrog them and seal their place in next season's Premier League. But a 1-1 draw in the North East meant that though they finished on 89 points, they missed out on the top two on goal difference by a cruel two goals. Whatever happens, however, their rise from the relegation battle they found themselves in last season is still quite an incredible one.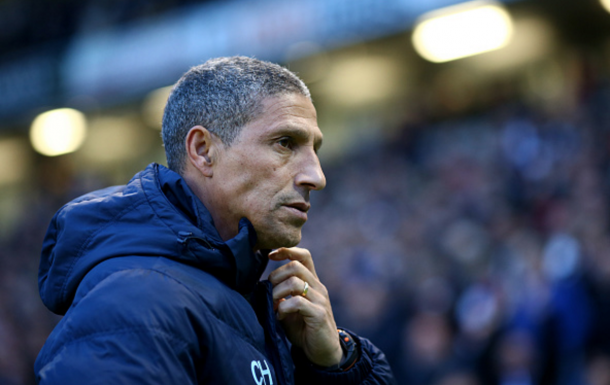 Well, Sheffield Wednesday steadily overcame a difficult start to the season which saw them lose three and draw three of their opening seven games. They then went on a nine-game unbeaten streak and after thrashing Wolverhampton Wanderers 4-1 in December, went on an 18-game run where they lost just twice. Unfortunately, they came unstuck in the final few games and won just one of their final six - albeit that a resounding 3-0 win over Cardiff City. Nevertheless, despite running out of steam towards the end, Wednesday have had a strong campaign - bringing in some excellent attacking players such as Gary Hooper, Aiden McGeady (loan), Fernando Forestieri and Lucas João to name but a few. That's been helped by owner Dejphon Chansiri, who cleared the club's £15 million debts and has helped finance a season which could finally end the club's hiatus from England's top-table.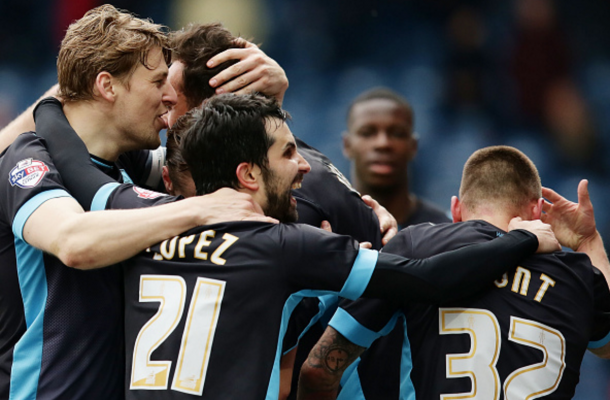 So how have both teams made it to this stage, I hear you ask? Well sit back, relax and let me tell you...
Indeed, Brighton haven't beaten Sheffield Wednesday since September 2012. If they were to repeat the scoreline of that day, then they'd progress to the final this evening. They may take heart from the fact that all five of their victories against Wednesday, dating back to their first meeting in 1914, have come on home soil. What that doesn't acknowledge is that they are their only five wins ever, against Wednesday. From a total of 32 matches. Gulp.
Is tonight's tie already settled? Discouting this semi-final first-leg, you have to stretch back to October 2013 for the last time more than a single goal was scored in this fixture. Before last Friday, the previous fixtures either ended 0-0 or 1-0. Something tells me that might noe be the same story though...
The value of this game, so they say, is an eye-watering £170 million. Financial analysts Deloitte claim that figure is even for clubs who are relegated in their first season back amongst the big time, with £95 million in revenue and £75 million's worth of parachute payments across the next two years if they fail to avoid the drop. Should a promoted side survive, then their £170 million reward rises to £290 million, due to a minimum guaranteed amount of £40 million more than in 2015 because of the new TV deal. Just for a little bit of context, the 2016 list of the richest football clubs in the world as ranked by Forbes magazine puts Champions League finalists Atletico Madrid's worth at £440 million. That's a fair bit of dough.
The importance of this game increases every season, but despite what the English press would have you believe - many would suggest it's the chance to test themselves against the best in the country in the top-tier, and the memories created along the way, that inspires a promotion push rather than the incredible financial rewards. Of course, those in the boardroom might say differently, but though the Premier League's £5.1 billion TV deal kicks in for the 2016-17 season - meaning even the last-placed team will receive £99 million. As pointed out on Twitter by BBC Sport's Richard Conway (@richard_conway) a few days ago, the current parachute payments for relegated teams mean they get £40 million for their first year outside of the Premier League, and if they don't get promoted back up - they receive £33 million the second year and then again £14 million the third year. That's £87m over three years, while this is one lump sum of £99m in one go. Frightening.
Ahead of the crucial second-leg, Hughton has issued a rallying cry to the Seagulls' supporters, asking them to get into the stadium early tonight and get behind the team. He insists that overturning the deficit is "achievable" and pleaded with the fans for "one last big push" to help inspire his side to what would be a monumental comeback. They need to win by three clear goals to progress. A 2-0 would take it to extra-time and potentially a penalty shoot-out, whilst 3-0, 4-1, 5-2 or even a 6-3 would all see them through to the final, as unlikely as the latter scoreline is.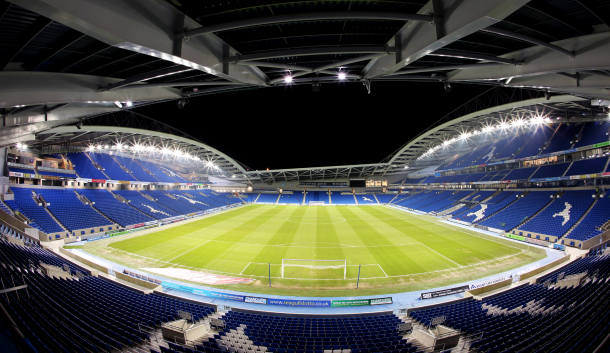 Their opponents meanwhile are bidding for a return to the Barclays Premier League since they were relegatd 16 years ago, and although they finished 15 points behind Brighton in the table - losing twice as many games over the course of the season - the Owls are in a strong position to book a trip down to Wembley.
That first-leg defeat leaves tonight's home team, Brighton, with it all to do. They only narrowly missed out on automatic promotion, drawing to second-placed Middlesbrough on the final day to confirm their place in the play-offs, and were 14 games unbeaten before their semi-final first-leg loss in South Yorkshire. With a depleted squad, Hughton and co. are aiming to avoid their third semi-final defeat in four years. Can they do it?
Wednesday head coach Carlos Carvalhal was, obviously, a bit more upbeat after the full-time whistle, though he was keen to stress that the job's not done just yet. "I think we did one of our best performances of the season and if you exclude a moment when Brighton had a chance early on, I think we played very well," he said, before adding that they are "happy about the game and the score" but recognise they have won "absolutely nothing." He implored his players to understand that "we can't play thinking we are winning 2-0" and insisted: "The game will start at 0-0 and we will do our best to get a good result at Brighton."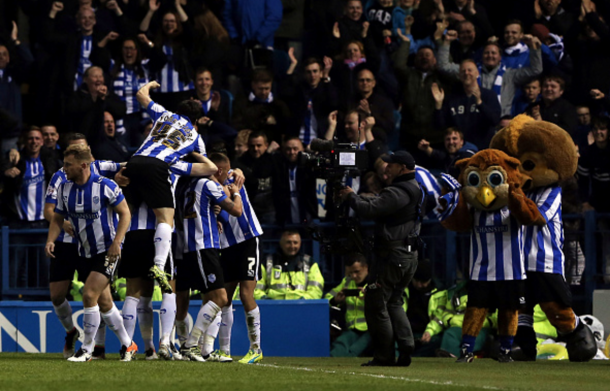 After that first leg, Brighton boss Chris Hughton told BBC Sport that the injuries were all "substantial enough" to force them off although "not one of them wanted to go off." He admitted that he "wouldn't be too optimistic about all four of them" as he rued his luck. "I've never been involved in a game like that," he continued. "We've gone through a decent period with injuries after a really tough period in the first-half of the season, and whether it's the consistent games and the tempo we've had to play at in the last few weeks, I don't know. We have to be realistic enough to know it's going to be a tough task [in the second-leg], but it is something that can be achieved."
Friday the 13th proved unkind for Brighton, as they fell to a 2-0 with Ross Wallace and Kieran Lee the goalscorers at Hillsborough on Friday night to put Wednesday in command. It was a night to forget for the away side, as their winless streak in Sheffield continued to 18 games, while they lost four players to injuries - Connor Goldson, Tomer Hemed, Steve Sidwell and Championship Signing of the Season Anthony Knockaert all going off to leave the visitors with 10 men for the last half-an-hour.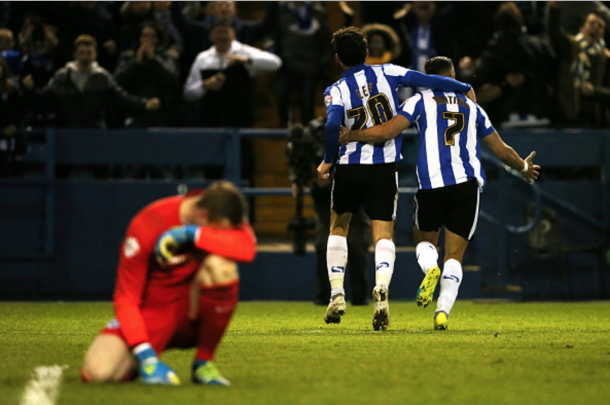 Hello and welcome to VAVEL UK's live coverage of tonight's Championship play-off semi-final second-leg between Brighton & Hove Albion and Sheffield Wednesday. The two teams who finished third and sixth have already played the first-leg and today we'll learn who will face either Derby County or Hull City in the play-off final at Wembley Stadium on Saturday 28 May. I'm your host Charlie Malam and I'll be bringing you all the news and build-up until 7:45pm BST tonight, where we'll provide you with live commentary of tonight's events at the American Express Community Stadium, or the Amex for short.