 Sunday witnessed the (almost) final day of the Premier League season, and Liverpool participated in a classic end-of-season contest against West Bromwich Albion.
One side was much changed, with a more important game to come; the other was nearing their holidays.
Ultimately, a 1-1 draw with Tony Pulis' side was probably justified, and ensured Liverpool would finish their Premier League campaign in eight place. Consequently, their final game of the season, against Sevilla in the Europa League final, has even extra riding on its outcome, as by finishing outside the top seven the Reds now have to win on Wednesday to ensure European football next season.
However, regardless, Liverpool will not be playing in the Europa League next season – it will be Champions League or nothing.
Fans may harbour different feelings on Europe's secondary competition, but without question the Europa League has provided Liverpool's best run of the season, something for the club and the supporters to latch onto, with possible silverware at the end of the tunnel.
Now, after edging through a relatively soft group and squeezing past Augsburg in the round of 32, Liverpool stand on the brink of another major European trophy, their first for 11 years, and a return to the pinnacle of club football in the Champions League.
Whatever happens on Wednesday, there will be plenty of highlights to take away from this run to Basel under new manager Jürgen Klopp.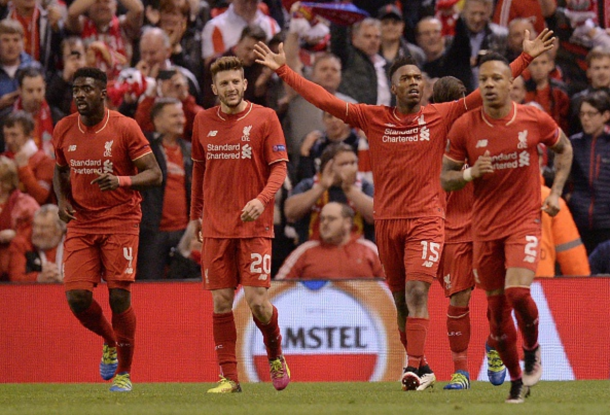 In their first meeting in European competition, it was the Reds who triumphed over their bitter rivals Manchester United. The 2-0 victory at Anfield was notable for how Klopp's side overwhelmed Louis Van Gaal's United, pressing and swarming them into submission, while Philippe Coutinho's goal to settle the tie at Old Trafford was especially memorable, and firmly set the Reds on their way in Europe.
Reds have made plenty of memories along the way
However, nothing this season can beat the improbable, unbelievable comeback against German giants Borussia Dortmund.
Seen as the favourites in the competition and one of the top sides in Europe, Liverpool needed to score three goals to progress, which became four after Marco Reus scored, but Coutinho provided hope with his strike, Mamadou Sakho's header generated momentum and Dejan Lovren's winner sent Anfield into hysterics.
Yet the most important tie for comparison is the semi-final against Villarreal, for the two legs provided contrasting results and tactics.
Despite a well-marshalled defensive performance, a lapse right at the death condemned Liverpool to a first-leg defeat in Spain, as Klopp was punished for showing too much respect and lacking adventurism, when an away goal was there for the taking.
Fortunately, it did not matter, as together Liverpool more than made up for the disappointment of Adrian Lopez's goal.
With Anfield behind them, the Reds triumphed 3-0 to book their first European final in nine years, but it was the style of their display which won the tie over a top four Spanish side, and this has to be replicated against Unai Emery's men on Wednesday night.
The West Brom fixture went as expected, with those set to start in the final rested, and they should be raring to go in the final fixture of the season before internationals and holidays.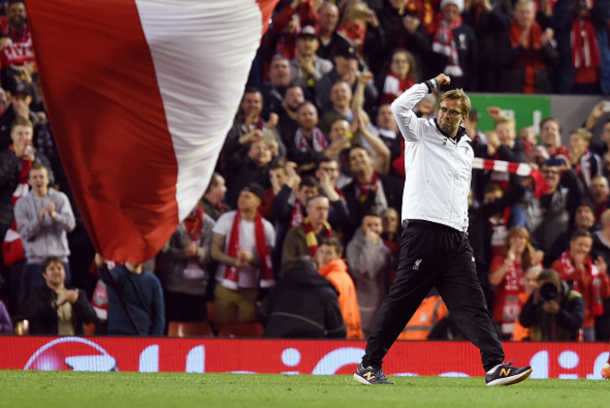 Conversely, Liverpool's performance last week against Chelsea was uninspired, and, worryingly, appeared fatigued.
Hopefully, given the importance of this concluding match, compared with the standard league fixture against Guus Hiddink's side, those who start in Basel will be able to summon the required energy one last time in order to take the game to Sevilla, as such tactics are essential.
Klopp's men must be at full throttle to beat Sevilla
Everything that has been successful for Liverpool under Klopp this season has transpired from intense football. Harassing the opponent, hunting the ball down together systematically instead of erratically, instigating quick transition attacks after winning the ball back – all of the hallmarks of 'gegenpressing' that brought the likes of Manchester United and Villarreal to their knees and ultimately out of the competition.
Despite finishing 7th in La Liga, Sevilla must not be underestimated, as their record in this competition surpasses any other club on the planet. Aiming for their third successive title, and a record-extending fifth in total, Sevilla cannot be allowed to dominate and grow in confidence, therefore Liverpool must not back off, as they did in the first-leg against Villarreal.
They may not be as fluent as Barcelona, but they have top-class players at the attacking end of the pitch. In Kevin Gameiro, they have a player who has found the net on 24 occasions, while they have other exciting players such as Ever Banega, who is available on a free transfer in the summer with his contract set to expire, veteran striker Fernando Llorente and winger Yevhen Konoplyanka, who came close to joining Liverpool on the final day of the January 2014 transfer window.
Moreover, with Banega dictating matters in the centre of the pitch, Sevilla have a strong base behind in defensive midfield pair Grzegorz Krychowiak, who has been linked with a number of Europe's top clubs, and Steven N'Zonzi, formerly of Stoke City.
Sevilla enjoy counter-attacking, often provide width to their attacks and have a hard-working predator in the form of Gameiro. It will be a big night especially for Emre Can, as he will have to screen Liverpool's back four in all likelihood as the only central midfielder, given James Milner's tendency to roam further forward.
If Can and the likes of Lovren can restrict the supply to Gameiro and prevent his effective connection with Banega, then Liverpool can start to choke Sevilla's attacking play and pressurize them at the other end of the pitch, whilst always on the alert for a possible counter-attack.
Sevilla's recent form in La Liga has been dire, with seven defeats in their final nine games, but that has to be taken with a pinch of salt given their emphasis towards the cup competitions – alongside the showpiece in Basel, Sevilla will also contest the final of the Spanish Cup against Barcelona.
Furthermore, their experience in the Europa League is beyond equal, and if the final were at Anfield they would not be intimidated by the atmosphere. Sevilla will not panic in Basel if Liverpool gain the upper hand at times or leave the Spanish side in tricky situations because of the pressing from Klopp's side.
Yet that's exactly what Liverpool need to do, as even sides as experienced and as good as Sevilla can make mistakes, as previous rounds have shown. Liverpool must respect Sevilla's qualities, but at the same time cannot fear them, as the Reds have nothing to be scared of if they play at their offensive best.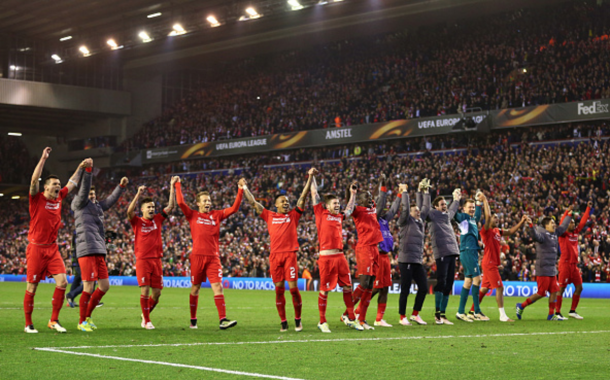 Despite the defensive improvement in 2016, Liverpool's best players all prefer to attack, and if the Reds can get the likes of Coutinho, Roberto Firmino and Daniel Sturridge on the ball, they will create chances.
After that, Liverpool need to take those chances, as Sevilla will not open the floodgates defensively, and being clinical separates winners from losers.
This team has already experienced some near misses in recent times, from the penalty shoot-out defeat to Manchester City in the League Cup final, to the agonizing runners-up finish in the race for the title in 2014 to the same side.
The time has come for Liverpool to take the next step and enter the winners' circle once again, as this club is only known for winning trophies. End the season the right way, and the Europa League trophy may well be on its way back to Anfield for a fourth time.