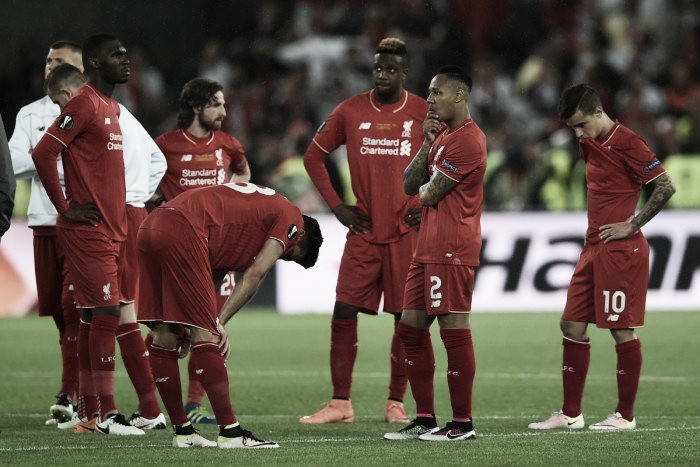 It was all going so well.
At half-time, Liverpool were not at their best against Sevilla, but were cruising and led 1-0 through Daniel Sturridge's sublime goal, which saw the Reds move through the gears and end the half in dominant fashion, and they could have scored at least one more.
Ultimately, that was the first aspect in their downfall, which witnessed the Europa League trophy head back to Spain and Seville for the third successive year.
Whatever Sevilla manager Unai Emery told his charges at half-time, it worked a treat, although perhaps even he did not expect his side to score within 17 seconds of the restart.
Liverpool could not overcome such a calamitous start, and never regained momentum for the rest of the second half. Sevilla overwhelmed and overpowered the stunned Liverpool players, and eventually coasted to a 3-1 victory.
Certainly not the finish to the season that all Liverpool fans wanted – however the warning signs had been flashing all season.
Liverpool lost more points from winning positions than any other side in the Premier League this season, with notable examples including the 2-2 draws with Sunderland and Newcastle at Anfield, both from 2-0, while the 3-2 loss away to Southampton, having led 2-0 at half-time, was also immensely frustrating.
In particular, when watching the second half of the Europa League final, you would be forgiven for thinking that you were back in March at St Mary's Stadium once again, such were the similarities in Liverpool's performance and collapse.
With so much on the line last Wednesday, including silverware and a place in next season's Champions League, the Reds went into their shell at the first sign of tribulation, and forgot all of the positive aspects that new manager Jürgen Klopp had introduced since arriving at the club.
Inheriting Brendan Rodgers' squad, Klopp has attempted to install his high-intensity pressing ideas onto this group of players, moulding them away from a slower possession game. There have been signs of progress, especially in recent months through the cup campaigns, even if the league season itself has been hugely inconsistent – albeit with other factors to consider, including rotation.
However, again Liverpool have this mentality issue in the biggest of moments and simply turn towards panic mode.
Sevilla defeat reminiscent of previous pitfalls
Their eventual failure to win the Premier League title in 2014 arrived from such problems, as the Reds desperately chased an equaliser against Chelsea at Anfield after Demba Ba's goal from Steven Gerrard's slip, and attacked with a scattergun approach, again forgetting all of their attacking tactical play under Rodgers that saw them often sweep teams aside, or at least score more than the other side.
Moreover, Liverpool immediately followed up the Chelsea defeat with a diabolical nightmare of a collapse against Crystal Palace, as the Reds chased further goals to make up the goal difference to Manchester City, conceded a goal from distance, and then disintegrated in front of our very eyes.
From 3-0 up with 11 minutes to play, Liverpool drew 3-3, which ended their title challenge.
Yet the Achilles heel remained, with a particularly awful performance in the FA Cup semi-final defeat to Aston Villa in 2015, then another below-par display in a major fixture as Liverpool scrapped to a penalty shoot-out against Manchester City in the League Cup final, but failed to capitalise and Manuel Pellegrini's side won the trophy.
Even the semi-final victory over Stoke City was fortunate, but it makes no difference if you are on the winning side – too often Liverpool fall when in sight of a trophy in recent years, and the second-half against Sevilla was no exception, and meant the Reds have no European football at all next season, due to finishing eighth in the Premier League.
However, despite the disappointment, Liverpool's position going into next season is far from negative.
Of course, there are a multitude of issues that Klopp needs to address, with the defence representing a particular area in need of strengthening.
Nathaniel Clyne has been Liverpool's most consistent player this season and played well last Wednesday, while Kolo Toure was man of the match for the Reds. Conversely, Toure is likely to depart in the summer, while Alberto Moreno provided arguably his most shambolic performance in his biggest game so far in a Liverpool shirt.
Sadly, how long he will last in a red shirt remains to be seen, and it is unfortunate as the Spaniard does possess a lot of ability, pace and strength, especially going forward, but his positioning defensively is dire, and if he does stay at Liverpool then he cannot remain as a left-back.
Yet Moreno's departure does seem likely, while Joel Matip is already set to join the club on a free transfer from FC Schalke, as Klopp looks to strengthen the centre of defence.
Reds in need of more strength and character
Leadership is the key aspect here, not just in defence but all over the pitch too, and Toure's departure will only weaken the Reds in this department.
The majority of the Liverpool squad possess the quality to succeed at the highest level, but for many their mentality is under serious question, as they are too inconsistent and tend to go missing when the pressure gets tough in the most significant games.
Klopp has to supplement the squad with a few additions in key places, but, most significantly, they have to be strong characters – whether they are superstars or not is irrelevant, they just need to be leaders on the pitch and confident in their ability when matters appear bleak.
Overall, this season has not been a disappointment, despite the lack of silverware, and more Liverpool fans will appreciate this as the pain of the Europa League defeat fades.
In around seven months, Klopp has guided Liverpool to two cup finals, while the arrival of the German himself was a major coup for the club, given Liverpool's position at the time. Many clubs since will have looked at Klopp and wished he was still available.
Throughout the campaign, some of the performances in the Premier League and also in Europe have illustrated the speed and excitement of a Klopp side at its best – from the early victories at Chelsea and Manchester City, the destructions of Southampton and Aston Villa, and to the European classics against Manchester United and Borussia Dortmund, while Villarreal were also clinically and professionally put to the sword, as the Spanish side self-combusted in the intimidating atmosphere at Anfield.
The famous old stadium has come alive again with Klopp's arrival, and he will want to continue channelling its power in as many games as possible, even if they are duller Saturday league fixtures.
The 12th man is so important for Liverpool and the Reds need to turn their home into a fortress once again.
However, in the end the players have to produce on the pitch. If Klopp can have a successful summer, constructing a squad in his image and with a mentality focused on success and delivering in the major moments, then – as Leicester City have showcased – the sky is the limit for Liverpool.