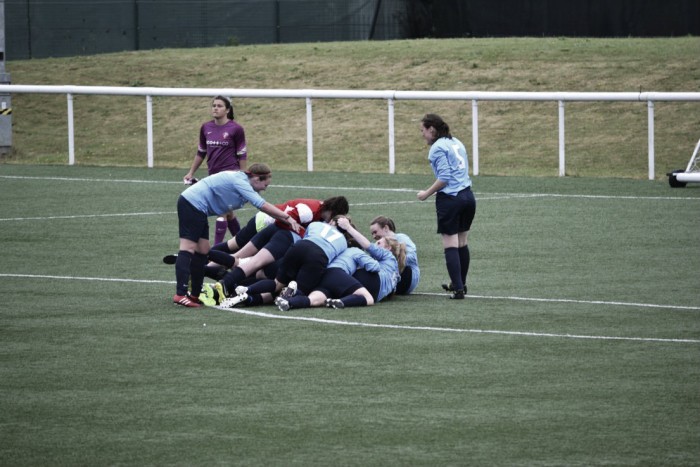 After the weekend's second round action, we're down to just 16 teams in the Scottish Women's Cup.
Here's how the teams got to the third round then - some with incredible ease and incredible tallies of goals, others forced to work as hard as possible for the win.
Spartans pay the [enalty
Kathleen Toolan's penalty saw the SWPL 2 Hamilton Academical cause a cupset by beating SWPL 1 Spartans 4-3 on spot-kicks, after drawing 0-0.
It was Spartans who had the better chances of the 120 minutes, with the majority falling to substitute Michelle Russell who squandered a few golden opportunities. The home side also had two 'goals' ruled out for offside. But Hamilton defended resolutely for the majority of the game and caused Spartans problems on the counter, although, they didn't test 'keeper Eartha Cumings enough.
After both sides missed two spot-kicks, the shootout progressed into sudden-death. Kathleen Toolan put Hamilton in front before Kirsty McLaughlin missed the crucial spot-kick.
The win sees Hamilton progress to the Third Round, whilst for the second season in a row, Spartans are knocked out at the first hurdle.
More cupsets
SWFL Division One North side Dee Ladies lost to SWFL Division Two East's Raith Rovers 4-3.
Raith Rovers went in at half-time 1-0, thanks to Rebecca McGowan's goal.
The second-half was more of a dramatic affair, with both teams scoring three goals. Dee Ladies' goals came from Lynn Duncan's brace and Lauren Duncan.
But Raith held on to reach the Third Round, thanks to two goals from Kerri Dinne and one more from McGowan.
SWFL Division Two North's Granite City caused a shock by beating SWFL Division One North's Dee Vale 5-1, to reach the Scottish Women's Cup Third Round.
Granite City took the lead through Brown, but Dee Vale equalised when Fielding lobbed the onrushing keeper.
The scores remained 1-1 at half-time, but Granite City won out the second half. Two more goals from Brown to complete her hat-trick, and two from Buchan saw them secure an impressive 5-1 win.
SWFL Division Two South-West leaders Renfrew caused a huge upset, beating SWPL 2 strugglers Queen's Park 5-0.
Renfrew went in at half-time 1-0 up thanks to Janice McIntyre's penalty, and then in the second half, Renfrew scored four more goals to seal a famous win.
Celtic triumph in all SWPL 1 clash
Celtic triumphed 7-0 against Aberdeen in the Scottish Women's Cup Second Round match in the all-SWPL 1 clash.
Celtic's Suzanne Mulvey had a chance to take the lead in the 5th minute, but fired over from 20 yards.
But, Celtic did take the lead in the 12th minute when Abbi Grant's free-kick picked out Kelly Clark whose header beat the Aberdeen keeper.
Three minutes later, it was 2-0 after good play from Joanne Paton won a corner, from which, a scramble commenced and Mulvey pounced to score.
Abbi Grant made it 3-0, before Mulvey scored her second after a 30-yard solo run.
Just before half-time, Mulvey completed her hat-trick with a composed finish. Deep into first half stoppage time, Grant scored her second to give Celtic a 6-0 lead at half-time.
It would take until the 73rd minute for Celtic to score their final goal, after Mulvey unselfishly squared the ball back to Paton who converted.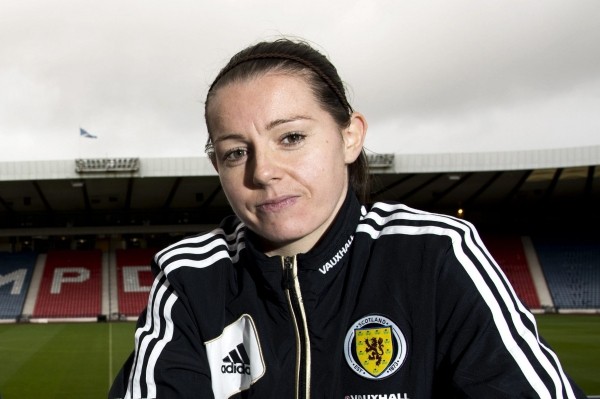 Forfar require extra-time
SWPL 1 Forfar Farmington required extra-time to knock out SWPL 2 Buchan 5-3 in the Scottish Women's Cup Second Round.
Forfar took the lead in the 17th minute when Robyn Smith's header beat the keeper, but Louise Brown equalised for Buchan three minutes later.
Then, in the 27th minute, Buchan took the lead with Brown's second goal, before Leanne Reid made it 3-1 just before the half-hour mark.
But two goals in three minutes from Amy Gallacher and Ann Taylor saw Forfar equalise in the 35th minute.
After six goals in 35 minutes, there would be no more goals in normal time.
Kirsty Deans' header saw Forfar retake the lead in the 98th minute, before Robyn Smith made sure of the victory.
Big wins for SWPL sides
The Scottish Women's Cup holders Glasgow City progressed through to the Third Round with ease, beating SWFL Second Division Central side East Kilbride 26-0. The win saw City score their 2463rd goal in their history, since being formed in 1998. With the score 10-0, East Kilbride's keeper Amy Hamilton went off injured, forcing them to play with an outfield player in goal.
City rested a few of their players with the midweek SWPL Cup Final in mind, and gave debuts to Hannah Coakley and Aimiee Docherty, but their lineup still included Scotland internationals like Leanne Ross, Erin Cuthbert and Hayley Lauder.
Captain Ross scored nine times, meaning she is now just three goals behind City's all-time goal scorer Suzanne Lappin on 231.
Cuthbert scored four goals whilst Sarah Crilly and Brogan Hay scored hat-tricks. Savannah McCarthy and debutant Hannah Coakley scored twice with Lauder and Kodie Hay scoring one each. The final goal was an East Kilbride own goal.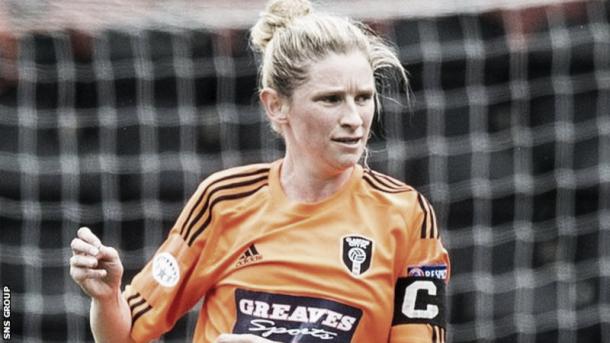 Hibernian picked up an 11-0 win over Boroughmuir Thistle in the Scottish Women's Cup Second Round tie, ahead of their midweek SWPL Cup Final against Glasgow City.
Caroline Heron scored a first-half hat-trick, before scoring two more in the second half. Lia Tweedie scored twice, whilst Lucy Graham, Zoe Johnstone, Rachel McLauchlan and debutant Morgan Turner made it 11-0.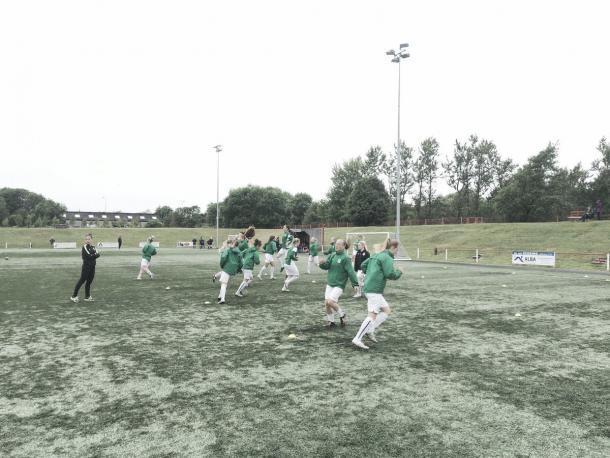 SWPL 2 side Jeanfield Swifts produced a brilliant performance to beat SWFL Division Two North's Ross County in their first ever Scottish Women's Cup game played at McDiarmid Park.
Their goals came from Eilidh McIntyre who scored five, four from Danni McGinley, a hat-trick from Alex Fox, two from Erin Thatcher with Donna Shaw, Jade McDonald, Nadine Martin and Emma MacLean.
SWPL 1's bottom-placed side Stirling University progressed into the Scottish Women's Cup Third Round, beating Westerlands 10-0 who play in the SWFL Division One South.
Rachel Donaldson's hat-trick, a brace from Jade Gallon, and one goal each from Lisa Sutherland, a Westerlands' own goal, Nicole Pullar, Ashley McDonald and Jenny Godfrey secured Stirling's passage to the Third Round.
Elsewhere, SWPL 1 side Rangers progressed through to the Scottish Women's Cup Third Round, beating East Fife 7-0 who play in the SWFL Division One North. This was East Fife's first defeat this season in all competitions.
Other scores
SWFL Division One North Dunfermline Athletic beat SWFL Division Two South-West side Dumbarton United 7-0 in the early kick-off.
Dunfermline's goals came from a Morgan Steedman hat-trick, and one each from Jenny Sloan, Kerry Walker, Sarah Gibson and Jenna Moore.
SWPL 2 Hearts came up against a determined SWFL Division Two Central side St Roch's, but came out 3-0 winners to progress to the Scottish Women's Cup Third Round.
Hearts took the lead through Rachel Walkingshaw who would go on to assist their other two goals, as well as missing a penalty.
The home side doubled their lead through Stacey Hutchison's first goal of the season, before Gemma Mason made it 3-0.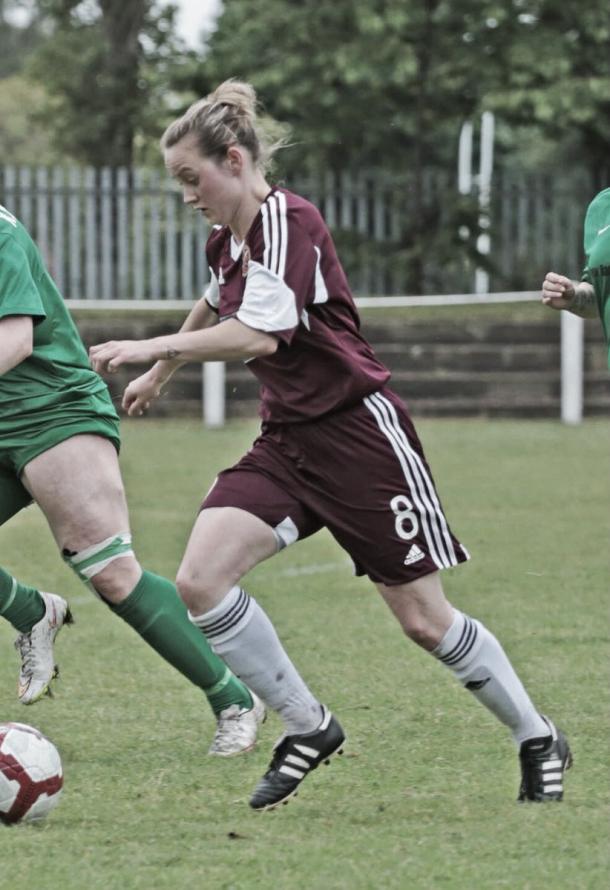 Dundee United's incredible debut season continued as they progressed into the Scottish Women's Cup Third Round after beating Stenhousemuir 8-0.
This is the second time these sides had met in a cup competition, with Dundee United earlier being Stenhousemuir 7-0 on route to the SWFL Division Two Cup Final.
They took the lead through Chloe Robertson, before Megan Robb's shot found the top corner to double their lead. A Stenhousemuir own goal made it 3-0 before Derrian Gollan's first goal for the club made it 4-0.
Robertson scored from a Keira Johnstone cross to give Dundee United a 5-0 lead at half-time.
Robertson completed her hat-trick in the second half before Fiona Mearns scored twice late on to secure an 8-0 victory.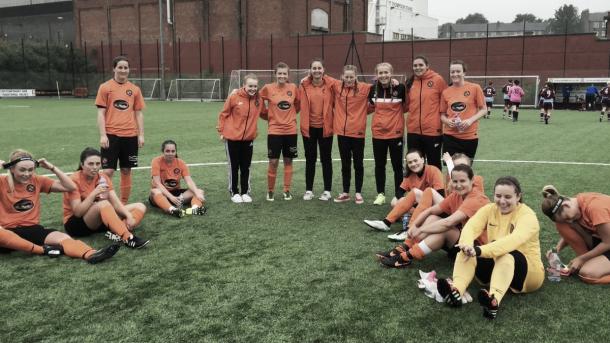 SWPL 2 Glasgow Girls avoided a potential upset, by beating SWFL Division One South side Motherwell. Motherwell, who contain past Scottish internationals like Suzanne Grant beat Glasgow Girls in last year's Scottish Women's Cup.
After a delayed kick-off, Glasgow Girls took just three minutes to take the lead through Lauren Coleman. Chloe Docherty's 27th minute goal gave Glasgow Girls a 2-0 lead at half-time.
In the 69th minute, Glasgow Girls got their third through Lauren Evans before Docherty's second goal gave them a 4-0 lead.
Unlike in 2015, there would be no late comeback from Motherwell, although Suzanne Grant did score a consolation goal, deep into second-half stoppage time.
SWPL 2 side Hutchison Vale defeated SWFL Division Two East's Edinburgh Caledonia 5-0 to progress to the Scottish Women's Cup Third Round.
Hutchie took the lead in the 23rd minute when Nichola Sturrock's corner picked out Fiona Boslem whose shot found the bottom corner.
The home side kept up the pressure and soon doubled their lead through Judith Shepherd.
Just before the break, an Edinburgh Caledonia own-goal gave Hutchison Vale a 3-0 lead at half-time.
It took until the 75th minute for Hutchie to score their fourth after good skill from Margoux Durand-Watson picked out Karen Hanson who scored.
And just before full-time, Sturrock's rebounded shot fell kindly for Ashley Fish to head home.