 Jürgen Klopp's first full season with Liverpool will start away at Arsenal after the Reds' 2016-17 Premier League fixture schedule was revealed on Wednesday morning.
The Reds' face a tough trip to The Emirates to take on last season's runner-ups to open their campaign on August 13, which will end at home to Middlesbrough on May 21.
Due to ongoing redevelopment work at Anfield to extend the Main Stand, which will not be completed until mid-to-late August, the Reds are unable to host their first home game until August 20 against Burnley.
However, the club have written to the newly-promoted Clarets to ask them to reverse their fixtures - the tie at Turf Moor currently scheduled for March 11 - in order to allow enough time for construction to be completed on L4.
That would mean Liverpool face three away games to the start the season, which already sees them face last season's top three inside their first four - with a trip to Tottenham Hotspur on August 27 followed by a clash with champions Leicester City on home turf on September 10.
That is followed by another tricky trip to the capital to take on Chelsea, who by then will be under the management of current Italy national team boss Antonio Conte, with the Reds' dealt a demanding early schedule.
Liverpool face arch-rivals Manchester United for the first time of the season October 15, with the Old Trafford fixture on January 14.
Meanwhile, the first Merseyside Derby of the campaign comes on December 17 at Goodison Park as part of a difficult festive period. The second derby against Everton at Anfield is on April 1.
The Reds are at home on Boxing Day and New Years' Eve but play host to Stoke City and Manchester City, while the first game of 2017 presents a visit to Sunderland.
Between February and March, Liverpool face Chelsea, Spurs, Leicester, Arsenal and Man City in their reverse match-ups inside just six matches - marking yet another strenuous run of fixtures.
The run-in towards the end of the campaign is at least a little kinder to the Reds, although it still contains away games at Stoke, West Bromwich Albion, Watford and West Ham United.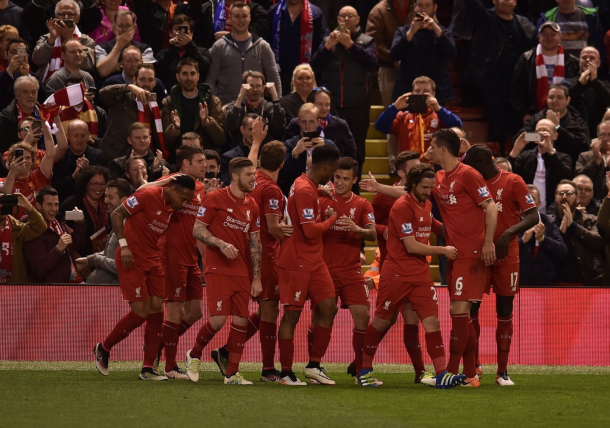 The trip to West Ham's new Olympic Stadium is the final away game of the season on the penultimate matchday, while Middlesbrough - back in the top-flight for the first time in 16 years - will be the club's final opponents at Anfield on the final day.
With no European football next season, Klopp will be able to field a more consistently full-strength starting eleven towards the business end of the season - unlike last year when he switched focus to the Europa League, eventually losing out to Sevilla in the final in Basel.
That, arguably dependent on the club's summer transfer business, puts them in strong contention for a top-four spot - although a vast majority of top-half teams are also expected to improve, meaning the challenge will be as tough as ever.
Leicester, who surprised everyone to win the title last season, will remain strong challengers if they keep key players while promising managerial appointments at Manchester City, Manchester United, Chelsea and Everton spices things up further.
But with few distractions, Klopp's side are expected to put up a greater fight as they seek, at the very least, to return to the UEFA Champions League throughout what will undoubtedly be another rollercoaster of a campaign - starting with a difficult August.
Liverpool's full 2016-17 fixture schedule:
August
13th: Arsenal (A)
20th: Burnley (H)
27th: Tottenham Hotspur (A)
September
10th: Leicester City (H)
17th: Chelsea (A)
24th: Hull City (H)
October
1st: Swansea City (A)
15th: Manchester United (H)
22nd: West Bromwich Albion (H)
29th: Crystal Palace (A)
November
5th: Watford (H)
19th: Southampton (A)
26th: Sunderland (H)
December
3rd: Bournemouth (A)
10th: West Ham United (H)
13th: Middlesbrough (A)
17th: Everton (A)
26th: Stoke City (H)
31th: Manchester City (H)
January
2nd: Sunderland (A)
14th: Manchester United (A)
21nd: Swansea City (H)
February
1st: Chelsea (H)
4th: Hull City (A)
11th: Tottenham Hotspur (H)
25th: Leicester City (A)
March
4th: Arsenal (H)
11th: Burnley (A)
18th: Manchester City (A)
April
1st: Everton (H)
5th: Bournemouth (H)
8th: Stoke City (A)
15th: West Bromwich Albion (A)
22nd: Crystal Palace (H)
29th: Watford (A)
May
6th: Southampton (H)
13th: West Ham United (A)
21st: Middlesbrough (H)
(dates subject to change)