 Middlesbrough completed their second signing of the summer transfer window on Wednesday as they confirmed the arrival of Colombian defender Bernardo Espinosa from Sporting Gijon.
Boro beat off reported interest from fellow Premier League sides such as Everton and Bournemouth to secure Espinosa's signature, and the 26-year-old will join up at the end of his current contract in Spain.
An unknown quantity on British shores
However, despite a number of years playing in the Spanish top flight since coming through the youth ranks at Europa League champions Sevilla, Espinosa is hardly known on British shores. So what should Boro fans expect from their new man?
We spoke to Jorge Tuñón, Sporting Gijon expert at VAVEL España, about Espinosa's playing style, comparisons with Premier League defenders, and the Spanish view on Aitor Karanka's Teesside revolution.
'Espinosa is like Gary Cahill, or Giorgio Chiellini'
VAVEL: What sort of player is Bernardo Espinosa?
Jorge Tuñón: "Bernardo is a very strong player. He was a leader here, one of the best defender that I've seen at Sporting de Gijon. He's very tall so his best moves are in aerial plays, but he's also very fast. In my opinion, I bet he will be important for Karanka. He has been injured for six months, but if he's 100% fit, he will do great."
V: Is he ready to make the move to the Premier League?
JT: "This year, in the Spanish first division, he played against Cristiano Ronaldo, Kevin Gameiro, Antoine Griezmann, and always at a high level. If he can play this way in Spain, I'm sure that he will triumph in England."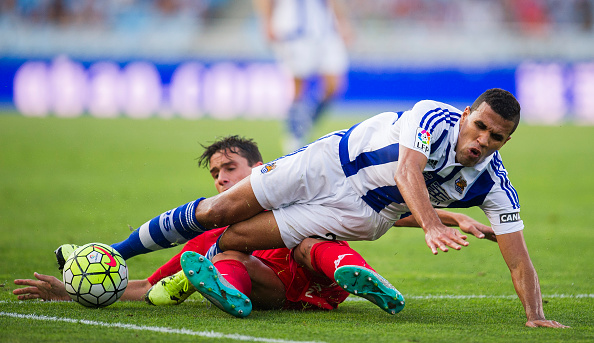 V: With players like Dani Ayala and Kenneth Omeruo in the past, Karanka seems to like his defenders to be good on the ball. Does Espinosa fit this mould?
JT: "That isn't his biggest strength, but if Karanka wants him to, he can do it. Bernardo maybe is like Gary Cahill, for example, perhaps Giorgio Chiellini or Nemanja Vidic."
V: More generally, are people in Spain aware of Aitor Karanka's work at Middlesbrough? He will manage against his mentor Jose Mourinho for the first time this season, will that be high on the Spanish news agenda?
JT: "Mourinho was always the protagonist in the news here and Karanka is his heir so yes, people here know that Karanka will be in the Premier League next season. But Mourinho has many enemies, so the same applies to Karanka. If he doesn't do well, here, everybody will criticise him."
Espinosa must excel to displace Ayala or Gibson
With a number of defensive figures such as Tomáš Kalas, Ritchie de Laet and Jonathan Woodgate departing the club at the end of the season, Espinosa could provide the competition in the centre-half position which Karanka seeks all over the pitch.
Tall - he stands at over six feet and three inches - and good in the air, Espinosa may well remind Boro fans of his potential defensive partner Dani Ayala, though displacing either he or Ben Gibson from their berths in the starting eleven will be a difficult task.
After the early arrival of Denmark winger Viktor Fischer, Middlesbrough fans could soon be celebrating a third signing of the summer with a permanent return for loan star Gastón Ramírez back on the cards.