 After a dismal start to their WSL1 campaign, Glen Harris has left the Doncaster Belles.
Although the story broke on Friday the Belles have remained quiet about the goings on behind the scenes, breaking their silence today to confirm the news. The club have stated that they wanted to have a new manager in place before any news was released but as the news was already out there they wanted to assure the fans that they were working hard to get everything sorted out before the restart.
As it stands they are waiting for FA clearance on their new appointment.
Big task ahead
Whoever is brought in to replace Harris, they will have a big task ahead of them.
Doncaster haven't had the easiest start to life in the top flight, failing to take a point from their first three matches – which were far from easy on paper – and they sit at the foot of the table. However it is of course worth noting that they've only played three where others have played up to seven.
Before his departure Harris spoke of the club needing to invest in new players, aside from their matches, the Belles haven't been lucky with injuries and part of their struggles this season can be easily attributed to the lack of recognised defenders playing in defensive roles. Before the season started, the Belles made a handful of signings, notably signing Natasha Dowie and Katrin Omarsdottir from Liverpool.
However, there are still large gaps in the squad and the Belles have struggled to do much in any of their competitive games this season and if they are to have any hope of avoiding the drop, the squad must be strengthened to make them competitive with the other sides in WSL1.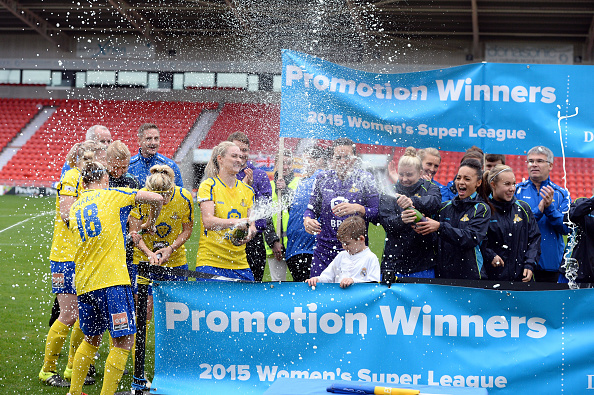 Harris moving on
Harris is better known for his time spent with Lincoln Ladies, either as first team boss or when he took charge of the Lincoln CoE, but the [Noisy] Belles fans instantly warmed to their new manager when he took from Gordon Staniforth at the end of the 2014 season. Tasked with achieving promotion back to the top flight, Harris' first season with the Belles was a resounding success. The Belles, along with Reading, set the pace for WSL2 and pulled away from the rest of the pack and few were surprised when the Belles officially secured promotion away to the London Bees in late September.
His sudden departure has come as a shock to most, with the details still surrounded in mystery. But the Belles will only be looking forward, with 13 matches still to play this year they're nowhere near done yet and will be looking to make a statement on the pitch in their first game back after the mid-season break when they travel to Meadow Lane.