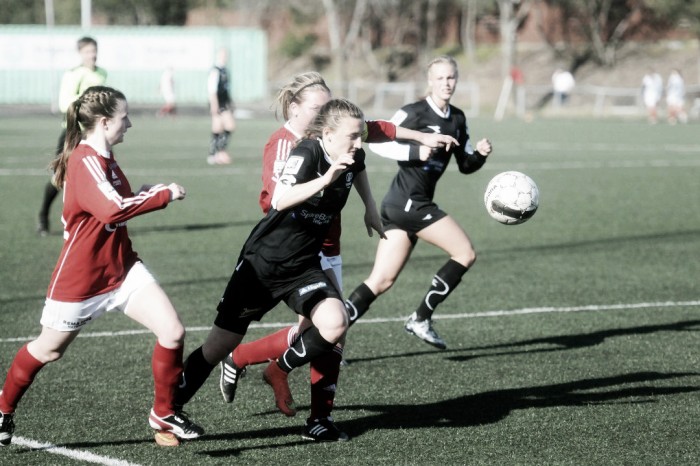 Week 12 saw the second half get underway in the Toppserien. Although most of the focus is centred at the top, as the title challenge is still hotly contested, the bottom-two sides in the league are potentially destined to remain there for the rest of the season and thus, becoming relegated at the end of the season unless they perform a minor miracle.
Urædd, Medkila continue to fade away
Urædd currently sit bottom of the Toppserien with zero points. The trend continued this weekend as they were utterly dismantled by league leaders Avaldsnes. The bottom-placed side were completely helpless as Leticia Santos, Andrea Rosa, Hanna Dahl, Ingrid Ryland and Laila Himle all helped the pacesetters run away with a six-nil win at home. Lene Lauve did not help her team's cause as she added to the scoreline with an own goal. The win pushed Avaldsnes further ahead in the race for the title although they have played a game more than their nearest rivals.
Medkila fared no better away to Sandviken as they lost by three goals to nil. Asne Eide, Sunniva Lillestom and Karoline Bakke were all on target for Sandviken which now leaves Medkila on four points for the season and firmly in the relegation zone. Sandviken now finds themselves in seventh and eleven points away from the drop zone.
If Medkila have any hope of surviving the season, they not only have to start winning, but also hope that Vålerenga continues to drop points as they did this weekend against Røa. Although they were the home side, Røa was alays going to be a difficult proposition for Vålerenga and it showed as Line Hem, Kristine Leine, Andrea Froshaug and Therese Asland all helped Røa grab well deserved four-nil win over the home side. The loss does give Vålerenga cause for concern but as both Urædd and Medkila cannot seem to buy a win at the moment, Vålerenga must feel as though it would take a colossal collapse for them to be relegated this season.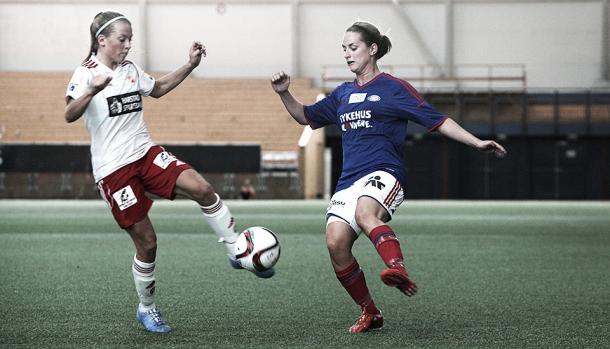 The top of the table continues to battle it out
At the other end of the table, LSK Kvinner knew that a win would keep them right behind Avaldsnes and with their game in hand, have the opportunity to overtake the league leaders later on as they are two points off first. It did this weekend as the in-form Isabell Herlovsen helped herself to two goals and gave LSK a solid two-nil win over a tough Klepp outfit. Hervlovsen, who now has fourteen goals for the season, has also put some distance between herself and closest competitor Cecilie Pedersen as they battle it out to be Toppserien's top goalscorer this season.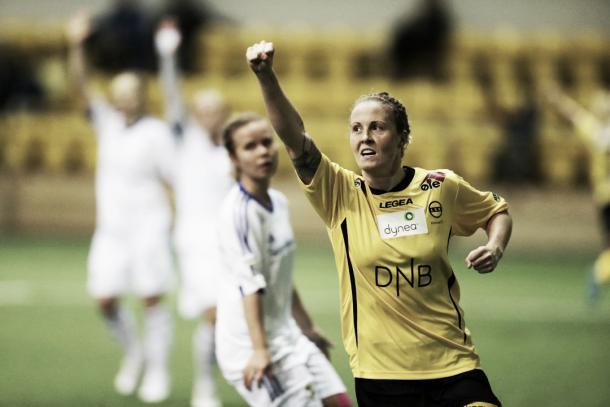 Kolbotn also stayed in touch with Avaldsnes as they got a two-nil win over a rejuvenated Arna-Bjørnar side who had managed three wins in five before this weekend. Finnish forward Juliette Kemppi who has finally found some form in front of goal and Andrea Thun got onto the scoresheet for Kolbotn. Kolbotn now sit on twenty-eight points and are three away from Avaldsnes.
The last of the title challengers, Stabæk, also signaled their intent to stay in the race as they struggled but ultimately managed to overcome Tronheims-Ørn by one goal to nil. This was a much needed win for Stabæk as they ere looking to bounce back after two losses on the trot and with this win, now sit six points off of first place. Gunnhildur Jonsdottir scored the only goal of the game in the sixty-seventh minute much to the delight of her team.
With still so many games to go, the race for the title remains to be a battle between four teams with either team able to come out on top should they go on a run and those around them drop points at any point in the season. The season looks like it could go right down to the wire before a league title is decided.