Newcastle United completed the signings of Dwight Gayle and Matt Ritchie, who both signed five-year contracts with the club.
Both players put pen-to-paper before they headed straight onto the training field to join their new team mates for their first day of pre-season ahead of their season opener at Craven Cottage where they will take on Fulham on August 5.
Move in the right direction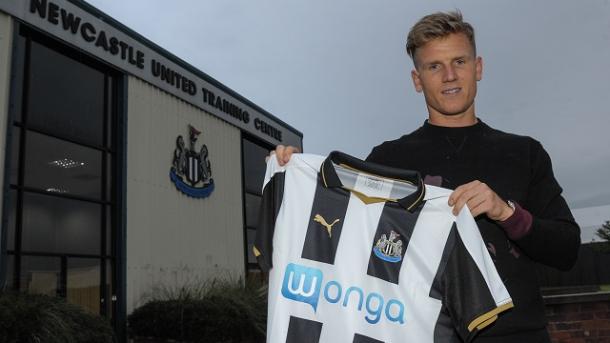 Despite Gayle and Ritchie dropping out of the Premier League, they both believed it is a good move in their careers.
Gayle told NUFCTV that it "is a great achievement" to sign for Newcastle and that he is "ecstatic". The 25-year-old went on to add that it's "amazing to be at a big club like this" where he highlighted the "fan base and great history of the club" behind his reasons for joining.
The striker also joked saying "if you'd told me that (I'd be signing for Newcastle) then I probably would have laughed and told you were a liar!"
Gayle is one of few players in England to have worked their way up the non-league ladder which makes Gayle "appreciate it that little bit more." The move has reminded the former Dagenham and Redbridge player on how far he has come as he went onto say that "that's when you really cherish it that bit more."
And Ritchie revealed similar feelings to Gayle as he told NUFCTV that "it's an unbelievable feeling to come to a football club like this."
Ritchie joined Newcastle from Bournemouth. Ritchie "loved it at Bournemouth" where he said he had a "fantastic time there" and it had a "huge impact" on his career. But Newcastle fans will be pleased to hear that Ritchie praised United's big name by confessing that once a "club like Newcastle comes calling, I couldn't pass up this opportunity."
Targeting an instant Premier League return
Both players sacrificed their Premier League status in an attempt to get the Magpies back there at the first time of asking.
Gayle, who had a spell in the Championship with Peterborough has targeted 20 goals in a bid to fire his new side to promotion. "You want to get to the 20 mark, and that's first stage you want to get to. You go into each game trying to score, but the main aim for us is just get promoted."
And the former Palace forward is "looking forward to it" and "hopefully I can help push the team that way with my goals and my performances."
Ritchie won the Championship with The Cherries in 2015. He is will looking to do that again and he is "really looking forward to the challenge".
And himself also targeted goals. "I like to think that I score goals and can create goals". He's "hopeful" that he "can do that this season". The winger added, like Gayle, that "the main aim for this football club is to be in the Premier League" and he "wants to be apart of it."
Legendary status
Gayle recognised the Newcastle fans love for a goal scorer with the days of Les Ferdinand and Alan Shearer still fresh in the memories of the Geordies. Gayle said: "Looking back, there's been some extremely good forwards here, and the fans do love a striker." Gayle looks to "follow them" and that if he "half as good as some of them" he'll "be ok."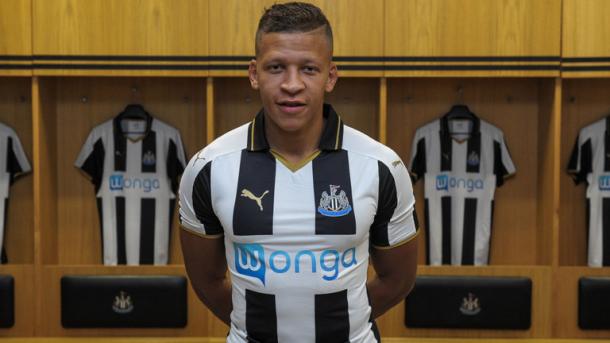 Benitez hails signings
It's not often players drop out of the Premier League for the Championship. However, when the Magpies have a man like Rafael Benitez in charge, you can certainly understand why they might.
For the first time under Mike Ashley's regime, a United manager has control over transfers so both Gayle and Ritchie are Benitez signings.
Benitez labeled Gayle as "a proven goalscorer" with "a lot of energy and pace". Benitez is certain that "he will add goals" to his squad.
The Spaniard said "Dwight will want to prove he can make a big difference to our team," and he is looking forward to working with him.
It's definitely something difference for Newcastle fans as they have finally seen an instant replacement for a departing player. Crystal Palace confirmed Andros Townsend had signed a deal at Selhurst Park before just minutes later United announced the signing of Ritchie.
Benitez liken Ritchie to Townsend where he said "he has great ability and pace."
The 56-year-old has described Ritchie as "one of best prospect for this team" when following the situation available wingers to fill the hole left by Townsend.
Rafa added that he has signed "an exciting winger who has experience in the Championship" expressing his delight that Ritchie is "now a part of our squad."