 You will find few professionals in football as dedicated as Lucas Leiva, but his Liverpool career has certainly been full of ups and downs.
Signed by Rafael Benitez in 2008 for around £5m from Gremio, Lucas played primarily with an attacking mindset in Brazil, yet he became the complete opposite at Anfield, turning into a defensive midfielder.
However, he struggled with this transition at first and could not secure a regular first-team position in his opening two years with the club.
Xabi Alonso and Javier Mascherano were the two midfielders Benitez preferred, and Lucas even found it hard to step in for one of the duo in cup games.
Liverpool fans, known for their patience with players, eventually became frustrated at the lack of depth in midfield behind Alonso and Mascherano, and Lucas could not bridge the gap in quality to those above him.
Lucas' unpopularity peaked in 2009 with a sending off against Everton in the FA Cup, while after replacing Alonso in midfield for the 2009-10 season, Lucas was attributed by many for the Reds' poor season and the demise of Benitez.
However, ironically, once the manager who had signed and defended Lucas consistently had departed, the Brazilian's Liverpool career began to turn around.
Long-serving Brazilian has proven critics wrong time and time again on Merseyside
He was arguably the best player of Roy Hodgson's ill-fated reign, and ended the 2010-11 season as the club's Player of the Year. Continuing his form under Kenny Dalglish and into the following season, Lucas' world was then thrown into chaos with a cruciate ligament injury against Chelsea in December 2011, missing the rest of the season just as he was establishing himself as a key automatic starter for the team.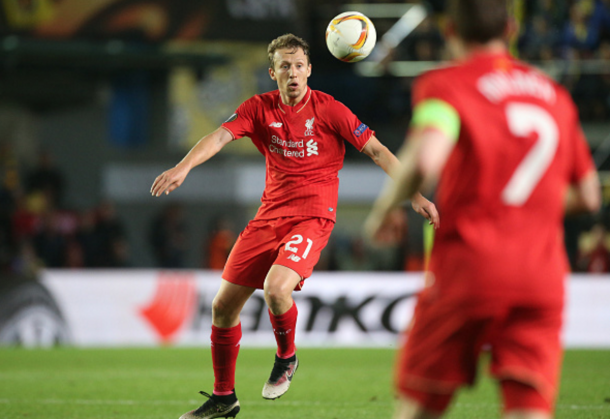 He returned for the succeeding season, but in the last four years he has been in and out of Liverpool line-up and has never quite managed to return to his peak of 2011, although his effort remains as relentless and committed as ever.
Nevertheless, Lucas has been part of the Liverpool side during key stages in recent years, such as in unbeaten runs under Brendan Rodgers in the title charge of 2014 and when they threatened a top-four finish in 2015.
However, during last season under Jürgen Klopp, Lucas found it difficult to fit into his favoured midfield role, but instead may have found a new lease of life in defence.
The 29-year-old only made a few appearances at centre-back, but he greatly impressed whenever called upon, and finally fulfilled his dream of playing at Wembley in this year's League Cup final against Manchester City, again playing in his new position.
Lucas' entire Liverpool career has been on the defensive from the start, and even if he himself settled down at the club after two years, he is completely unrecognizable from other classic Brazilian attacking midfielders gone by, the player Benitez thought he was signing.
Now to continue playing for Liverpool, it seems Lucas has to become even more defensive, as the competition in midfield is now just as tough for him as it was when he arrived.
Not so much through the quality of those ahead of him – Emre Can, Jordan Henderson, James Milner and Joe Allen are all fine footballers, but they are not Alonso, Mascherano or Steven Gerrard – but because of the stage of his career Lucas has now arrived at.
He will be 30 next January, and was never blessed with a great amount of pace, playing more akin to Dietmar Hamann than Mascherano when shielding in front of the back four.
Lucas lacks the physical attributes to succeed in midfield under Klopp, who demands intense, all-rounded midfielders for his 4-2-3-1 system; hence why Allen is also considering his future at Liverpool because of his lack of suitability for the German's system.
Playing centre-back reduces these issues, but even here Lucas finds himself in all likelihood as the club's fourth choice, behind new arrival Joel Matip, a rejuvenated Dejan Lovren and the popular Mamadou Sakho.
Lucas' Reds career finally coming to an end?
Therefore, it would be understandable if, after years of flirting with the Anfield exit door, Lucas decides to walk through to the other side, away from the club and city which he has called home for nearly the past decade.
Clubs from Italy, such as Inter Milan, have long been linked with the Brazilian international, and now Besiktas have seemingly entered the fray. He is Liverpool's longest servant at the club, one of the two remaining survivors of the Benitez era, with Martin Skrtel the only other senior member from that period, although he too seems set for a move away from the club.
Lucas' future may depend on Liverpool's success with their own incomings this summer, as apparently Klopp currently is being frustrated in moves for Mahmoud Dahoud, Piotr Zielinksi and Ben Chilwell respectively.
Consequently, should some of these transfers fail and other targets cannot be brought in, then Lucas and also Allen could yet find themselves with futures at Anfield, although both may still want a move away for first-team football.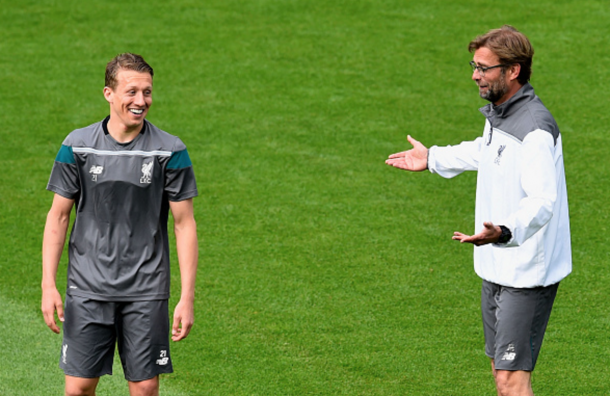 Lucas is now hugely popular with the Liverpool faithful, surmounting his difficult start at the club. He has so much experience with Liverpool, but no one there would begrudge him a move away while he still has time left to settle down at a new club and compete at the highest level.
Lucas's departure may not impact the level of quality available to Klopp significantly, but the Brazilian's consistency, reliability and loyalty will be missed.
He never did quite make it to the level of an Alonso or Mascherano, but Lucas became a great player in his own right for Liverpool, working hard to overcome adversities at various times in his Anfield career.
This summer might finally be the right time to end the Liverpool story for Lucas - a turbulent, but ultimately successful story for the attacker who became a defender.