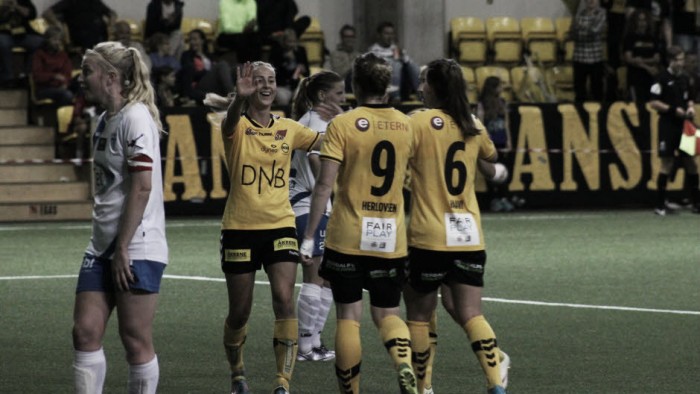 With a mid-season break around the corner, all 12 Toppserien sides head into this weekend's round of games looking to go into their time off on a high, with plenty to play for and drama awaiting in week 14.
Sandviken – Urædd
Urædd have had a miserable season, but in the last round they, to the surprise of everyone, managed to get a 2-2 draw against fourth placed Stabæk. Prior to this game the team have only scored three goals all season, but conceded 46. The win will have done wonders to the team's confidence – especially for Rebecca Mykland, who scored the two goals in the win.
Sandviken are seventh, but have the same amount of points as Trondheims-Ørn and Klepp, who occupy the two places below them. They come to the game after a narrow 1-0 loss to Arna-Bjørnar, but Sandviken had the majority of the play and created the better chances. With three goals, Sofie Skjelstad Jensen is the team's top-scorer.
Despite the great result in the last round, Urædd have to be considered underdogs in this game. When they faced off at Urædd's home Porsgrunn earlier in the season, Sandviken ran out as clear winners with a 4-0 victory.
Klepp – Trondheims Ørn
The only thing that separates the two teams in the standings is goal difference, with Trondheim having the advantage by one. Everything points to a close match, between two teams who have had a season with many ups and downs. The two come in to the game with very different experiences from the last round.
Whereas Klepp were beaten by in-form Røa in what was a very even game, Trondheim managed to put in one of the performances of the season when they beat Vålerenga a staggering 7-0. Trondheim's captain Guro Reiten scored a hat-trick in that game.
Kolbotn – Røa
Everything is at stake for Kolbotn. Up until recently, they were hanging on to Avaldsnes and LSK at the top of the table, but a few shaky results, especially the 5-0 loss to LSK last weekend, means they have all but surrendered their chance of gold.
However, they are still third in the table, but if they want to keep Stabæk behind them, they have to stop dropping points. Røa is one of the most in-form teams so it will not be an easy game by any measures. Recently, Røa won 2-1 over Klepp.
In the first game against the two this season Kolbotn got a narrow 2-1 win. All in all everything is pointing towards another very even game.
Stabæk – Medkila
Both Stabæk and Medkila have a lot to play for in this game.
Stabæk are in a tight fight with Kolbotn for third place, and are currently only two points behind.
Medkila is fighting to either avoid direct relegation (last place) or the dreaded play-off game to avoid relegation. With eight points between them and Vålerenga above, second to last placed Medkila need to start picking up points, and with Urædd in last place doing this, it's even more crucial, as the last place guarantees relegation.
Everything points to a home win, but with a team that is basically playing for their place in the league, it can be unpredictable.
The first game this year between the two ended with a 2-1 victory for Stabæk.
Avaldsnes – LSK Kvinner
It's the big battle of the weekend. Number one against number two. Avaldsnes enter the match as number one in the standings, with two points down to LSK. But LSK have the knowledge that they have played one game less, and a win today would not only take them one point ahead of their rivals, but would also assure them that, if they can win the game they have in hand, that they could potentially be four points ahead of Avaldsnes.
LSK come into the game filled with confidence after they triumphed 5-0 against third placed Kolbotn last game. In that game, it only took Dutch midfielder Sherida Spitse 85 seconds to give LSK the lead. Their first half was probably one of the best halves by any team this year, and LSK seems to have kicked it up a notch.
Avaldsnes also managed to grab a win in their previous game. However, in their game against Medkila, who sit second to last in the table, they had to fight hard to get the points. If they want to get anything away from a game against LSK, then they will have to up their game by several gears.
Avaldsnes has enjoyed a fine season, especially due to their excellent counter play, and this could very well be the key to success against an LSK side which will be expected to see much of the ball.
For Avaldsnes, Cecilie Pedersen has been in scintillating form, and has scored nine goals, which means she is second in the top-scorer chart. This chart is led by LSK's Isabell Herlovsen, who has scored a staggering 16 goals – in 12 games no less.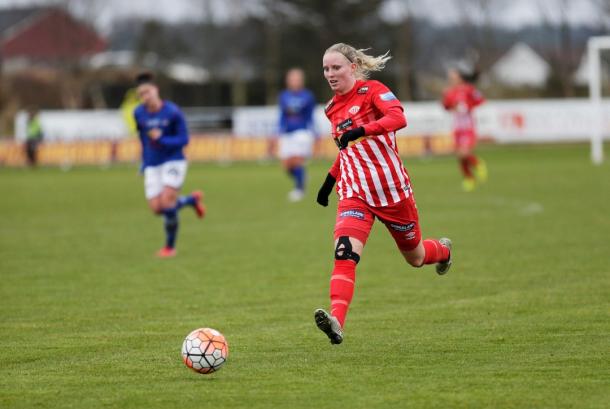 Vålerenga – Arna-Bjørnar
Tenth placed Vålerenga haven't enjoyed the best season, and with a 7-0 loss in their latest game against Trondheims Ørn their confidence has taken a hit.
Arna-Bjørnar, meanwhile, got a narrow win over Sandviken last weekend, and the team is currently sixth in the table with a game in hand. Vålerenga have had defensive issues, but they are facing a team today who, despite playing some good football, has had trouble finishing. Arna-Bjørnar will be favourites, but it might not be as straight-forward as some would predict. A home win would mean Vålerenga hang onto the teams above them.
Arna-Bjørnar won 3-0 when the two teams met earlier in the season.