 Jürgen Klopp spoke of the honour of committing his future to Liverpool until 2022 and declared that he will build the "most completely together group anywhere in the world."
The German put pen-to-paper on a new six-year deal on Merseyside on Friday just over 24 hours after news had emerged that the club's owners, Fenway Sports Group, were keen to tie him down for the long-term.
Having only joined the club last October, his previous deal ran until summer 2018 with the option of an added 12 months, but Klopp could now emulate his seven-year spells with former clubs Mainz and Borussia Dortmund at Anfield.
The deal also saw Klopp's trusted assistant managers Zeljko Buvac and Peter Krawietz also penned extensions as crucial members of the backroom staff.
Plenty of hard work ahead, says Klopp
Klopp, speaking to Liverpoolfc.com after his new deal, admitted that it was "hard to express in words" how honoured he and his assistants were by "the commitment shown" by "the ownership and the club in general."
The Reds boss acknowledged that there is "much to do and much to achieve" yet on Merseyside, but said that they will "look to do this" by "being the most completely together group anywhere in the world."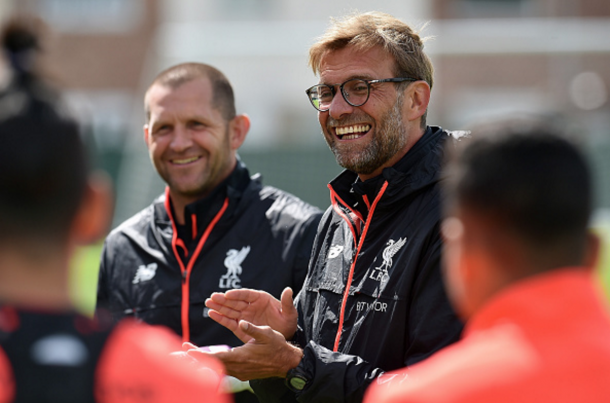 "That's everyone and we all have responsibility for it," Klopp continued, insisting that by "all of us" he meant "players, staff, ownership and of course the supporters."
Klopp, who took Liverpool to two cup finals in his first season in charge last term, said that should the club succesfully be "together at all times" then they will "be stronger, better and our successes sweeter."
Reds boss says they must look to make supporters "proud and happy"
The 49-year-old, who oversaw a 1-0 win over Tranmere Rovers in their first warm-up friendly of pre-season on Friday night, insisted: "We are very much at the beginning of our journey, but to already have the connection we have with this very special place is incredible."
Such is his commitment, the terms of the contract were said to be more about the exact length of the extension as opposed to any wage increase - though Klopp's £5 million per year pay has said to have risen a little due to the new deal.
Klopp admitted that he's the first "to recognise" that with the "great commitment" of being Liverpool manager comes "a great responsibility" and he and his backroom staff's careers have centered around looking "to make teams and clubs better" with "the ultimate goal of making the supporters proud and happy."
To do that on L4, Klopp believes that they must "make sure we always put player and team development at the heart of every major decision" and called it his job to "lead that and ensure every element of the club's footballing environment reflects the best practices in the game."
He added that he thinks it's "fantastic" that the club's American owners are "just as committed" to the project of restoring Liverpool to former glories as "we [Klopp, Krawietz and Buvac] are."