 Jürgen Klopp admitted that extending his Liverpool career until 2022 with a new long-term contract earlier this week was "a big moment."
Nine months on from the day of his appointment as Reds manager, Klopp committed his future to the club for an extra six years alongside assistants Zeljko Buvac and Peter Krawietz.
After a season in which he led the club to two cup finals, the 49-year-old is expected to help steer Liverpool back towards Champions League qualification although the competition of other Premier League teams means 2016-17 will be a tough campaign.
But Klopp is confident of being able to see out the job on Merseyside, explaining that was why he put pen-to-paper on the new deal.
Reds boss admits job will be difficult but says he relishes the challenge
"It's really a big moment," declared the German, who revealed that in his first press conference back in October when "everybody asked me how it feels" he "couldn't imagine."
"A few months later, now we talk about a long-term relationship!" Klopp said, explaining that he is "really happy about the opportunity to be at the club for a long time."
He acknowledged that critics suggested that "contracts don't mean anything" but insisted: "In my opinion, they mean a lot because it's a clear statement in the moment. You don't do anything like this when you think you want to quit early."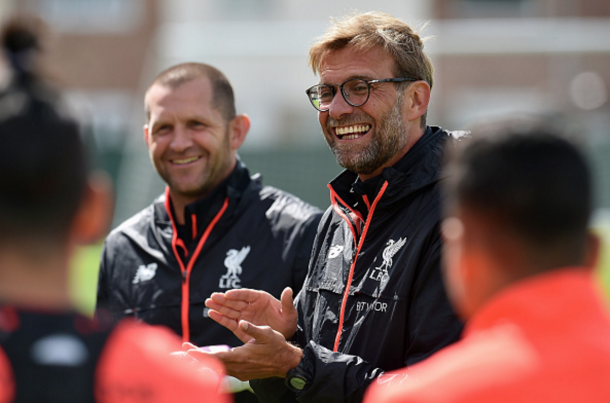 Klopp declared that he and his backroom staff are "all convinced about our way" despite admitting the job "will be really difficult" over the next few years, adding that the first year "was difficult" and that "it will be still" given the business their top-four rivals have done already this summer.
On the contract, the boss insisted that he likes it as a sign "for consistency" and said that the club and he have "made the decision to stay together."
Admitting that managers don't usually "have to make this decision" and instead "wait [to see] what happens", Klopp insisted that it was "an early moment" when the club asked him to extend his contract and that he felt "surprised" by the offer, but said after thinking about it that it "was good and felt right" to sign.
"We really need to be successful here," says Klopp
But the manager insisted the deal is nothing to celebrate, although it may be the closest Liverpool come to a statement signing this summer.
Rather, he likened it to a penalty - saying the Reds now "have to finish it" for the deal to have amounted to anything positive.
"I said to LFCTV that signing the new contract is a little bit like having a penalty," he said. "Now, we have to finish it. You cannot celebrate the penalty, you have to score the goal. That's what we have to do now."
Klopp told reporters that the club "really need to be successful" and said it's clear they "need to develop the club" and "need to develop a lot of things."
He insisted that the club "think about everything" and said some of what they talk about is "much longer-term" than his contract, such as "building a new stand" and "thinking about bringing the Academy and Melwood [the club's training ground] together."
And Klopp said that, with that in mind, it is "really important" he and his team "do the right things" so that "this wonderful club can be successful", insisting that they will "try our best" and "see what it brings."
Klopp insists Liverpool and his backroom staff must make happy memories together
Asked about what convinced him to sign his new contract at Anfield, Klopp admitted that he thought of questions as to whether there were any other "better options" around or whether he wants "to train or work at another club."
But he confirmed that after speaking to Buvac and Krawietz, and their families, they all agreed that staying at Liverpool for the long-term is "the right thing" although they know "it will not be easy."
"We don't think we have to change the manager or big things in the next few years," he said, calling it "the right relationship" between Klopp and his staff.
But he called upon his assistants to "use it" and "go through the hard times" and "hopefully the good times" as well as "all celebrate together and suffer together" so that by the end of their time at the club they can be "really happy about the time we had together."