 After a humbling defeated to FAWSL newcomers Sheffield FC, VAVEL spoke to London Bees boss Dave Edmondson about the loss and why it won't deter the London club.
War wounds
Despite a rash of injuries to the modest squad, Edmondson was unwilling to excuse the performance of his team.
"We've had a lot of injuries this week and a lot of changes in the team and on the balance, we've had two very young players come in and do the business for us," he said.
"But at the same time, it's not making excuses, there are no excuses that performance wasn't good enough – I don't care about the scoreline, the performance just wasn't good enough."
However, he also doesn't believe that this one defeat represents what the team is about, saying: "At the same time, it can't be something that defines us. We've gone seven games unbeaten with some good wins in there, we can't forget about that and only focus on this one game."
When probed for details about the injury list, the former Bristol City boss was understandably coy about revealing too much before a trip to the Stoke Gifford on Saturday,

"There's Emma Beckett who's been needing an operation on her wrist for something that happened earlier in the year and I don't necessarily want to name names as some may have played today but we've got players with ankle problems, others with groin problems," Edmondson revealed.
"Most of them are injuries and knocks that have been picked up in recent games. We've managed the work-load really well but we've come into games and the players haven't been getting the protection that they should have."
After being warned by the referee for his conduct during the game and criticising the lax standard of officiating, Edmondson was happy to vent his frustrations about the lack of protection he feels his players have been getting in recent weeks too.
"I'm concerned about how some of the games are managed," he said. "There are tackles going in that should be picked up but at the same time, we've seen it today, there are free kicks given for things that aren't fouls.
"We've benefited from bad decisions today and so have Sheffield. Free kicks for fair challenges and dangerous tackles let go; that's not managing the game properly, that's not controlling the game and it's certainly not protecting player's safety."
Lack of leadership
With Ashleigh Goddard substituted in the second-half and injuries to key players, the young Bees squad often looked disjointed and lacking a natural leader. However, their manager likes to look for leadership across the pitch, not to one particular person.
"I'm a firm believer in that fact that if you've got eleven players on the pitch, you should have eleven leaders," said Edmondson, adding: "'Captain' doesn't really mean much to me."
However, he recognises when key experience goes amiss just as well, saying: "But at the same time, you look at the bench and you've got Sophie Harris and Emma Beckett and there's a lot of experience sitting right there so it's tricky.
"Back on the pitch we have Deanna Cooper and we get a lot of leadership from her but she's another who wasn't 100% today so she's more focused on what she's doing personally and not as able to stand up and lead. However, we brought on young Holly Greenwood and, for me, she's performed really well and she's stepped up and at just 16 and she's telling other people what to do, where to go and trying to organise players."
With the injury worries giving the youth a chance, Edmondson isn't losing his head and rushing out to sign everyone in sight either in the current circumstances.
"We've purposely got a small squad because we're looking to the future all the time and we don't want to just keep players here for the sake of it," he said, but admitted: "At times, like today, it can put you behind the eight-ball.
"We've got three games in three weeks and then a month off. We don't want to panic sign four people and then in three weeks' time we haven't got a game and suddenly we've got everyone back and we've wasted signings. So there's no panic," Edmondson added.
"It's always been a long-term plan here and we were weary not to get too carried away with some results we've had in the last few weeks – but at the same time, we've proved that we don't need to panic after one bad result."
No excuses for the new look Bees
After the game VAVEL also spoke to captain Ashleigh Goddard about the defeat.
Just like her manager, Goddard echoed the sentiment that injuries were at the root of the disorganised nature of the team, but she too was unwilling to make any excuses for the sub-par performance,
"It wasn't our day," she said.
"We have quite a few injuries, a lot of people struggling, but we have no excuses as there's depth in this team but we just didn't perform today. But this day doesn't define us, it's just one result, we've had seven unbeaten before this and we've consistently played a lot better than we did today. It's unfortunate but we work hard and we'll bounce back so we can be ready for Bristol next week."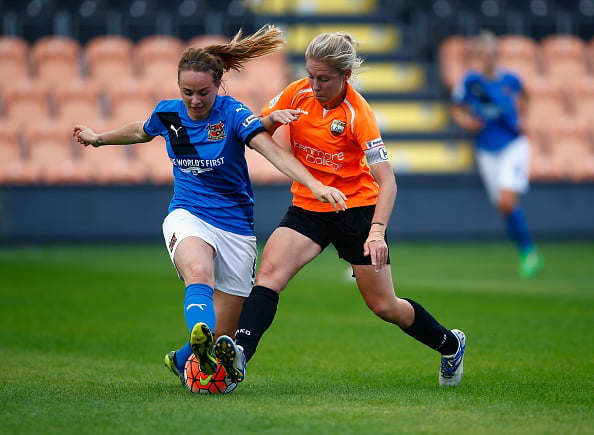 Casual observers of WSL 2 may have already been jumping to say that the result seems like one out of the last two years for the Bees, a suggestion that the captain was keen to dispel.
"To be honest, I hate that comparison. We're two totally different teams; we've got a brand new manager, half the squad is completely different and the mentality is absolutely different. Just because we lost today you can't say we're just back to the old London Bees because two weeks ago we beat Chelsea. This is just one result and you're going to have good and bad games in a season no matter what and unfortunately this was a bad one for us today."