Canada, despite having a player sent off early on, managed to grab a crucial 2-0 win over Australia in their opening Rio 2016 game.
Janine Beckie gave Canada the lead after 19 seconds, but that was as good as it got in the first half for Canada. Australia returned to pepper the opposition's goal and then were handed a further boost when Shelina Zadorsky was sent off.
That pressure continued after the break but Stephanie Labbé was in resolute form in between the posts. Canada were afforded another chance to score late on but Lydia Williams denied her with a good save. Christine Sinclair sealed the game late on after rounding Williams and slotting into an empty net.
End-to-end entertainment in the first half
The game got off to the worst possible start for Australia, as a weak pass from Laura Alleway was met by Canada's high pressure. Sinclair stole the ball ahead of 
Alanna Kennedy and drove into the box. Beckie was waiting and the back post and skipper Sinclair duly obliged, leaving her with a tap-in to open the scoring after 20 seconds.
The Matildas could have capitulated, especially for such a young squad, but they managed to withstand further pressure from Canada and begin to build themselves. They could have even been level after 15 minutes but Samantha Kerr went for a shot instead of slipping in Michelle Heyman; Stephanie Labbé was left with a routine save.
There was another twist in the plot moments later, as Heyman's run to goal was cut short by Zadorsky's arm on her shoulder. As the last defender, Stéphanie Frappart had no choice other than to produce a red card. Elise Kellond-Knight struck the resulting 20-yard free-kick, only to see it come back off the crossbar.
Kerr was Australia's live-wire in the attack and her first-time volley from the edge of the area was inches away from levelling once again. However, her effort went narrowly wide. Despite going down with a calf problem, Canada had Labbé to thank for two brave saves late in the half. Rebecca Quinn made a stellar block to preserve their lead also.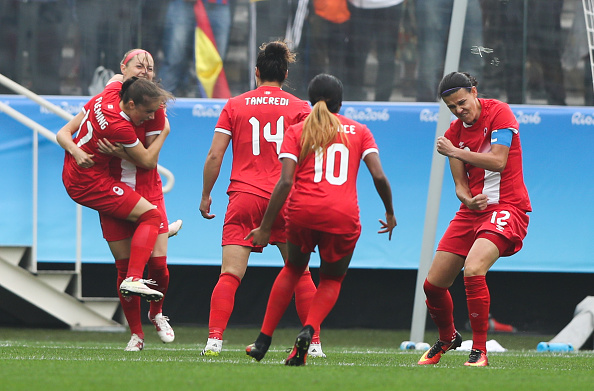 Drama continues in the second
The second half began with changes for both sides. Stephanie Catley replaced the lively Kerr for Australia, while Rhian Wilkinson was taken off for Allysha Chapman at the heart of Canada's defence. Despite the switch in the back-line, it was goalkeeper Labbé proving the difference.
Another stellar stop from Katrina Gorry's dipping shot continued to frustrate the Matildas. Gorry had to charge straight back up the other end and make a last-ditch tackle to deny Diana Matheson from getting a clean strike on goal. Beckie's follow-up was stopped well by Williams in goal.
Canada then launched a late onslaught that began with a penalty. Beckie stepped up after a handball had been given in Canada's favour in the box, but Williams was once again her nemesis and stood strong. Williams then got a reprieve after Jessie Fleming's effort squirmed through her legs, only to be cleared off the line.
It would not be third time lucky, however, as she charged towards the half-way line to try and sweep up a loose ball. Her efforts proved in vain as Sinclair poked the ball round the stranded stopper before finishing from range into an empty net. Canada navigated the final few minutes to secure a vital win for their qualification hopes.