It was a perfect start to the 2016 Olympic Games for home country Brazil, who claimed an easy 3-0 win over China in their opening game of Group E.
A first-half goal from Monica, followed by strikes from Andressa Alves and Cristiane in the second was enough for Brazil to secure the win.
Brazil too strong for China in first half
In search of their first Olympic gold medal, Brazil managed to assert their dominance early on, controlling the majority of the possession.
The Olympic hosts' first major chance came after 14 minutes when Tamires crossed in the ball to Cristiane, who sent a wild shot towards goal, saved easily by Zhao Lina.
Despite an excellent qualification campaign which saw them finish above 2012 Silver medalists Japan, the Steel Roses were unable to put together anything significant, as they struggled to keep up with the tireless pace of the home-side.
At the 33 minute mark, Brazil had an almighty chance to break the deadlock. Following a corner, Cristiane took a shot from close quarters only to be blocked off the line by Tan Ruyin.
Minutes later though, Brazil were finally able to put one past resilient China. A deep set-piece from Marta saw a major scuffle in the box which Monica was able to capitalise on, scoring a header from deep to make it 1-0 at the 36-minute mark.
Despite a fantastic first half from Brazil, the eighth ranked team in the world almost gifted China a last minute goal, an awful back-pass caused a moment of confusion for the Brazilian goalkeeper, but it would only roll out for a corner.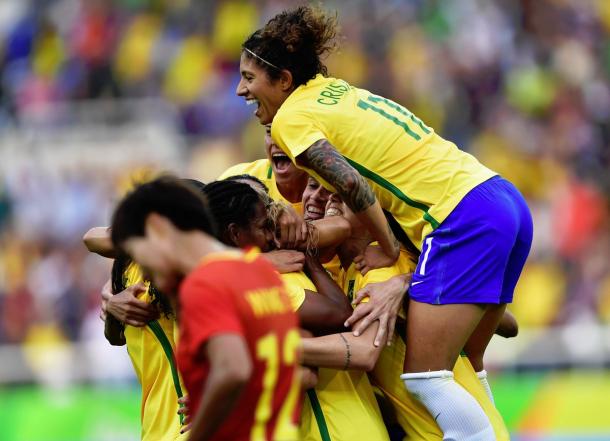 Home-side open the floodgates in second half
It's evident that Chinese coach Bruno Bini had a stern talk with his side at half time. China came out for the second half much livelier, immediately forcing half a chance. Wang Shuang latched onto a Wang Shanshan cross, but was out muscled in the box by Formiga.
Despite China seeming reinvigorated, Brazil doubled their lead after 59 minutes through Andressa Alves. Marta showed her skill to dance past the Chinese defence, touching the ball to Alves who smashed it into the net from close range.
After her earlier assist, Marta nearly claimed a goal for herself in the 66th minute. She carried the ball from deep, managing a powerful shot from just outside the box, which forced Lina to make a tremendous save.
She was one of the key players for Brazil and in the 90th minute Cristiane rightfully scored her side's third – and her 13th for Brazil at the Olympics – latching onto an Andressinha free-kick to put a clinical stamp on her team's opening performance.
Finishing sixth at the 2012 Olympic Games, an empathic opening game from Vadao's home nation sets them up for a potential gold medal run. Brazil will now play Sweden on August 6.