Fatigue was one of the main reasons for Liverpool's convincing defeat at the hands of Mainz in their final pre-season friendly, according to Jürgen Klopp.
The manager's homecoming to a club he served for 18 years as player and then manager was spoiled by a disappointing performance which saw the Reds thrashed.
But he revealed that he was forced to abandon his original plans to field a completely different side to the one that faced Barcelona the previous day.
With recent injuries to James Milner, Daniel Sturridge and Sheyi Ojo taking their total number of absentees up to seven before their trip to Germany - where Marko Grujic also sustained a knock - Klopp was forced to field a stronger line-up than he initially anticipated.
Though he made nine changes from the outset, only Emre Can and Adam Lallana retaining their starting places from the previous day's win over Barcelona at Wembley Stadium, he believes the flat display that followed was partly due to tired legs.
Reds boss: Fatigue not an excuse, but a factor in defeat
Klopp acknowledged afterwards that it "wasn't all that great" for his side even though they came into the game "well aware this was going to be hard."
He said that having played Barcelona the night before, then flying over to the banks of the river Rhine, he "knew [that] some would be tired" but that the squad "were looking forward to coming here" regardless.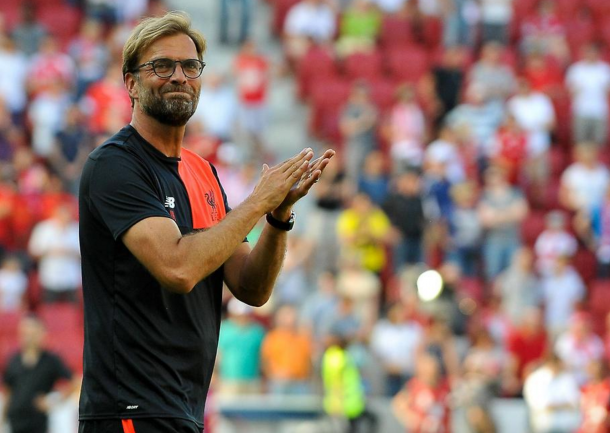 "I also knew that we would have to play with two different teams otherwise it wouldn't work," the German continued, saying that there were "a couple of reasons" that forced him to drop such plans.
He insisted that they "couldn't go through" with having "two completely different teams" and that because "some had to play in both games" there were players who "looked more tired than the others."
But he was keen to explain that fatigue is "not meant as an excuse" although it "would probably explain" their substandard display.
Still positives to take, insists surprisingly upbeat Klopp
Klopp also believes that their Bundesliga opponent's determination, and that they "seemed to want it more" and were "more eager" to win, meant they "deserved their win."
"The way we played wouldn't win any match," declared the Reds boss, who insisted that it was "far away" from what he wants to see from his side and from what he has "seen before."
Yet he was reluctant to criticise his team's performance and said that "some days you just have to accept what happens on the pitch" as he chose to focus on his view that the team is "actually on a good path."
He admitted that "nobody could tell from this match" but declared: "Unbelievably, there were still some things I actually liked. I can work with this match and make use of some things."
Despite such a humbling margin of defeat at the newly-renamed Opel Arena, Klopp insisted that it was "really nice" to be back at Mainz and "see so many familiar faces" and "wish everyone well."