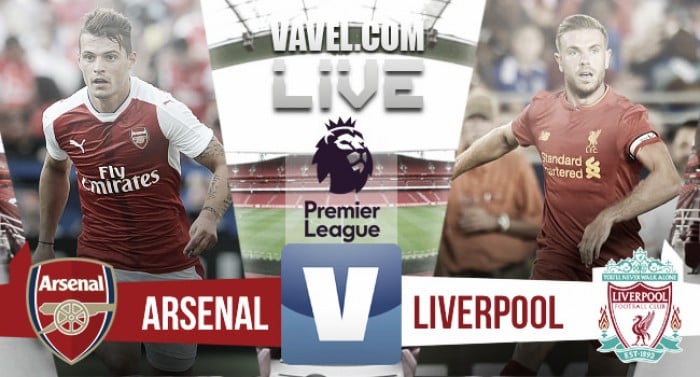 Unfortunately, that's all we've got time for today! I've been Oliver Emmerson, and I've had the pleasure of taking you through the game of the opening weekend. Until next time, goodbye!
Man of the Match must go to Philippe Coutinho. He was quiet in the first half, but burst into life with that free-kick, scoring again to make it 3-1 before hobbling off.
Going through the second half goals, well it was a well worked Liverpool one for their second, and Coutinho's finish from Clyne's cross was very nice. However, they pale in comparison to Mane's dribble and goal for the fourth. Arsenal's didn't have as much glamour, Oxlade-Chamberlain with a deflected effort, whilst Chamber's header was nicely placed.
Wow, what a game of football. The Premier League is well an truly back. Arsenal were 1-0 up, before Liverpool stormed back ahead with some amazing attacking, going 4-1 up. The Gunners eventually struck back with two goals, but didn't have enough in the tank to win a point.
Full-time: Arsenal 3-4 Liverpool!
90+5: Into the last minute here! Origi put in by Can but he's offside. Cazorla fires a cross in, but it hits Monreal and drops out for a goal-kick.
90+3: Divock Origi really has got some strength, shrugging off two on a counter-attack before rolling the ball across to Henderson, the Liverpool captain shooting wide, but a deflection gains his side a corner.
90+2: Arsenal throwing the kitchen sink at it, the ball dropping for Walcott just in the area, but he seems to fall over himself, allowing Moreno to hoof the ball clear.
90: Five minutes of added time!
89: Liverpool take it to the corner, Origi and Mane taking it in turn to show their strength, running the clock down a little. Arsenal eventually get the ball back.
88: Final change for Klopp and it's a defensive one, Wijnaldum off for Kevin Stewart in midfield.
86: Poor touch from Xhaka, he loses the ball to Mane, picking up a yellow card by taking the winger down.
85: Ooooh! Almost five as Wijnaldum pinches the ball in midfield, giving it to Firmino who has a powerful effort deflected narrowly wide.
81: Bellerin with a lovely first time cross, Mignolet and Lovren unsure as to who is going to claim it, before the defender manages to head out of play with Sanchez waiting to pounce.
76: Origi on for Lallana.
75: A wide free-kick from Cazorla whipped perfectly into the box, Chambers gets the flick into the corner of the net, and now Arsenal are just one away!
GOAL! HERE WE GO, ARSENAL 3-4 LIVERPOOL!
74: Divock Origi's readying himself to come on as Liverpool's second change. We missed it to a certain degree earlier due to the flurry of goals, but it was Alex Iwobi that was replaced by Oxlade Chamberlain.
73: We've had some calm after a 17 minute spell (from Coutinho's first to Ox's) where five goals were scored. Cazorla hammers over from distance.
70: Coutinho off for Can, but it doesn't look as bad as first feared. No hat-trick for the Brazilian, who has simply lit up the Emirates today.
68: Liverpool now have an injury problem, Coutinho was played through on goal but pulled up before he could get there.
67: Granit Xhaka gets his competitive debut, on for Elneny.
64: Arsenal finally respond, Oxlade Chamberlain fresh off the bench, cutting inside before seeing a deflected effort beat Mignolet at his near post. Arsenal 2-4 Liverpool, what a game!
GOAL! ARSENAL PULL ONE BACK!
63: That's sensational from Sadio Mane! He charges down the right wing, beating Chambers and Monreal before lashing the ball into the top corner with his left foot.
GOAL! IT'S FOUR, MANE!
62: Indeed, they've been forced into a change, Ramsey off for Cazorla. Coutinho sprints 50 yards to stop the ball rolling out for a goal kick, winning a corner, much to the delight of the away end.
61: Problem for Arsenal, Aaron Ramsey's down holding his thigh.
58: So close again! Firmino sends Chambers back to Southampton before setting up Coutinho for a hat-trick, but it's saved by Cech before Bellerin prods the rebound away from Lallana.
56: Fantastic stuff from Liverpool, so many passes starting the move before Clyne is released down the right, crossing brilliantly for Coutinho who volleys past Cech with superb technique.
GOAL!! COUTINHO MAKES IT THREE!
54: How do Arsenal respond to this? 1-0 up going into stoppage time at the end of the first half, then they're 2-1 down before the 50th minute. Even worse, the game is nicely set up for Liverpool's counter-attacking play now.
49: Adam Lallana puts Liverpool ahead! Nice work from Firmino and Coutinho gives Wijnaldum a chance to provide from in the area, he chips it across to Lallana, who takes the ball down on his chest before converting past Cech. They comeback is completed!
GOAL! LALLANA FIRES LIVERPOOL INTO THE LEAD!
45: Back underway!
Well, it certainly wasn't a half short of entertainment. Alberto Moreno's had something of a nightmare for Liverpool, conceding a penalty which Walcott missed, before being out of position for Walcott's opener, although that goal can mainly be put down to Lallana losing the ball. Just as it looked like Arsenal were going to go into half-time with a lead, Philippe Coutinho bends in an unbelievable free-kcik to level the score.
Half-time: Arsenal 1-1 Liverpool
45+2: That is simply sensational from Philippe Coutinho to bring Liverpool level. Fouled by Holding all of 30 yards out, he whips the ball right into the top corner with an amazing free-kick to make it 1-1.
GOAL!!! WHAT A FREE-KICK! LIVERPOOL LEVEL!
45: Two minutes of added time at the end of this first half. Arsenal still a goal to the good.
42: Coutinho pips Walcott to the ball on the left, looking to angle a ball in for Firmino, only for Cech to come and gather well.
41: Yellow for Lovren, hauling Sanchez down as Arsenal sweep up the pitch at pace. Jürgen Klopp's got a job on his hands at half-time here.
40: A good chance goes begging for Liverpool as Firmino wins it in a dangerous area, Coutinho cutting back for Wijnaldum who fires straight at Cech.
35: Liverpool looking to get straight back in it, but Firmino fires wide from the edge of the area.
32: Lallana gives the ball away to Coquelin in midfield, and it's thread through to Walcott who has all kinds of room away from Moreno in the area, slotting the ball into the corner.
GOAL! THE MISS DOESN'T MATTER, WALCOTT SCORES!
30: Poor penalty from Walcott, to Mignolet's right and he saves easily.
SAVED! Mignolet keeps it out!
28: Moreno rash in the area, fouls Theo Walcott as the ball comes down from a high position. Chance for Arsenal to take the lead. Moreno booked, Walcott to take...
PENALTY TO ARSENAL!
26: Moreno has the ball played to him from the free-kick, his cross finishing up at the feet of Klavan, who has a shot blocked. Arsenal go up the other end, Lallana booked for a poor challenge on Ramsey.
25: Close, Lallana to Firmino in the area, the Brazilian firing across the box, deflected just out of Mane's path before Moreno is fouled down the left wing. Better from Liverpool after a sluggish start.
22: Aaron Ramsey going for the spectacular, looking to lob Mignolet from around the halfway line, but it's over. At the other end, Henderson nearly puts Firmino in with a lovely pass, but Bellerin's across to cover just in time.
18: Liverpool looking to win the ball back high up the pitch, Firmino perhaps lucky to avoid a yellow card as he trips Elneny from behind.
14: Moreno from villain to hero as he heads across the box straight into Ramsey, before thundering into a fantastic challenge to tackle the Gunner before he could shoot.
13: The visitors get their first shot away, transitioning the ball well from left to right, Clyne the man who ends the attack by shooting at Cech. Firmino and co slightly disappointed that he didn't opt to play it across the box.
11: Firmino, handed the striking role by Jürgen Klopp today, looks to get involved for the first time with a shuffle and a shimmy in the box, but his cross loops out of play.
7: Oooh, first shot of the game as Sanchez feeds Ramsey in the box, the Welshman's effort straight at Mignolet.
6: Liverpool find some space on the right with Clyne, but his eventual pass to Mane is a little overweighted, allowing Chambers to get across and put his foot in.
4: Arsenal with an early surge forward, Monreal down the left as he has a cross blocked out of play by Clyne to win a corner for the Gunners. Cleared by Lovren, before the return ball into the box floats kindly into Mignolet's arms.
2: Mane momentarily gets behind the Arsenal defence, down the left wing as Henderson pushes a header over the top, but an extremely late flag pulls him up for being offside.
1: After some confusion before kick-off, we can confirm that it's Alexis Sanchez up front for Arsenal, Theo Walcott playing on the right wing.
0: Kick-off!
The players are out, handshakes have taken place, we're ready to begin!
Not long until kick-off now, as these two teams begin their Premier League campaigns! We've already seen Manchester United cruise to a 3-1 win at Bournemouth today, who will come out on top here?
Arsenal fans don't seem too happy with the exclusion of Xhaka, that adding to their defensive woes, as 20-year-old Rob Holding makes his competitive Gunners debut alongside Chambers.
No Daniel Sturridge or James Milner in the Liverpool squad today, both failing to pick up enough fitness after returning from injury earlier this week. Lazar Markovic's absence is an interesting one, given that Liverpool have no attacking midfielders on the bench.
So, a surprise in each lineup in that neither Granit Xhaka or Emre Can start for their respective teams, Wenger and Klopp likely deeming them only match fit enough for a place on the bench.
Liverpool substitutes: Manninger, Matip, Alexander-Arnold, Can, Stewart, Grujic, Origi.
Arsenal substitutes: Ospina, Gibbs, Wilshere, Xhaka, Cazorla, Oxlade-Chamberlan, Akpom.
Liverpool XI: Mignolet, Clyne, Lovren, Klavan, Moreno, Henderson, Wijnaldum, Lallana, Coutinho, Mane, Firmino.
Arsenal XI: Cech, Bellerin, Holding, Chambers, Monreal, Elneny, Coquelin, Walcott, Ramsey, Iwobi, Sanchez.
Team news is in!
Liverpool will feel, given Arsenal's team news, that they can win today, despite going to the Emirates being one of the toughest fixtures of the season on paper. They warmed up for it perfectly last weekend, with a convincing 4-0 win over Barcelona at Wembley in the International Champions Cup.
The last time these two met was back in January, playing out a thrilling 3-3 draw at Anfield. Arsenal twice pegged Liverpool back as Roberto Firmino scored a brace, before the Gunners went ahead by three goals to two in the second half. It looked like they were going to hang on for the three points, only for Joe Allen to pop up with a last minute winner. I'm sure we'd all take a game such as exciting today!
We will see some competitive debuts for either side, the aforementioned Klavan being one. For Arsenal, Granit Xhaka will play his first league game after signing in the summer, whilst Sadio Mane and Georginio Wijnaldum could make their competitive bows for Liverpool.
Liverpool have their own injury problems, with Daniel Sturridge and James Milner fresh doubts, adding to an injury list that already included Loris Karius, Joe Gomez and Mamadou Sakho, whilst Joel Matip still isn't 100% fit after getting over an ankle injury. That means that the likely Reds centre-back pairing is Dejan Lovren and Ragnar Klavan.
Anyway, back to the present and you'd think that Arsenal would probably take an opening day draw today, considering their depleted team. Laurent Koscielny, Mesut Ozil and Olivier Giroud will all be left out by Arsene Wenger as he aims to get them match fit following Euro 2016, whilst Gabriel and Per Mertesacker are injured, leaving a centre-back combination of Calum Chambers and Monreal unlikely, unless Wenger selects inexperienced new signing Rob Holding.
These pair have faced each other on the opening weekend in recent history, back in the 2010/11 season, sharing the spoils in a 1-1 draw at Anfield. Joe Cole began a brief period as a Liverpool player by getting sent off in that match, in which Arsenal scored a last minute winner following a mistake in goal by Pepe Reina.
It's the first Sunday of the Premier League season, and it promises to be special. Saturday was great, it's the Saturday's that we miss. Our bread and butter, our 3PM kick-off's, our Match of the Day. But Sunday's are where the Premier League is often won and lost, with a series of glittering matches throughout the season, starting with today, as two of the country's biggest teams face off.
Good afternoon to one and all, and welcome to VAVEL UK's live minute-by-minute commentary of today's Premier League game between Arsenal and Liverpool, as the two teams get their league season's off to a start at the Emirates Stadium, with kick-off in North London set for 4Pm BST. I'm Oliver Emmerson, and will be with you until around 6PM tonight, so buckle in! Team news to come around an hour before kick-off.