 Danny Ings will play his part for Liverpool in the forthcoming season although Jürgen Klopp remains keen toline his striking options.
The German mentioned Ings as well as Christian Benteke and Mario Balotelli, both of whom are expected to leave the club this month, when quizzed about his first-choice frontman.
But he later dismissed the idea that there is any doubt over Ings' place in the squad despite the competition for places in the final third.
Instead, Klopp views Ings as a key part of his side and believes he is finally approaching full fitness to be able to show his importance to the Liverpool team.
Ings' fitness getting "better and better" says his boss
Speaking ahead of the Reds' Premier League opener at Arsenal, Klopp insisted Ings is not in "the same situation as the other two" and said that they are "counting on" the England international.
The No.28 is still awaiting his first competitive appearance under Klopp after rupturing his anterior cruciate ligament in one of his first training sessions under the boss.
But Klopp is confident that he can have the desired impact this season, calling him a "fantastic boy" and admitting that he "needed time" to recover after being out since last October.
The 24-year-old is now "getting better and better" in the words of Klopp, who added: "He knows himself that in the first two or three weeks of pre-season, even though he scored in the games, it was too intense for him."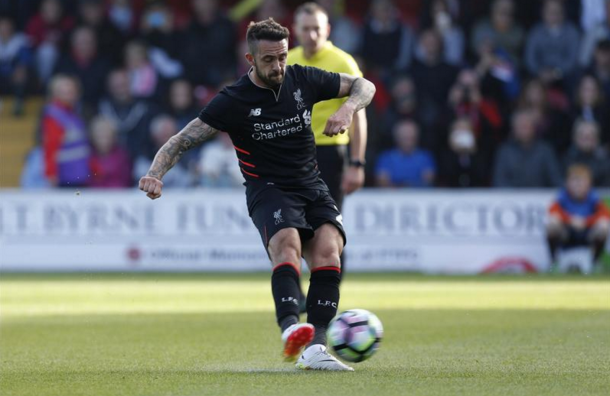 The Reds boss added that they "couldn't change it" and that Ings simply slowly had to "adapt to the next level" and that's why in the "first three or four weeks" he had to be rested "a few times."
He explained that this wasn't because of a "reaction of the knee" but that it was about Ings "feeling comfortable" because "everyone was afraid that something could happen if his muscles were too tired."
But the club's patient approach has paid dividends, with Klopp declaring: "Now he's in a really good way."
Klopp: Results will decide who starts up top
With Daniel Sturridge only returning to training from a slight hip problem on Friday, Klopp has to decide whether to use Divock Origi up front or Roberto Firmino as a false nine.
The manager was inevitably asked about the options at his disposal, and what might be his preferred line-up throughout the campaign, to which he said results will dictate his selections.
"That depends on the results we have actually," he said, when asked about his first-choice striker, "When everything is perfect, it's all about timing."
He added that if a player is "involved in the perfect game" and it seems that they can "perform in the next game", then it's a "better position" for that player, but he insisted he doesn't "make decisions four weeks in advance" because there is no need to.
Klopp acknowledged that they must use the quality they available, which is "another challenge" in itself, saying that they must also make sure that those who don't start are "still confident" and still "feel they are an important part of our game."
He insisted that it is "really important" that the rest of the strikers in the squad remain in shape and don't "have the feeling we don't care about them."
"That's all we have to do, but it's pretty unlikely we'll start games with four or five strikers in one game," continued Klopp, who admitted he has a "clear idea" of how the Reds "want to start" but said he knows "only [about] the start" and "nothing else."