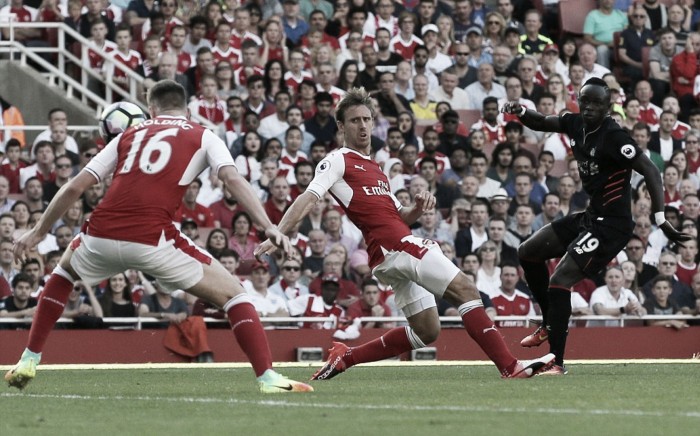 Jürgen Klopp is confident that Sadio Mane can contribute much more despite the winger's stunning display on his Liverpool debut as they overcame Arsenal 4-3 on Sunday.
Mane got on the scoresheet and was one of the Reds' most influential attackers as an excellent Philippe Coutinho brace and Adam Lallana's effort cancelled out goals from Theo Walcott, Alex Oxlade-Chamberlain and Calum Chambers.
The Senegal wideman's effort - Liverpool's fourth after just 63 minutes - was arguably the best of the lot as he beat two Arsenal defenders before cutting inside and curling a wonderful effort into the top corner.
It went some way to demonstrating why Klopp paid £30 million on Mane earlier this summer, the manager moving quickly to sign him from Southampton and inject pace and directness to their front line.
Klopp pleased with Mane performance but hoping for even more throughout the season
"Good, good, good, but he can do better," said Klopp, when asked for his thoughts on Mane's display in just his first competitive appearance, saying that they "need to defend better" though the entire team "were all involved" including Mane in defending from the front.
The manager acknowledged that, as the summer signing showed in pre-season, he is "unbelievably strong" in "specific moments" in the game because he's "technically good and quick" which is "a nice combination."
"That's what we saw around the whole game and the goal," continued the German, who warned that it's as of yet "absolutely too early to talk about single players" at such a stage of the season.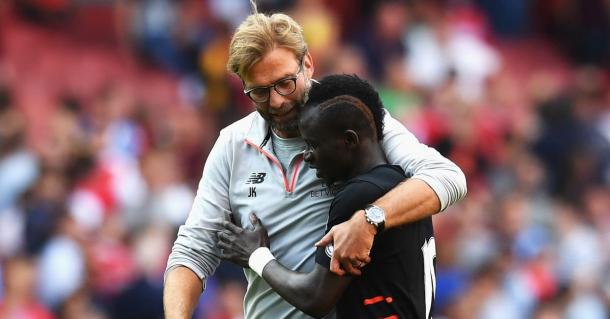 Klopp said that, "in this moment" he has "no idea about them" and that he and his backroom staff "need to analyse the game" because "it was intense for all of us" and they "made our mistakes together" and scored "wonderful, wonderful goals."
He described it as an "important" result because it gives them "the confidence and knowledge that we can score goals" although he said, with Liverpool's quality going forward, that it was "clear before this game."
But he believes there also improvements to be made, nothing that "on the other hand" there is "no alternative to defending" and that they must "defend together" and "only then do you have a chance."
He told reporters that although it was "a spectacular result" it is not one "you want to have a lot of times in the season", warning: "When you are good enough to score four goals, you must avoid conceding three."
We'll improve defensively with analysis and work on the training ground, not signings, suggests Klopp
One major area of weakness was on the left side, where Coutinho - despite scoring twice - failed to offer enough defensive cover for the erratic Alberto Moreno who was guilty of a few errors in the first-half.
He conceded a penalty, which Walcott saw saved by Simon Mignolet, and was out of position when the Gunners winger received the ball and found the far bottom corner no less than 69 seconds after the missed spot-kick.
With left-back having long been one of the manager's areas in need of strengthening, he admitted there could yet be more signings, but refused to commit to any more business.
When asked about their intentions in the transfer market, Klopp said: "We will see, actually I think we will try it with training and analyse things. I've said before, until August 31, why should I decide anything?"
He insisted that they have "time" to make decisions and accepted that "injuries can always happen" which could force them into making more signings.
However, despite Moreno's inconsistencies and Liverpool's generally unreliable defending, he said that "improvement" is "about training and using the quality you have" and added: "We were far away today from showing our whole quality. A few nice signs, a few not so nice signs, that's all. Let's carry on."