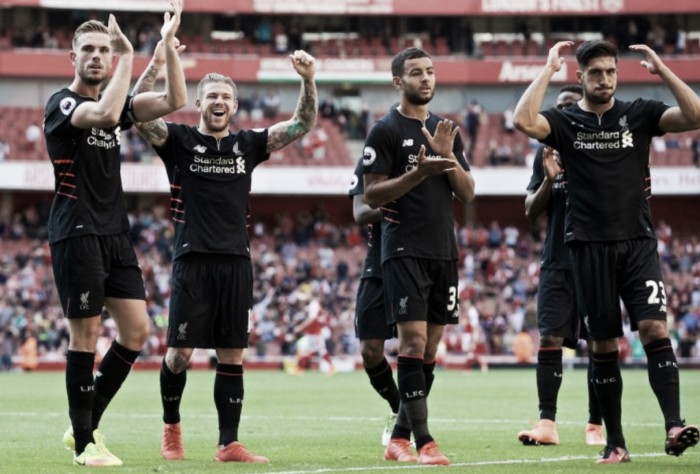 Despite all the changes at Liverpool going into the new season, the crazy 4-3 victory against Arsenal at the Emirates Stadium was very much a reminder of rollercoaster matches from last season.
After improvements in defence, midfield and attack, the Reds were not supposed to become embroiled in these frenzied fixtures, especially when a fabulous burst of form saw Jurgen Klopp's side come from 1-0 down to lead 4-1 in the space of around twenty minutes.
After the clashes against Norwich City, Borussia Dortmund and Sevilla, Liverpool fans were once again exposed to the best and worst of their team in the very first game of the new campaign.
In the end, they held on, but despite the euphoria of winning for only the second time at the Emirates, there were many negatives and positives.
Much to take away from Reds' Emirates classic
Some may have questioned the considerable fee paid out yet again to Southampton, this time for Sadio Mane, however in this year's market it seems reasonable and, given how quickly Mane has settled in a Liverpool shirt, perhaps a potential bargain.
He was electric against Barcelona in the 4-0 friendly thrashing and continued in the same vein on Sunday, especially in the second half.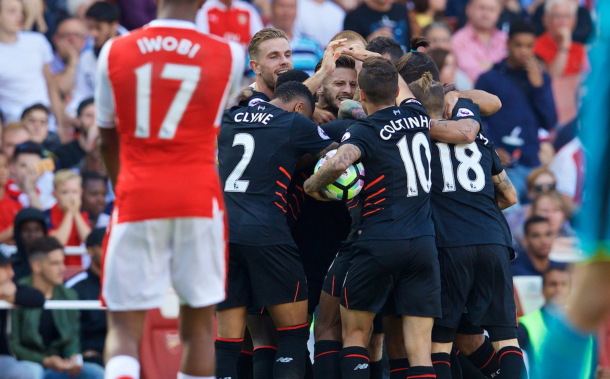 Philippe Coutinho may have stolen the headlines with his two goals, including a sumptuous free-kick just before half-time, which changed the outlook and momentum of the match, but Mane was the best player on the pitch overall.
Moreover, his goal, and Liverpool's fourth, was every bit as delightful as Coutinho's free-kick – arguably more so, as he displayed the pace, power and trickery Liverpool have lacked for some time out wide.
At only 24, Mane has the world at his feet if he can remain consistent – a trait required for the entire Liverpool team.
However, once again, Liverpool displayed an incredible burst of quality in the second half which swept Arsenal aside, just as Chelsea, Manchester City and Southampton have previously experienced.
In that form they can beat anyone, although going as far as saying Liverpool are unbeatable in that mood is a bold stance, as any opposite attack on Liverpool's defence could cause trouble.
Yet despite having a few injury issues, particularly in defence, Liverpool's squad depth is as good as ever, showcased by the substitutes Emre Can and Divock Origi, who both helped the Reds secure the win at the Emirates and will be desperate to start against Burnley next Saturday.
Finally, it was good to see Adam Lallana get on the scoresheet, and new signing Georginio Wijnaldum involved in the opposition box, as well as Roberto Firmino turn on his box of tricks in the second half.
When in tandem they can all be devastating and Sunday provided full evidence of that – again though, consistency is the issue.
Which leads on seamlessly into Liverpool's main issues, all of which were on display at the weekend.
Liverpool's inconsistency has now undoubtedly merged into single matches, let alone weeks or months, as the Reds came out very flat in the first half, with Arsenal pressing the ball instead and resembling the Klopp side on the field.
In the second half that all changed but Liverpool cannot have dull periods lasting entire halves as other sides will punish them, and they were fortunate not to go into half-time 2-0 down, let alone level at 1-1.
Defending simply has to improve
The defence remains a huge concern, and in all honesty Liverpool have struggled there since the departure of Kenny Dalglish in 2012.
On the other hand, Liverpool were missing some key men at the back, particularly new goalkeeper Loris Karius and defender Joel Matip, both highly-rated in Germany. It will be exciting to see the duo in the Liverpool line-up when fit and on form, but undoubtedly the biggest problem is at left-back.
Alberto Moreno has not improved since arriving from Sevilla two years ago, and in fact seems to be getting worse, continuing on from the end of last season in the Europa League final.
The 24-year-old Spaniard can stay at the club but a senior left-back is desperately required – Wolfsburg's Ricardo Rodriguez would be a dream target but there are plenty of other options out there, such as PSV Eindhoven's Jetro Willems and the latest name linked, Real Madrid's Fabio Coentrao.
So even if Ben Chilwell and Jonas Hector are out of reach with new contracts at Leicester City and FC Koln respectively, Liverpool should have no issues finding a left-back before the end of the transfer window, otherwise their biggest weakness going into the summer will have been left unaddressed.
Against Arsenal, Liverpool ran more than any other side in any other match in the history of the Premier League (since tracking was introduced), so their intensity and fitness is as impressive as new Olympic 400m champion Wayde van Niekerk.
Klopp will want his side to sustain such pressing and confidence which was on display in the second half at the Emirates, with brave, intense and slick play overwhelming the Gunners.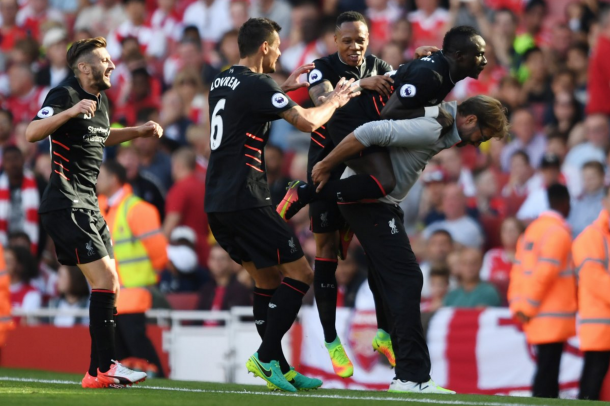 Of course, it is impossible to maintain such efforts for a whole 90 minutes, let alone the entire season, hence the need for a talented squad which can be rotated. However, the Reds must only have short dull periods which can then be masked with greater consistency in attack, alongside any remaining defensive issues once Matip, Karius and a new left-back are in place.
With the signings of Mane and Wijnaldum, Liverpool have a multitude of exciting options offensively, and it will be fascinating to see which partnerships and combinations Klopp selects every week.
Even with the upcoming match against Burnley, the likes of Daniel Sturridge, James Milner, Matip and Can should all be fully fit, which will result in fierce competition for places.
Certainly, Can is likely to return, given the significant responsibility on the young German's shoulders as the club's main defensive midfielder, with only Lucas Leiva and Kevin Stewart as genuine contenders for that position.
Jordan Henderson proved against Arsenal that he is better at attacking than defending, and the same can be said for Wijnaldum. Consequently, whilst a left-back is top priority, another competitor for Can would be a hugely useful addition.
Nevertheless, as in the 2013/14 season under Brendan Rodgers, where Liverpool came so close to their first league title since 1990, the Reds look set up to entertain and attack.
Firmino has another gear to move up to – hopefully he can demonstrate that this season. Meanwhile, Coutinho's majestic talents were there for all to see at Arsenal's expense – but he has to produce on a more regular basis.
If the defence can be tightened up, more likely through quality personnel than a more protective system, and if Liverpool's many attackers can crucially find some consistency, then it could be a fun and ultimately successful year ahead for Liverpool fans.