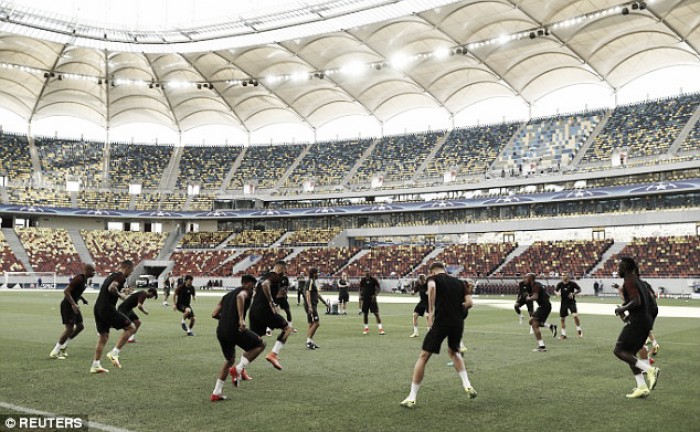 When full time came around against Swansea City at the end of last season, Manchester City fans and players alike breathed a sigh of relief as they knew, provided Manchester United didn't put 19 past AFC Bournemouth, City would be playing Champions League football next season.
However, Romanian champions and winners of the Champions League (then the European Cup) in 1986, Steaua Bucharest, stand between them and the group stages.
This the first time the two sides have met in a UEFA competition, City's last Romanian oppostition came in the form of a 2010/11 UEFA Europa League play-offs, when they beat Timişoara 3-0 on aggregate.
Team news
City have travelled without Yaya Touré and Jason Denayer with the former's time in Manchester at an end it would seem, whilst the latter is reportedly looking for a loan deal away after being overlooked by Guardiola. Perhaps the biggest shock to the team so far has been the dropping of Joe Hart in favour of Willy Caballero, the Englishman's future at City looking doubtful, it remains unclear whether or not Hart will regain his place in tomorrow night's clash.
Leroy Sané meanwhile is nursing a hamstring injury and is expected to recover by September at the earliest, along with compatriot Ilkay Gündogan. Aside from these absences Guardiola is expected to have his full squad to choose from.
Bucharest meanwhile are only missing Lucian Filip and Mihai Pintilli who are recovering from cruciate ligament surgery and muscular problems, respectively. Like City, Bucharest have been very active in the market this summer signing eight new players.
Pre-match comments
Pep Guardiola's main target at present is to "Play good. I would like (fans) to go to the stadium and think "Wow, I like how they play". Refreshing talk given the sort of football fans had to endure in the final year of Manuel Pellegrini's era. The new boss also offered words of reassurance to those that feel Hart's time at the club is at an end in his post Sunderland press conference. He went on to say; "I have a lot of respect for Joe, a lot of respect for his career. I know how good a goalkeeper he is, but today I decided for Willy. That is all."
Laurentiu Reghekampf meanwhile believes his side has the ability to overcome Manchester City. Optimism clearly flowing he said in his press conference; "Even if we face a big team, even if we face the best coach in the world with fantastic results, it is a huge chance for us to prove ourselves. - I am very confident that we will qualify for the group stage again. We have a strong team and the match starts at 0-0."
Verdict
City will be the clear favourites given the superior squad and coaching, however they can not be naïve or arrogant in their approach. Steaua Bucharest will have to use the home crowd to their advantage and perhaps strike an early blow as Guardiola's new look City still get to grips with his demands.