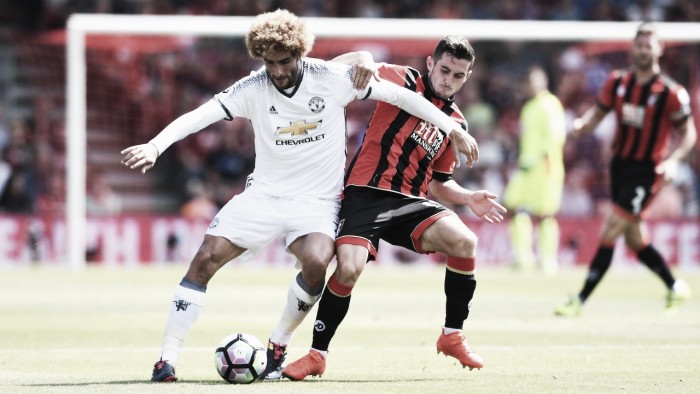 Jose Mourinho surprised everyone by including Marouane Fellaini in the starting XI against the Cherries on opening day, but it now looks like the perfect selection as the big man played a key part in the 3-1 win over Bournemouth.
Praise from the manager
Mourinho spoke to MUTV after the game and praised Fellaini for his strong display in midfield for Manchester United, saying he believes that the fans will "love" him if he keeps playing this way and continues performing.
Fellaini has not always been a fan-favourite since his move to United in 2013 from Everton, but he has had his moments and now, one can only hope that the Belgian can repay Mourinho's faith in him, by delivering for the team week in week out.
Jose acknowledged the dislike from the fans for Fellaini. He said that he has always had the feeling that he was not "loved by the general red people". He added that if Fellaini keeps consistently performing for the team, the fans "have to love him because he's being so important for us".
Mourinho is right, Fellaini's game was superb against Bournemouth, he physically imposed himself, made crucial tackles and interceptions, and showed a desire to win the ball back, something we haven't often seen from the Belgian international.
Improving and proving
Fellaini himself spoke to MUTV afterwards, and said that he was delighted with the victory and said that he is determined to prove to all that "United are back."
On the match, he said that it was a "tough game" for both teams and acknowledged Eddie Howe's team's efforts in the first half, saying that "they did well".
The second-half was where United "kept the ball better" says Fellaini. The team created more chances and "more possibilities" for themselves, he added.
Fellaini hopes to see "more goals" this season from United, and acknowledges that the team have to "keep working and keep improving" with every game and each training session.
He has hailed the impact of Mourinho and said that he is bringing a feeling of "aggression and character," qualities which the whole team needs to win games, which is important.
He accepts that the team has to improve with "every game," if they want to do "something well" this season, to prove to every team that "Manchester United are back".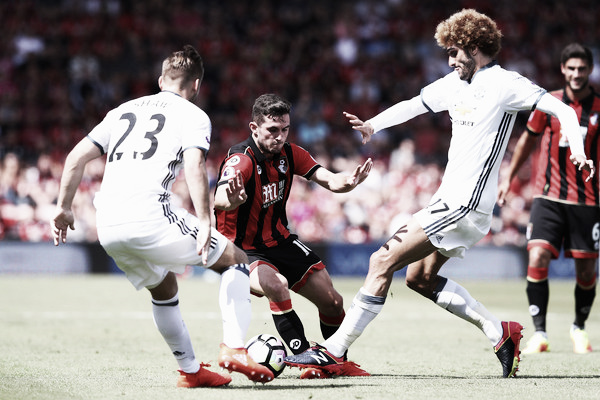 Impact of new boys
Fellaini lauded the debut performances of Eric Bailly and the mercurial Zlatan Ibrahimovic during the game. The Ivorian was named man of the match for his commanding display in defence, and Fellaini was more than impressed with what he saw.
The big Belgian said that both are "good and bring quality" to the team. He was appreciative of Ibrahimovic's efficiency and Bailly's performance, the latter which was "strong defensively and and in the Premier League we need that."
Fellaini clearly wants to prove himself too. He said that he was"happy to start" the game and that he wants to "show his quality" and show his manager what he can do.
If he finds consistency in his game and ensures that he can be as strong and reliable as he was against Bournemouth, the big man can certainly win the hearts of United fans and win their "love".