 Pep Guardiola was rightfully delighted as Manchester City romped to a 5-0 thrashing of Steaua Bucharest in the UEFA Champions League play-off.
It was a performance to be proud of for the Citizens who are all but qualified for their sixth successive Champions League campaign. Guardiola, many suggest, was brought in to take City to Champions League glory, the next stage after their two Premier League titles since Sheikh Mansour arrived at the club.
The Catalan manager spoke of the importance of the competition, and the need to drill that into his players, before the victory. Now, having seen his team give an almost perfect performance, he was delighted.
Guardiola impressed by "fantastic" City players
"It was a great performance," because of "great attitude from the players," Guardiola enthused. "We played really, really good," and, of course, he said, "the result is amazing but it's the way we played," which impressed the City boss.
"We are almost in the Champions League, which was our target from the beginning," Guardiola was pleased to say. He was, however, quick to move on from an excellent victory. He said that the squad must "now rest and then focus on Stoke and the second game."
Raheem Sterling has started the new era under Pep Guardiola at the Etihad well, after a difficult first season with the club. He was one of the best players on the pitch, assisting twice amongst a plethora of chances created, as well as winning a penalty.
Guardiola said that "Raheem is playing really good," but was careful not to shower the English winger with praise, saying that "he's only 20-years old so he has to learn a lot."
Guardiola sure not to heap too much praise on Sterling
According to Pep, "the best advice," for Sterling "is to keep calm and focus on his training, his body, and his personal life," because he already "had a lot of quality," in that "he's fast and has good work ethic." Guardiola has already brought in many of his own players, Ilkay Gundogan and Nolito the most prominent signings so far, but he said, "the club were so clever last summer to buy [Raheem Sterling]."
While Sterling was in fine form, Sergio Aguero was his usual prolific self. Despite missing two first-half penalties, the Argentine scored a brilliant hat-trick to take home the match ball from Romania.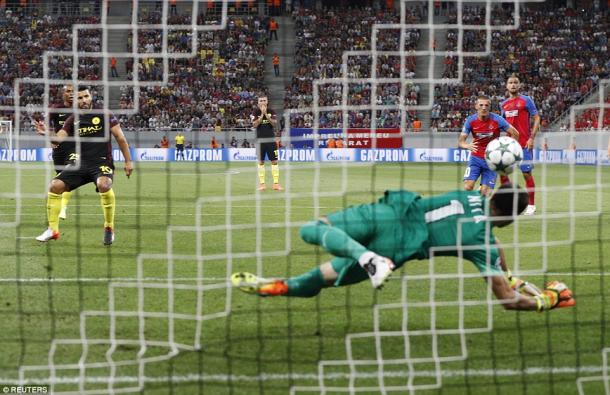 "Penalties are penalties," Guardiola said. Aguero "has the personality to hit it and it's important he was not down, he was focused on the game and after he scored three goals."
City now face Stoke City on Saturday as they look to put in a more convincing performance than their 2-1 win over Sunderland in the opening weekend of the Premier League. Their place in the UEFA Champions League group stages is almost certain now after such an excellent victory.