 Henrikh Mkhitaryan moved to Manchester United for the price of more than 25 million pounds this summer from Borussia Dortmund. However, he did not feature in the starting lineup in either of United's first two big games of the season, a 2-1 win over Leicester City in the FA Community Shield and the 3-1 win over AFC Bournemouth.
The Armenian settled for a bench role in both of those games. Against Leicester, he came on for Juan Mata, a player who came on as a substitute and came on due to the height advantage he has against the Spaniard to deal with the aerial balls. Against Bournemouth, he came on with 15 minutes left in the game, for Mata who started, to get his Premier League debut.
Needing to dispatch Rooney
Wayne Rooney is the club captain and is certainly one of the clubs' all-time great players. He is on a big salary and currently starting in the central attacking midfield role. That central attacking midfield role is where the Armenian started in the preseason against Wigan Athletic but has then seen himself play in a wider role lately.
To get to that central role, he'll need to usurp the struggling Rooney. Despite scoring this past weekend, the Englishman has truly struggled for form these past two seasons, putting in his two worst United seasons these last two years.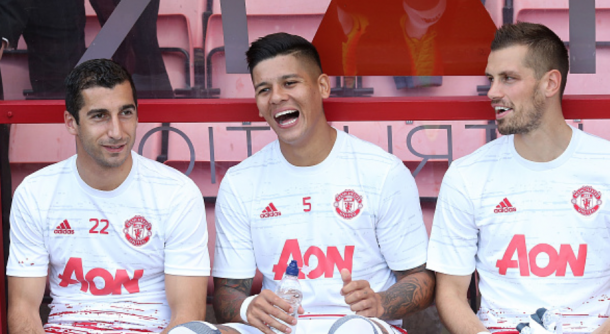 The struggles with speed and adjustment
Mkhitaryan's former teammate at Borussia Dortmund and now-Manchester City midfielder, Ilkay Gundogan, said last month at the Armenian struggled in his first two years at Dortmund before coming in with a stellar 23 goals and 15 assists in all competitions last year.
Despite getting a full pre-season, Mkhitaryan has struggled to adapt to Mourinho's style of play and the instructions that come with it. Fringe players such as Antonio Valencia, Daley Blind, and Marouane Fellaini have quickly adapted and earned themselves spots in the first team.
Even after a full preseason, Mourinho has still decided he is still not up to speed. The Portuguese manager has shown flexibility in how he is handling the forward. Mkhitaryan's next chance to make his first Premier League start will be Friday night against Southampton at Old Trafford.