 Liverpool are well aware that there is "a lot of room for improvement" defensively, according to Ragnar Klavan.
The centre-back, who joined from Augsburg earlier in the summer, made his debut in the Reds' opening game of the 2016-17 Premier League season as they beat Arsenal 4-3 at the Emirates Stadium.
But despite the nature of their victory, storming into a 4-1 lead in the first 18 minutes of the second-half after drawing 1-1 at the break, Klavan admitted there was disappointment at conceding three goals in the sun-soaked capital.
In particular, he pinpointed the fact they allowed the Gunners to score twice and narrow the advantage to just one goal with quarter of an hour remaining.
But after hanging on for the three points, the £4.2 million defender called it a "great start" to the new campaign for Liverpool as he revealed how they reacted to Jürgen Klopp's half-time team talk for a stirring second-half display.
We can't be too happy with win, insists Klavan
Klavan told the Liverpool Echo that it was "a crazy game" but said that he was aware it would be "at a really high level" because it is "one of the best leagues in the world."
Despite the disorderly manner of the game, he insisted it was "good" to get to "see what the Premier League is like" as he acknowledged the 90 minutes as "an amazing game to watch" for spectators.
He spoke about the "good moments and bad moments" for Liverpool as he added: "Winning was special but as a centre-half, when your team concedes three goals, it's never too great a day. You can't be too happy."
The impressive Klavan insisted that the club will "look into that" and "will work on things in training" because he believes there is "a lot of room for improvement."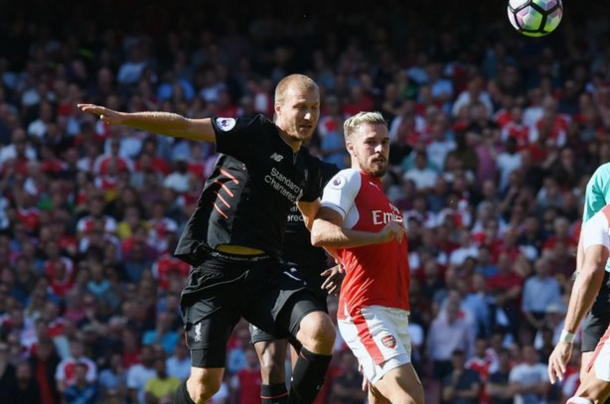 Assessing the Reds' underwhelming first-half display, Klavan suggested that "maybe there was a bit too much excitement early on" because it was their "first game."
He explained that Arsenal "started better" and had "good pressing" which meant "the first 15 to 20 minutes were hard."
But the Estonian said that they "slowly came into the game" and "luckily" were brought back into the game by Philippe Coutinho's spectacular long-range free-kick, which Klavan called "a good moment" for the team just before half-time.
He hailed Coutinho as "brilliant" both as "a football player" and "as a person" and praised the manner in which his teammates played early on in the second-half.
Klavan insisted that they "got straight down to business" after the break, in which they had talked about "the need to start the second-half fast and take the game to Arsenal."
On how they did that, the centre-back lauded how they "pressed higher" and "were more active" and said that it "worked." He said that they had they kept the game "like that for longer" at 4-1 then it would have been "an easier game."
"But then they scored twice and it was a real game again," he continued. "For us, in the end it was a little bit nervous but we managed to stop them scoring that fourth goal and it's a great start for us."
Defender hopeful of maintaing starting berth
The trip to Arsenal was the 30-year-old's first competitive appearance for the club, although he will face greater competition moving into the season with Joel Matip nearing full fitness and Joe Gomez and Mamadou Sakho steadily working their way back from injury.
But Klavan, who started alongside Dejan Lovren, is confident he can keep his starting spot - beginning with the trip to Burnley this Saturday.
He insisted that he "enjoyed" his debut but that he has "no idea" whether he will "continue to start."
Klavan has no qualms whether he does or doesn't, saying that it's "more important how the team does" and that even if Klopp "decides that it's better if someone else plays" than "that's okay."
"That will just mean I have to work harder to come back," he said, insisting that "this way is good" because "the best guys always play to help the team."