 Stuart Robson is a commentator for ESPN, and he went on the ESPN show, ESPN FC, to talk about Manchester United. He talked about Marouane Fellaini and his importance to United and how the team looked against Bournemouth. The Belgian center midfielder was vital in the team's 3-1 win in their Premier League opener against AFC Bournemouth. He only committed one foul and did not lose the ball in a full 90 minutes of play.
He fit into Mourinho's high pressing, high-intensity style right away. He surprisingly had a 99 percent pass accuracy, and his performance was why the former Arsenal midfielder spoke so highly of Fellaini.
Robson critical of team play
He opened by saying he saw them against Leicester and compared them to how they played this past Sunday - Bournemouth. He said, "They're not an outstanding football team, there's still no fluidity in there at the moment." He followed with, that the team was workmanlike but were not as organized one would expect a Jose Mourinho side would be.
Robson on Fellaini
Craig Burley chimed in saying that the lack of fluidity was due to Ander Herrera and Fellaini playing in the holding midfield roles, but Robson quickly struck back by saying that the Belgian will be one of the most important players for Jose Mourinho.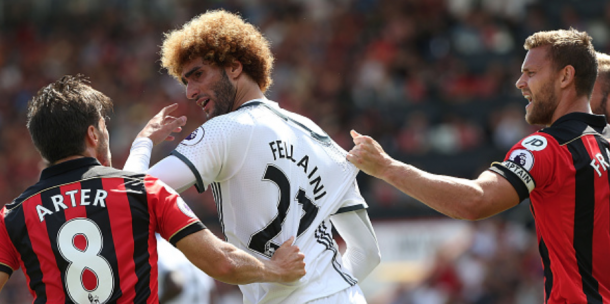 He talked about when Mourinho was still at Chelsea and discussed how the Portuguese manager allowed Kurt Zouma to man-mark the tall Belgian. This was due to Fellaini's aerial presence. Robson finished off by saying that Fellaini will play as the sole protector of the defense and that Paul Pogba will play in a more advanced role, which is where Herrera played.
The French midfielder is expected to get the nod over Herrera and make his season debut against Southampton this Friday at home.