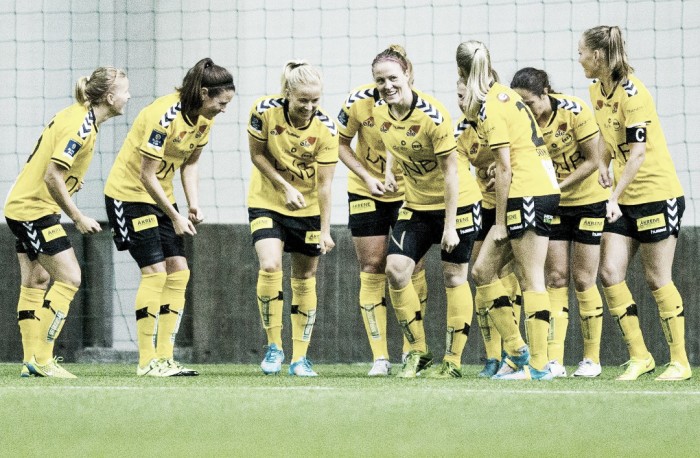 The Toppserien returned this weekend after taking a summer break. Some teams were involved in cup action recently but for a lot of teams, this was the first competitive action they had seen since the league took its break. With a lot of teams short of key players who have moved on to different countries, a lot of predictable results ended up being anything but.
LSK take another step towards the title
After leading the league standing for most of the season, LSK Kvinner ensured that they would stay in first for another round in the Toppserien. The league leaders were away at bottom-placed Urædd and made no mistake and taking all three points with a 5-0 win over Urædd. LSK had been involved in cup action during the week but it had no effect on them and they dispatched Urædd easily to stay seven points ahead of Avaldsnes in the title race.
Top goalscorer Isabel Herlovsen continued to find her way in front of goal as she picked up two goals on the day while Sherida Spitse, Marte Berget and Emilie Haavi scored the rest of the goals. Although their nearest challengers still have a game in hand, LSK will have no doubts that they can continue their great form until the end of the season.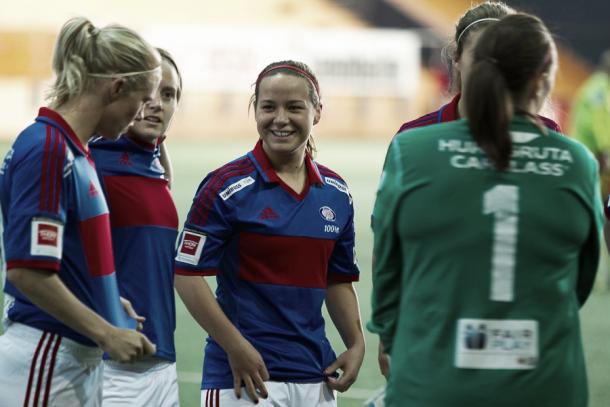 Røa enter the title race
Røa put themselves in a good position to try and chase down LSK after they came away with a great 2-1 win over Stabæk. Elisabeth Jeppsen and Synne Hansen gave Røa a two goal advantage in the first half before substitute Marie Makussen got one goal back for Stabæk fifteen minutes into the second half. Stabæk pushed for an equaliser but Røa held on to move themselves into fifth place in the standings and right in the mix for a title challenge.
The win over Stabæk put the home side three points behind their opponents on the day and fifteen points away from league leaders LSK but after a win like this, Røa will have every reason to believe that they can catch up to LSK if they keep picking up points against the teams around them.
Kolbotn stumbles against Medkila
The other team involved in the title race, Kolbotn, could not find all three points against second-from-bottom Medkila in what was a surprising result as many expected Kolbotn to make short work of the relegation candidates. Kolbotn started well when Karina Saevik gave the visitors the lead in the 17th minute but they could not find a second goal to kill off them match and Medkila made them pay for that.
Tatiana Matveeva scored the equalising goal in the 67th minute for Medkila and she and the rest of her teammates managed to hold off Kolbotn until the final whistle to gain another valuable point for the home side. Medkila are still eleven points away from safety but this result against Kolbotn will give them courage to trya nd finish the season on a high. Kolbotn on the other hand, are now level on points with Stabæk with 29 and are two points off second-placed Avaldsnes with Røa breathing down their necks in fifth.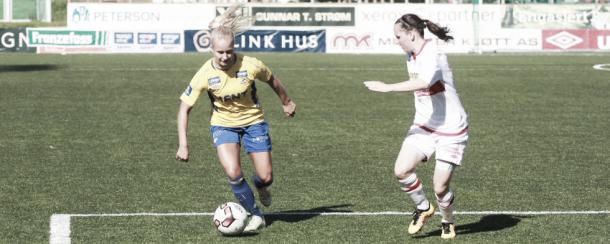 Mid table teams end up with high-scoring draws
The rest of the weekend's action saw some entertaining draws between Trondheims-Ørn and Sandviken as well as Vålerenga and Klepp. Trondheims-Ørn and Sandviken battled it out to a 2-2 draw in front of Trondheims-Ørn's home fans. Marije Brummel started off the scoring for Sandviken in the 18th minute before Maria Olsvik and Oda Fulgesnes grabbed the lead for Trondheims-Ørn in the first half.
Many could be forgiven for thinking that Trondheims-Ørn would come away with all three points this weekend but Sandviken never gave up and managed to grab the goal which tied it all up through Vilde Oyri in the 83rd minute. Sandviken are now in sixth and tied up on points with Klepp and Arna-Bjørnar as we head into the next few rounds in the Toppserien.
The other mid table clash saw Vålerenga and Klepp end the day after a pulsating three all match. Tinne De Caigny, Anne Olsen and Silje Blakstad were the goal scorers for Vålerenga on the day while Maria Sorenes, Susanne Vistnes and Gry Ims, who scored the game-tying penalty, where Klepp's goal scorers. Vålerenga continued their push to stay out of the relegation zone and this point will definitely help their cause while Klepp find themselves in seventh and right in the middle of the table after a run of three losses so the draw was a welcome point for both teams.