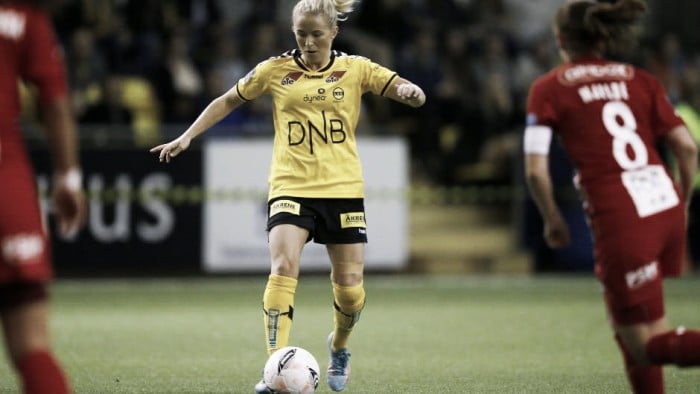 The Toppserien is back after a break over the summer. Some of the teams have already been in action in the cup, but for most it's the first game after a few weeks off.
LSK to pick up where they left off
Before the break, defending champions LSK had managed to put some distance between themselves and Avaldsnes, after defeating them 4-1 in the last game before the break. LSK has started the second half of the season a bit earlier than the rest of the teams, as they had a rescheduled game against Arna-Bjørnar on the 17th of August.
LSK won this game 3-0, and now have a four-point lead down to Avaldsnes before going into round 15. It is unlikely that this lead will be any smaller after this round. LSK are up against Urædd, who have had a rough time in the Toppserien this year.
They have one point after 14 matches, and a negative goal difference of 48. It would be a miracle if they could take something from LSK, who won the previous match-up 11-0, but as the popular saying goes "anything can happen in football".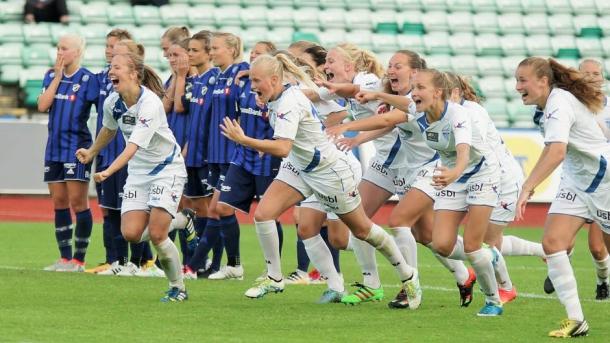 Elsewhere Stabæk and Kolbotn are still in a gruelling fight for third place, where only one point separates the two teams. Stabæk will face off against their neighbours from Røa, who are only located about 8km away. Røa are in fifth and are a team that should not be underestimated, but they have lost four players over the course of the summer (Elen Botten, Sunniva Wiencke, Inger Katrine Bjerke and Andrea Frøshaug have all left for USA), and especially the loss of Frøshaug will be felt.
Her and Elisabeth Jeppesen have scored 42 % of Røa's goals this season. However, Stabæk have also lost four players. They have previously had some shocking results in this season - with 1-1 against Urædd being the most prominent - so while they're favourites for this match, anything can happen.
Kolbotn on paper have a more favourable game, when they travel to Medkila. They only have four points in 14 games, and over the course of the summer they lost some vital players in Ingrid Altermark, Simona Koren and Vilde Fjelldal, without bringing any players in. Kolbotn are unchanged.
Kolbotn have it all to play for at the top, whereas Medkila have been distanced in secnd to last place with 11 points up to Vålerenga in 10th. Kolbotn won the first match between two with 2-0. Kolbotn had a thrilling encounter with Stabæk a week ago in the Norwegian cup, where it took 22 penalties to decide that Kolbotn would be the team to advance to the semi-final. This must give them plenty of confidence going into the fall season.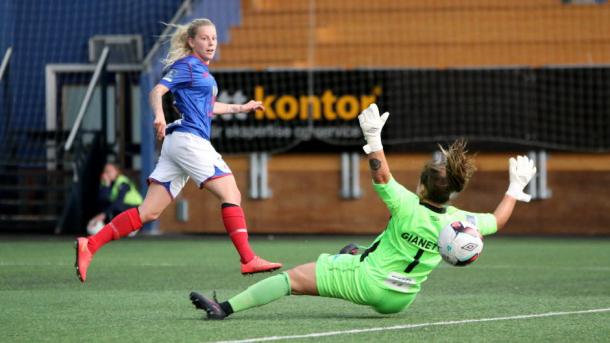 Vålerenga will be hoping to keep their distance to Medkila, and to do that they have to get points in their game against Klepp. Klepp are only three points and two spots above Vålerenga, but while Klepp have a positive goal difference +2, Vålerenga have less than welcoming -20.
Klepp will be favoutires, but a lot will also depend on who is more rusty after the break. A lot has happened in Vålerenga over the summer. Their manager has been fired and replaced by Kjell Gustad, and they have brought in Maija Saari from Stabæk and Belgian Tine de Caigny from Club Brugge. Both good additions to the squad. Klepp have lost Norwegian wonderkid Andrea Norheim to the reigning Champions League winners from Lyon, and Oladottir has left the club.
Lastly Trondheims-Ørn host Sandviken in what is perhaps the most even match in this round. Only three points separates the two, but Sandviken has a small advantage in goal difference. The first game between them ended 1-1.
The last match of the round Arnar Bjørnar – Avaldsnes is played a week later (on the 28th of August) than the rest of the matches. This is because Avaldsnes have a Champions League qualification game.