 In the build up to tomorrow's crucial encounter against reigning champions Leicester City, Arsene Wenger has hinted that he may gamble on the fitness of star defender Laurent Koscielny at the King Power Stadium.
Speaking in a pre-match conference held at the Emirates on Thursday morning, Wenger said that the Frenchman may feature. "As you certainly guess, he's close."
Wenger says he may "have to take a gamble" but "I still have 48 hours to decide that. If I have to gamble, it would be him".
Although, both striker Olivier Giroud and maestro Mesut Ozil are not set to feature.
Wenger - A "difficult week"
The potential inclusion of Koscielny comes after the defensively weak display in the loss to Liverpool last Sunday, an opening game that was severely criticised by a wave of irate fans. The public reaction came as no surprise to the Frenchman however, stating that "it's a difficult week for me" because "I lost a home game."
"That is of course very disappointing," said Wenger, before adding later "I'm not surprised by anything anymore. I can understand everything in the human reaction, of course, it's disappointment".
Despite losing both Gabriel and Per Mertesacker to injury at the back end of pre-season, Wenger reiterated that a central defensive signing is no more important than it was beforehand, and that the club is working "very hard", working towards an agreement on Valencia's Shkodran Mustafi, but due to the current state of the transfer market, getting a deal down to a reasonable price is getting increasingly harder.
Two transfer markets
"You could say that today in Europe you have two markets: one for English clubs and one for the rest of Europe" Wenger noted.
He followed up by saying that "The danger for the English clubs at the moment is that they can suffocate themselves on a longer period" because "they buy players at a very high price, that means he has high wages linked with him" and "if they are wrong, they will have these players with high wages that cannot go anywhere".
Although he is keen to avoid this issue as the market draws into its closing stages, Wenger stated that he is "ready to spend the money", but wants to be sure about his purchase. "I believe I've made 400 transfers in my life, approximately and I know that every transfer has a rhythm, that you are not the only one to decide on".
Moving onto the pressing matter at hand, Wenger speculated on Leicester's potential title defence, admitting that they could break into the sacred top four, given the qualities that they have. Keen to pounce upon their equally disappointing start to the season - an unexpected 2-1 defeat to newly promoted, injury ravaged Hull City in the first game of the new season, Wenger expects a reaction from the spirited Foxes, led by old rival Claudio Ranieri.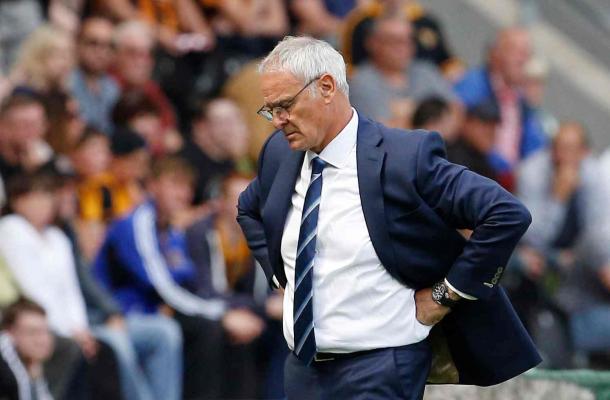 Vardy should have nothing "against us"
The topic of conversation swiftly transferred to both Jamie Vardy and Riyad Mahrez, two players that Arsenal were reported to have had an eye on over the course of the off-season. Asked about the poignancy of Vardy scoring against the Gunners, Wenger replied whilst chuckling "I don't know! I don't think he had something specially against us, I don't see why he should".
In the wake of Mahrez extending his contract with Leicester by a further three years, Wenger praised the Algerian's efforts last season, a year that saw him walk away with the Player of the Year award.
"He has been outstanding, if you look at his numbers, certainly he was in the top three players in the league last year, if you look at his number of goals scored and the number of assists he has. He had the best combination of goals scored and assists in the league".
But the Frenchman denied any clear cut interest in the player; the overriding theme of his conference was that "I don't talk about individuals".
This extended to Alexandre Lacazette, with journalists questioning Wenger's eagerness to pay Lyon's €60 million asking price. "I told you about the criteria for the price of a player, but you could add one more.," said the Frenchman, before adding that "the identity of the buyer when he is English, it's true that it multiplies the value of the transfer by two or three or sometimes by ten".
Gnabry should extend his contract
Away from potential arrivals at the Emirates, one player who looks to have a future at Arsenal is Serge Gnabry, who has impressed hand over fist at the Olympic Games for Germany - where he has scored six goals in just five games, turning several heads in the process. Wenger assured journalists that his future is at the Emirates Stadium, and will hopefully extend his contract; before explaining that the 21-year old was allowed to compete at the Olympic Games in Rio de Janeiro in order to boost his withering confidence, after a disastrous loan spell at West Brom.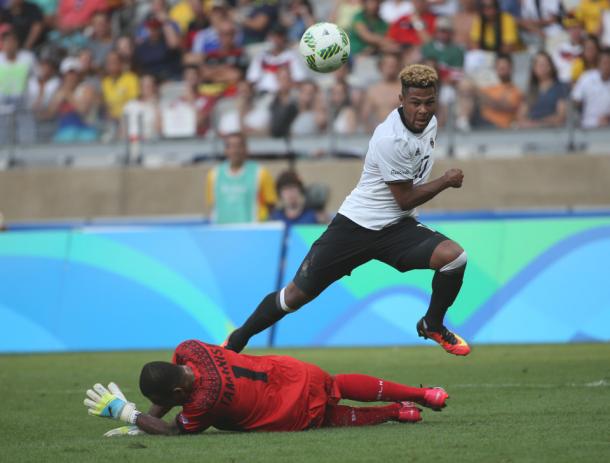 "I want to keep Serge Gnabry and to extend his contract, because we stood by him for a long time. We had to rebuild his confidence when he came back. He's been here for a long time and it's important that he stays with us".