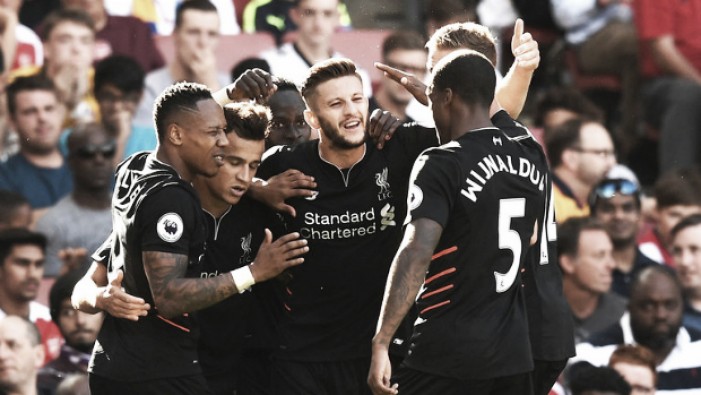 Liverpool came out on top in a thrilling 4-3 victory over Arsenal on Sunday. The question is just exactly how important is that win for the team, well very important.
Philippe Coutinho gave a man of the match performance against Arsenal scoring two great goals one of them being an amazing free-kick. Adam Lallana and Sadio Mané got the two other goals. Debutants Mané, Georginio Wijnaldum and Ragnar Klavan all put in great performances in their first game for the club.
In this 4-3 win for Liverpool, fans were shown just how devastating their attack can be this season. After half-time when the score was 1-1 it took Liverpool just 14 minutes to score three goals, tearing the Arsenal defence apart. With Sadio Mané grabbing a wonderful solo debut goal for the Reds.
However the one downside in this 4-3 victory was that Liverpool managed to allow Arsenal to bring the match back to a one goal margin. So despite how wonderful Liverpool's attack was on Sunday, fans also realised that their defence still needs work in particular Alberto Moreno in left-back who gave away a penalty and arguably was at fault for two of Arsenal's goals.
However Jürgen Klopp believes Moreno was not at fault, Klopp told the Liverpool Echo: "We know what we did wrong and only to explain it in this case it was not Alberto (Moreno)." When Klopp was told of the criticism Moreno was receiving he added: "I'm the only person has to please? Of course."
Lallana on opening day win and his new role
On Sunday, Adam Lallana played a deeper role than usual sitting in behind Mané on the right-hand side in a 4-3-3 formation. This new position seemed to work for Lallana as he scored Liverpool's second goal and was a key factor going forward for the Reds. Lallana was praised last season for his technical ability however he was criticised for the goal-scoring aspect of his game.
Speaking to LFCTV about his new deeper role Lallana said: "I've enjoyed it." He also admitted: "I feel like I'm still learning the role and I'll probably still be learning the role throughout the season."
Lallana also added: "It's a different role but one I'll embrace and I'll play wherever the manager wants as long as it benefits the team."
The Englishman told Sky Sports after the game: "It was very entertaining." He acknowledged they've got "a few new players who are still gelling together".
The 28-year-old expressed that the whole squad "want to achieve something special this year", and that he was delighted with "a great three points" but also admits "we have to be more disciplined as a unit".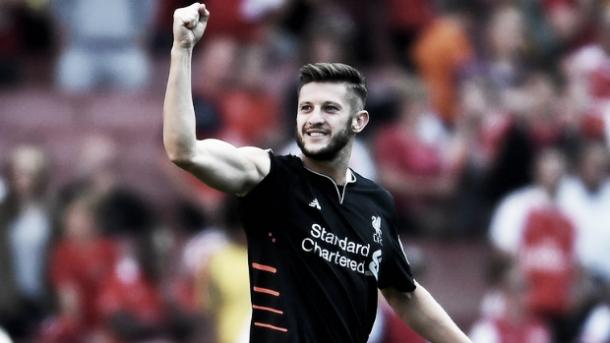 Laying the foundations
Liverpool's opening day win is very important for the Reds as it lays the foundations for the forthcoming season. It has given fans confidence ahead of the coming league campaign. Last season injuries and a jam-packed fixture schedule halted Liverpool's charge for the top four. However this season Klopp has his very own fitness team and believes that this season will be very different regarding injuries.
Also as Liverpool finished in 8th place in the league last season they do not have any European football this season. The last time Liverpool had no participation in a European competition was the 13/14 season, they went on to finish 2nd that season just losing out on the title to Manchester City. Many feel that this campaign, as there is no European distraction, Liverpool can focus on getting top four and maybe even challenge for the title.
While the fans know Sunday's win was only one game in a huge Premier League season, the signs from that game will give them confidence and belief going into the coming Premier League campaign.