 On Friday night, Manchester United defeated Southampton 2-0 in manager Jose Mourinho's first competitive match at Old Trafford on the back of a Zlatan Ibrahimovic double. The story lines heading into the game revolved around Paul Pogba, who made his first appearance for United since his record-breaking transfer. However, the Frenchman was far from the only United performer who caught the eye.
Manchester United Player Ratings (1-10, must play at least 15 minutes to receive a rating):
Starting XI
GK David De Gea - 7
As was the case against Bournemouth last weekend, De Gea had very little to do. Southampton had the occasional foray forward, but United dominated Friday's proceedings. The Spaniard was alert when he needed to be, but had only one shot on target to cope with. Distributed the ball well, as per usual.
DEF Luke Shaw - 7
Another strong outing for the England left-back who continues to look like the incredibly impressive player he did before last season's broken leg. He defended well and broke forward brilliantly to add numbers and width to his attack. Had one terrific jaunt upfield in the first half that helped create a half chance. Though he wasn't fit enough to make England's European Championship squad, it would be shocking if he wasn't called up by his country for the September International Break.
DEF Daley Blind - 6
Blind found himself occasionally caught out of position, and unlike his defensive counterpart Eric Bailly, Blind does not have the physical gifts to make up for positional lapses. However, his distribution was still as good as it normally is. Yet, the perception remains that once Chris Smalling is back to full fitness, Blind will not be in Jose Mourinho's starting XI.
DEF Eric Bailly - 8
Another league match, another brilliant performance for Bailly. As was said last week, he is not the finished article. But, that only makes the prospect of watching his development even more exciting. He was all over the pitch on Friday, cutting out attacks, putting in tackles and harassing Southampton's front line to no end. While Saints striker Shane Long put in a rather abject display, it felt like most of that could be put down to the defending of the Ivorian--he had the Irishman in his pocket all evening.
DEF Antonio Valencia - 7
Like Blind, Valencia occasionally found himself out of position because he was being asked to join the attack so often. However, his recovery runs were superb, and he proved himself more than capable of overlapping Juan Mata down the right wing and slowing Southampton's attack. With rumors swirling that Matteo Darmian could be heading back to Italy, it seems as though Valencia may have locked down the right back spot as his own.
MID Marouane Fellaini - 9
Fellaini has endured an incredible amount of criticism in his time at United, so it feels only right to praise him when his contribution merits it. The Belgian had a good run of form at the end of last season, particularly in the FA Cup, and it has carried over into the new campaign. He was strong against both Leicester and Bournemouth the last two weeks and was brilliant on Friday night. Southampton could find no passing rhythm because Fellaini was everywhere, breaking up the play and never afraid to put in a tackle. His reading of the game was superb and he earned every plaudit received for this performance.
MID Paul Pogba - 8
There were times--notably his miskick with his first touch of the game--where is was clear this was Pogba's first match in 40 days. However, there were also moments where everyone in the ground could understand why he cost so much. There are precious few players in the world with Pogba's touch, passing range, athleticism and close control. There were a couple of runs which included players beaten off the dribble for both skill and pace that will undoubtedly show up on Pogba's next YouTube skill compilation. He'll be a joy to watch this season.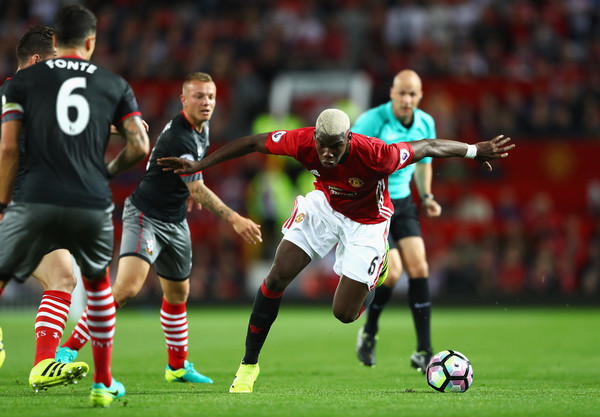 MID Wayne Rooney - 7
Rooney showed flashes of developing a partnership with Ibrahimovic on Friday night. Though they both enjoy occupying similar positions, both also seem to want to find each other whenever possible. There was no better example of that than Rooney's assist for the Swede's opening goal. He picked the ball up in a position that wasn't overly dangerous but immediately sought out his no. 9, and the ensuing cross opened the scoring. Rooney's first touch and passing still leave a little to be desired, but it was another solid performance from the captain.
FWD Juan Mata - 6
Friday's performance wasn't as good as the one that opened the season from Mata, but he was still involved in some good attacking play. United could be a bit disappointed they only scored twice, as there were a couple of great passages of play in the second half that could have lead to more goals. Mata was involved in those, but still left something to be desired. There wasn't enough end product from the Spaniard, and it will be interesting to see if he makes Mourinho's next starting XI.
FWD Anthony Martial - 6
The Frenchman was more involved in this game than the Bournemouth one last week, but he was still missing an end product. A couple of sparkling runs through the midfield caught the eye, but couldn't gloss over the fact that Martial had two terrific chances he didn't convert in the second half. Regardless, his pace remains vital to the United attack, and his partnership with Shaw continues to look promising.
FWD Zlatan Ibrahimovic - 9
The Swede wrote tomorrow's back pages once again with his two-goal performance. From the off, he seemed to thrive on playing in front of the Old Trafford faithful for the first time--his audacious overhead kick attempt early on underscored that. His work up front was soon rewarded when he opened the scoring with a powerful header. He continued to be involved in United's attacking play and took his penalty well to make it 2-0 in favor of the Reds. That's now four goals in three competitive matches.
Substitutes
FWD Henrikh Mkhitaryan - NR
Came on for Mata with less than a quarter of an hour remaining, found himself having to do more defending than attacking as Southampton looked for a comeback. Didn't do anything too noteworthy, but may find himself starting the next match after Mata was relatively unimpressive on Friday evening.
MID Ander Herrera - NR
Replaced Martial with about eight minutes still on the clock, and helped shore things up defensively. Was relegated to the bench for Pogba, but should play plenty of minutes this season; his passing ability is too good be sitting on the bench all the time.
DEF Chris Smalling - NR
Replaced Rooney just before the 90th minute to both assist defensively and get the defender back to game speed. Still a little way from playing 90 minutes, but on the right path.