 Sunderland new signing Donald Love, has said he is looking forward to making his debut at the Stadium of Light, against rivals Middlesbrough.
Already looking forward to it
Love became one of David Moyes' newest recruits, been a part of £5.5m double move from Manchester United, along with fellow defender Paddy McNair.
The Scottish defender actually made his debut on Wearside, during United's 2-1 defeat to the Black Cats last February.
Love made his first Sunderland appearance in the 2-1 defeat to Manchester City, and is now relishing his home bout against Aitor Karanka's side.
He said: "I can't wait for the game on Sunday." The full-back told safc.com, "I remember coming on at the Stadium of Light for Manchester United last season and the atmosphere inside the stadium that day was unbelievable."
The 21-year-old reiterated: "I'm sure the fans will recreate that noise and we can get a win." He remained adamant, "If we can get the fans behind us in the first 10 minutes and then get on top of them, it is a game you just want to beat them - win the game."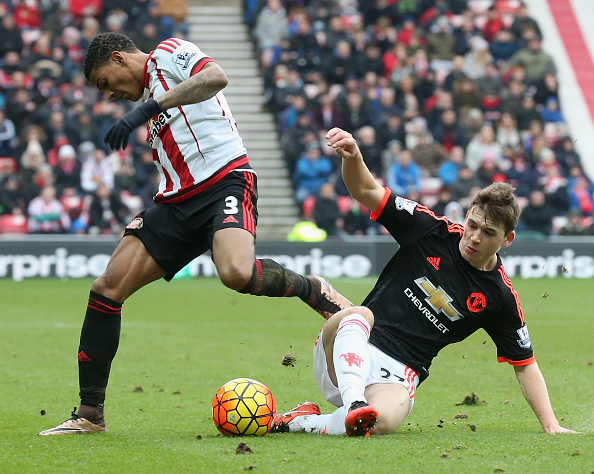 Time to move on
Love had been at the Red Devils since the age of seven, and was one of the youngsters that was given their first-team opportunity by former manager Louis van Gaal.
However that minor cameo on Wearside, would be one of two appearances he would make for United, and Love was adamant that he knew it was time to move on.
Love admitted: "It is very hard but you have always known it is time to move on", and was firm in the fact "I have got to the age of 21 and really want to start playing games regularly."
He concluded: "Hopefully I can come here and do that at Sunderland."
Sunderland AFC will take on Middlesbrough at the Stadium of Light on Sunday, August 21 with kick-off at 1:30pm BST.