So, that's it from us at the Stadium of Light for today. Make sure you stay with us here at VAVEL UK throughout the season, where we'll have live coverage throughout the Premier League campaign. Until the next time, I've been Sam France, and it's been a pleasure.
Middlesbrough fans have waited an awfully long time to hear these words, but they are now the highest-ranked North-East team in the footballing ladder! Sunderland look in real danger - how many North-East derbies will the Premier League see next season?
For all Sunderland's pressure and intent in the second half, Middlesbrough did as Middlesbrough do - they saw it out. Their goals in the first half would be worthy of winning any game (make sure you watch the highlights) and this time they weren't made to pay for a goalkeeping error. The bragging rights go to Teesside!
Full-time: Sunderland 1-2 Middlesbrough
90+4' Sunderland have a free kick on the halfway line to deliver but the delivery is woeful and Clayton, the first man, heads clear.
90+3' Gooch gives the ball away to Stuani and he has the chance to come forward with Nugent in space to his right, but his pass is poor and he gives it away.
90+3' 60 seconds remaining, and Boro have a throw-in deep in the Sunderland half. They can't hold onto it though, and Sunderland get a goal kick.
90+2' One minute down for Middlesbrough and Clayton scraps well inside the Sunderland half to win the ball back and hold onto it, before Nugent's fresh legs manage to run the ball away from a mass of red and white shirts.
90+1' Nugent comes on for Negredo, and we're into three minutes of stoppage time.
90' Sunderland look to string together a dangerous attack down the left but Clayton steps in to make an interception and Barragan volleys clear.
88' Djilobodji and Friend go for the ball and Friend goes down after a clash of heads at the back post. Boro's stand-in captain putting his body on the line as we enter the last two minutes of normal time, and David Nugent is being readied for the visitors - he'll happily come on and chase defenders around for the last couple of minutes.
87' Dangerous ball in from Love from deep on the right, but Gibson adjusts to smash it behind for a corner.
86' Ayala makes a towering headed clearance, Friend makes a good tackle. It's business as usual for Middlesbrough at the back but Sunderland keep coming at them.
85' Downing makes a good run down the left but Clayton wastes possession completely, scuffing a shot high and wide off the outside of his boot. For a player as good at keeping the ball as he is, that's poor. Sunderland attack but they can't quite make the ball stick and Guzan gets a free kick.
84' Adomah cuts in down the left and beats two men at the byline, but a third is waiting to knock the ball away before he can pull it back or work a shooting angle.
82' Yellow card for Gooch, and a return for Ayala - he comes on for Nsue, with Barragan moving over to right back.
82' Meanwhile, Dani Ayala is warming up to make his comeback from injury - that's huge for Boro. They hold onto the ball for a few moments, looking to take a bit of the sting out of the game.
81' Moyes makes his final change, Joel Asoro coming on for Watmore.
79' Adomah attempts a flick inside his own half and is tackled, but manages to hold onto the ball and launch an attack which comes to nothing. Not sure Karanka will be too happy to see the Ghanaian attempting tricks like that at this stage of a match which Middlesbrough are just about hanging on to. Sunderland are about to make another change.
78' Watmore looks to make headway down the right but Barragan is there to make a clearance - those two have been two of the best performers in the second half.
75' Januzaj attempts to get past two defenders on the right and beats one, but the second gets a foot in to stop him in his tracks.
74' Guzan isn't enjoying this second half, he fumbles another shot but this time manages to force it behind for a corner before Defoe can pounce on the loose ball. Sunderland are piling on the pressure but Clayton tackles Watmore well and finds Adomah on the break. His counter is eventually halted at the edge of the Sunderland area.
72' Friend and Downing lead the Boro fightback but Negredo takes too long to set himself for a shot and Djilobodji hacks it clear.
71' Negredo could yet live to regret that miss as Guzan makes a poor mistake, parrying Watmore's shot into the path of the rampaging van Aanholt to tuck in from close range. Credit to the Dutchman for making the run but Guzan should have done better with that for me.
71' GOOOALLL! Sunderland are back in it, van Aanholt with the goal!
69' Chance for Middlesbrough now! Stuani plays Negredo in down the right but it's a really heavy touch and he allows Mannone the chance to come out and claim it. He really should have done better there.
68' Watmore and Lens both attempt to get shots away inside the area but there are defenders there to block and clear on each occasion - Premier League fans are going to have to get used to this from Middlesbrough, it really is their forte.
67' Boro come forward through Downing, but there's no great hurry to get the ball into the area and eventually the move breaks down. They'll be happy to spend a couple of minutes with the ball in the Sunderland half, but another goal wouldn't go amiss.
65' That should have been a goal! It's Watmore with the ball across again and Defoe diverts it goalwards, but Gibson gets his foot to the ball - can Boro weather the storm, or do we have a game on again?
64' Watmore puts a square ball across but Lens doesn't make contact.
63' Sunderland are building up a bit of a head of steam in attack now, this time Januzaj wins a corner. He should have scored a moment ago but the ball in towards him was hit hard at him and he couldn't control his shot.
61' Watmore threads a ball for Lens just next to the penalty spot but Barragan slides in to make a great tackle and clearance. He's been brilliant in both matches so far this season - you wouldn't know he's playing out of position.
60' Adomah has moved over to the left with Downing in the centre, but expect the Middlesbrough three behind Negredo to be fairly fluid. Van Aanholt drives a first-time shot across Guzan towards the far post, but the American gets down to make an excellent save and tip it wide for a corner.
59' Lens pulls Gibson's shirt and slides through the back of him but asks for a penalty anyway - and it's Gaston Ramirez who is going off for Adomah.
58' Stuani delivers a decent ball in from the right after another exchange with Nsue, but there's a foul on Djilobodji and Sunderland get a free kick inside their own penalty area. Albert Adomah is getting ready to come on - not Stuani off, surely?
56' Pienaar has a crack from range, but it's not one he'll want to remember. It bounces twice on its way wide, and not just wide either - it's a shocking effort.
55' Sunderland are coming forward but they're struggling to break Boro down, as they're understandably sitting back when not on the ball. Gooch drives through the centre and works himself a yard of space for a shot but Nsue is on hand to make a block, with the ball then being cleared.
53' There's another niggly little foul from Clayton in midfield, nothing serious but he does need to watch his step as he's the only man currently on a booking. He's one of Middlesbrough's most crucial players but he does put himself about - don't be too surprised if he's replaced by youngster Julien de Sart at some point as the match wears on.
51' Van Aanholt comes forward but there's a Sunderland foul in the centre and Boro get the ball back with a free kick in their own half.
50' Attritional start to the second half, it's been played mostly in midfield. Defoe goes down under impact from Barragan inside the area but once the ball is gone, the forward was looking for the chance to go down. No penalty, and it's a good call from Martin Atkinson.
48' Sunderland have a free kick to deliver in from deep and they take their time taking it before Januzaj swings it in. Djilobodji wins the header but has to lean back and try to direct it back across the goalkeeper, and it bounces tamely into Guzan's gloves.
46' An early defensive free kick for Boro after an offside call against Pienaar. Lens almost threads the ball through for Defoe shortly after, but Barragan cuts it out.
46' Sunderland get the second half underway. Can they fight their way back into this game?
Jeremain Lens is on for Paddy McNair in the only half-time change for either side.
We're about to start again here, with Sunderland out early from the tunnel. If you wondered, Ipswich-Norwich finished 1-1 in the Championship earlier on.
Forshaw is only in because of an injury crisis and Stuani's inclusion raised some major eyebrows, but they've been among the standout players so far. Meanwhile, Sunderland's injury problems are deepening every week with O'Shea now on his way to the treatment room.
I did warn about going to sleep at the end of the half, and Sunderland's defence were wandering around with a nightcap and candle for that second goal. Januzaj looks the most likely to get them back into this, but Boro will be happy to play on the counter and try for a third.
Half-time: Two minutes of stoppage time is enough and that's it for the first half. Sunderland are going to need a cracking performance in the second half if they're getting back into this - Boro love to defend and they love to counter.
45' Forshaw threads a delightful ball in for Negredo, who cuts inside away from Rodwell and finds Stuani for a tap-in!
45' GOAL! Stuani has a second, Boro have a second!
45' Friend chops inside past his full-back well and finds Negredo, who shoots and wins a corner.
43' Downing attempts a cross-field ball on the counter but it's just beyond Stuani, who has to chase it out towards the wing. He's fouled by Gooch, and Boro opt to take the free kick short and hold onto the ball.
42' Negredo attempts a back-heel inside the area, but couldn't really have made it more obvious what he was planning and McNair intercepts it easily.
40' The game does seem to be settling down a bit as we enter the final stages of the half, but both sides need to be wary they don't switch off - a goal either way at this stage would be a massive boost for whoever could nick one.
37' Gooch brings out a couple of stepovers before firing his cross off Clayton and out for a corner. The set-piece is in deep towards Djilobodji but he can't quite time his header right and it flashes wide.
36' O'Shea's going to have to come off, this isn't good news for David Moyes at all. Steven Pienaar is coming on to make his debut with McNair dropping back into defence.
35' Downing's delivery is too deep and nobody can get a significant touch on the ball. John O'Shea is talking to a physio and just seemed to feel his thigh for a second, there - Sunderland could really do without another defender making his way off.
34' Ramirez does excellently to skim his way between two defenders and feed Negredo, but Djilobodji gets a foot in to stop the Spaniard breaking clear inside the area and it's a Boro corner on the left.
33' Watmore is in acres of space making a run through the centre as Defoe carries the ball down the left, but his pass is awful and Guzan scoops it up easily.
29' Defoe has the ball in the net, nodding in after Guzan saved his original shot, but he was well offside and there's no sort of appeal from the former England man.
28' Downing's cross from the left goes all the way over to Nsue on the other side, but the ball is nicked away from the feet of Ramirez. Barragan slides in well on Defoe before a bit of a coming-together between the two, both seemingly pretending not to see the other as they trip over each other by the byline.
27' The free kick is immediately cleared but Sunderland get the ball back and rebuild the attack. Rodwell picks the ball up in a central position and has a shot from range, but he looks slightly off balance as he hits it and scoops it well over the bar.
26' The first yellow card of the game goes to Adam Clayton after a fairly characteristic foul on Januzaj, who was threatening to break clear. Free kick in a good area for Sunderland on the right.
25' Love hits a fairly poor shot across goal after being found in space on the right, but it deflects into the path of Defoe who scissor-kicks an effort wide - didn't get the connection he was looking for, there.
24' Januzaj gets past Friend almost exactly as he did at the start of the game, but he opts to go with his stronger left foot and it's an easy clearance.
22' Watmore wins a corner for Sunderland after a mistake from Nsue, but Gooch's delivery is far too long and McNair can't head it back into the danger zone. Ramirez looks to pick out Negredo on the counter but it's over his head and easy for the Sunderland defence to pick off.
21' It's Forshaw's time to have a shot from range after a streaking run down the left from Downing, but he pulls his low effort comfortably wide. Boro have been on top since the goal, after seeing barely any of the ball before it.
20' Ramirez has a pop from range after being given lots of time to bring the ball down and turn, but a deflection loops the ball easily into hands of Mannone.
19' Negredo and Barragan, the former Valencia teammates, combine to clear the free kick away from danger but Sunderland get bodies back quickly and there's no opportunity for a counter. A long ball up the right wing is chased by nobody and Djilobodji has all the time in the world to tidy up, stroking the ball back to his goalkeeper.
18' It's a free kick for Sunderland to deliver into the area, about halfway into the Boro half. Januzaj to swing it in.
17' Sunderland get a throw over by the right corner flag after Forshaw can't properly clear after winning the ball from McNair. They give the ball away but Negredo's run down the left is halted by a strong tackle.
15' Sunderland look to come forward but Boro win the ball up around the halfway line and look to unleash Ramirez, but Mannone beats him to it and gets down well to claim the loose ball.
14' Stuani gets the ball in the Sunderland half on the right, delays a shot with some neat footwork before unleashing a fearsome shot across the keeper and into the far top corner. We're only in the second weekend of the campaign, but that's the goal of the season so far!
13' GOOOOOOAAALLLLLLL! It's an absolute screamer from Cristhian Stuani!
11' The corner is taken short and cleared quickly, but good pressure from the hosts means Boro have to settle for a throw well inside their own half. Sunderland have started the game much better and Ramirez' attempt to counter is cut out.
10' Defoe gets the ball inside the area after more good work from Januzaj, but Barragan hoiks it behind for a corner.
9' Gooch cuts inside on the right and delivers a dangerous cross from deep, but it just bounces too far for Januzaj to get onto and Guzan watches it past the post.
6' The visitors have their first real spell of possession in the game and there's a nice exchange between Stuani and Nsue on the right, but the move breaks down as they switch play over to the left.
4' Januzaj gets the ball in a good position on the left following a short free kick and he attempts a shot, but it's instantly charged down by a defender. The young Belgian looks lively already today.
3' Januzaj gets past Friend down the right and comes infield, but his cross doesn't match the run and Guzan gets down to catch it.
2' Bit of a worry for Boro here, Negredo and Djilobodji in a clash of heads near the halfway line - no malice in it but the ball is put out as Negredo stays down and is walked off the field. Looks like he'll be alright to come back on.
1' We're off! A nice handshake between the managers, and Boro get us underway with kick-off. Not an ideal start for them as Friend puts it straight out of play from the left-back position, but there's a Sunderland touch and it's a Middlesbrough throw.
The teams are in the tunnel, about to make their way out. O'Shea and Friend leading their sides today.
Five-minute warning: we're almost ready!
Into the final 15 minutes of build-up before we get underway and with both sides out warming up, the atmosphere is building nicely at the Stadium of Light. Our Twitter poll is leaning heavily towards a Middlesbrough win, but in fairness it was our Boro account that tweeted it.
There are some suggestions on Twitter that Jordan Rhodes is being allowed compassionate leave due to a family bereavement, but we stress that there is no confirmation of this and it could be merely rumour. Our condolences to Jordan and his family if true.
Meanwhile, David Moyes says he is excited to be back in English football, and thinks that Sunderland are the right club for him; he sees similarities between the Black Cats and Everton, when he first joined the Toffees.
Aitor Karanka looks fairly jovial talking to Sky, and he confirms that Valdes is out through injury - he'd felt something during the week but been expected to play today, but the call has been made and Brad Guzan is in for his competitive debut.
Half an hour to go and there are definite nerves from both sets of fans, neither seeming completely satisfied with their respective squads today.
Ipswich are level against Norwich - Jonas Knudsen has equalised just before half-time from left-back.
With Khazri, Lens, Adomah and Fischer all watching from the sidelines from the off, there are exciting options on the bench for both managers if things aren't going well. Moyes or Karanka - who will blink first?
Obviously, Twitter is now doing as Twitter does. With Rhodes not in the squad, there are murmurs that he's on his way out which have caused further murmurs that there's another forward on his way in. Will he get his Premier League chance with Boro this season?
Remember, we also have dedicated Twitter accounts for both of these sides - check them out @SunderlandVAVEL and @Boro_VAVEL.
Elsewhere, there's an early kick-off going on in the Championship right now and Cameron Jerome has struck to give Norwich the lead over Ipswich. 25 minutes in there.
Januzaj, McNair, Love and Djilobodji are making their home debuts for the Black Cats, while there is also no place in the Boro squad for Jordan Rhodes. Ayala's inclusion in the matchday squad is a timely boost.
Middlesbrough subs: Dimi, Ayala, Baptiste, De Sart, Adomah, Fischer, Nugent.
Sunderland subs: Pickford, Khazri, Lens, Pienaar, Asoro, T Robson, J Robson.
Well, well! Djilobodji and O'Shea come in to plug the gaps at the back for Sunderland, while there is no Victor Valdes in sight for Boro - Guzan starts with Dimi on the bench. Not sure many would have predicted Stuani in for Adomah, either!
Middlesbrough XI: Guzan, Nsue, Barragan, Gibson, Friend, Clayton, Forshaw, Stuani, Ramirez, Downing, Negredo.
Sunderland XI: Mannone, van Aanholt, Djilobodji, O'Shea, McNair, Love, Rodwell, Gooch, Watmore, Januzaj, Defoe.
With about an hour until kick-off now, we should have some team news coming up soon. Don't expect too many changes from Boro, but Sunderland's line-up is anybody's guess.
With Boro having spent the last few years in the Championship and David Moyes only just starting life on Wearside, both of the manager's are experiencing this fixture for the first time. However, both Moyes and Aitor Karanka say they appreciate exactly how important this game can be to the local fanbase - especially with Newcastle being nowhere to be seen.
He'll be one of the men tasked with shackling a resurgent Gaston Ramirez, who looked every inch the player Southampton thought he was going to be against Stoke last weekend. Here's a feature we had on him earlier in the week, on why the silky Uruguayan needs to be protected for Boro's sake.
However, after playing well against Manchester City last week, Sunderland's young defender Donald Love will be hoping to carry on the good form - he says he can't wait for this one.
With Sunderland's back line looking so uncertain, the recent contract news on Teesside will be all the sweeter for Middlesbrough fans. After Dani Ayala signed a new deal a week ago, this Saturday it was Ben Gibson's time to put pen to paper on a new deal until 2021.
Perhaps the biggest absences will be battling midfield pair Lee Cattermole and Grant Leadbitter, who came through the youth ranks at Boro and Sunderland respectively before eventually finding themselves swapping round on opposite sides of the Wear-Tees divide. There would have been no shortage of bite with those two involved, and probably no shortage of cards either.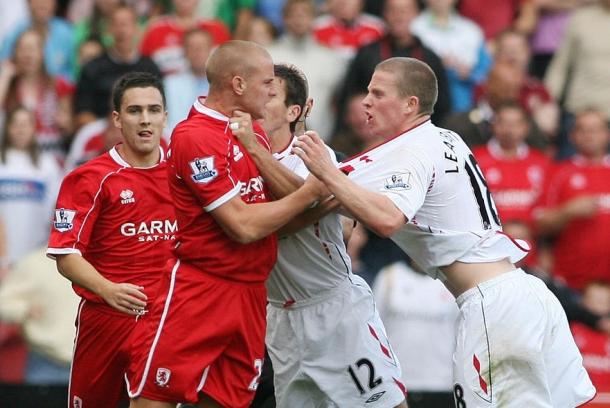 For Middlesbrough, Daniel Ayala and Bernardo Espinosa both featured for the club's under-23s in midweek and could be in line to play, but summer signing Marten de Roon is out with a hamstring problem sustained early in last weekend's game against Stoke.
Last weekend's central defensive pair are both out - Lamine Kone with a back injury and Younes Kaboul having just joined Watford - while Billy Jones and Jan Kirchhoff are also out. Seb Larsson won't feature, but new signing Steven Pienaar could.
There have been no more than two goals in any of the last five games between these sides in all competitions, so you might expect a low-scoring contest. However, with Sunderland going through something of a defensive crisis at the moment, the visitors will be hopeful of making an impression.
With 61 wins to 44, Sunderland have the overall better record in this fixture, while there have also been 37 draws. Boro won the last outing, though - a 1-0 win here at the Stadium of Light in the League Cup four years ago, thanks to a close-range finish from Scott McDonald.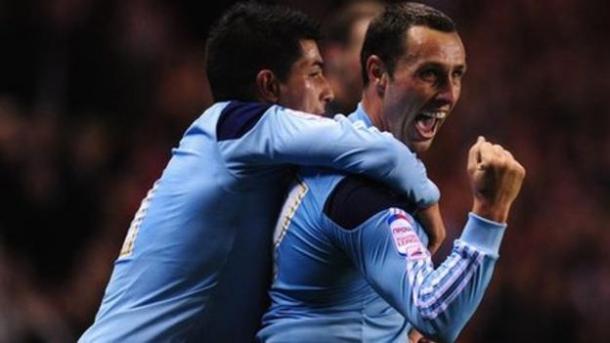 Middlesbrough, meanwhile, welcomed Stoke City to a packed-out Riverside Stadium for a one-all draw. Marquee summer signing Alvaro Negredo got off the mark in the early stages of the game, but they were pegged back in the second half by a stunning free kick from Xherdan Shaqiri. Match report here.
Sunderland travelled to face Pep Guardiola's Manchester City last weekend, and only narrowly lost out after a late own goal from Paddy McNair. They lost 2-1 at the Etihad, with Jermain Defoe bagging their goal - read our comprehensive match report here.
Both sides are coming into this game after promising performances in their opening games, though only the visitors have a point.
Gooooood afternoon and welcome to our live text commentary of Sunderland vs Middlesbrough in the 2016/17 Premier League. Kick-off is set for 1:30 and we'll have all the minute-by-minute build-up, coverage and analysis of the first North-East derby of the season.