 Jürgen Klopp has refused to rule out more Liverpool signings before the end of the transfer window but says he won't do business purely based off of their defeat to Burnley.
In just their second game of the new Premier League season, Klopp saw his side fall 2-0 to the newly-promoted Clarets in dismal fashion.
Sam Vokes opened the scoring inside just two minutes to deal the worst start possible for the Reds, whose deficit was doubled before the break after Andre Gray's strike.
Liverpool couldn't find a response to prevent a first loss of the campaign at Turf Moor, as the squad's glaring weaknesses - particularly their defensive frailties - were exposed.
They dominated possession - completing more passes in the final third than Burnley managed in total - but could do very little with it, as the statistics revealed most of Klopp and co.'s use of the ball was in going sideways.
But despite the underwhelming manner of the defeat, Klopp insists he will not overreact and make panic buys because of what he called an "off day."
I'm undecided on new signings, admits Klopp
Klopp declared that if "one game" would change his mind then he would be "a real idiot" and said: "If that was the case, how could I be here?"
The sale of Christian Benteke to Crystal Palace this week, in a deal worth up to £32 million with all the potential add-ons, means Liverpool have recouped more in player sales than they have spent on signings.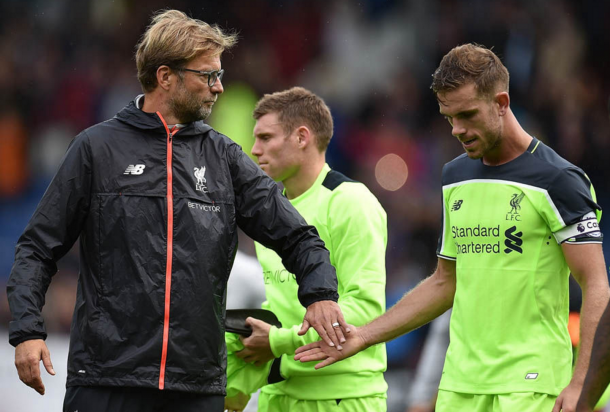 Regardless, Klopp is said to always have had complete backing from the club's owners Fenway Sports Group - whom entrust him with the funds to mould his squad.
But Klopp gave little away as to whether he would further invest before August 31, saying: "Will I [spend money]?" The answer is I don't know. We will see."
"It makes no sense to be overly critical of the players"
The German blamed his side's decision-making, and lack of penetration in the final third, as the key reason for Liverpool's downfall against Sean Dyche's well-drilled side.
But despite acknowledging that his side deserved no more than what they got in East Lancashire, Klopp also assured supporters that there is plenty of time remaining for Liverpool to respond and improve.
He declared that the tale of the "whole game" was "explained by the two goals", insisting that his side "could have scored five" and that they "can ask if it's fair" that the home side "had two good moments" while Liverpool "had 500" and yet stil lost 2-0.
However, the Reds boss added that it is his side's "job" to get the "result which we deserve" and admitted that they "obviously" deserved a defeat on Saturday.
"I don't like it," Klopp revealed, insisting that he was "really angry" and particularly "around the first goal" because "it was so unnecessary."
He added that he was "not angry at half-time" because, at that time, it "makes no sense" although he declared if it makes sense to express his anger to his players, then he will do so without hesitation.
Klopp added that when he feels the need to "put the finger on what went wrong" then he will, but insisted that he will not go to Nathaniel Clyne and question his actions in the build-up to Vokes' goal.
He declared that it "makes no sense" to do so, because the players "know it already" that "this is not the pass we want to play", and insisted he will only be angry when "angriness helps" rather than just because.
Boss laments Reds' inability to defend counter-attacks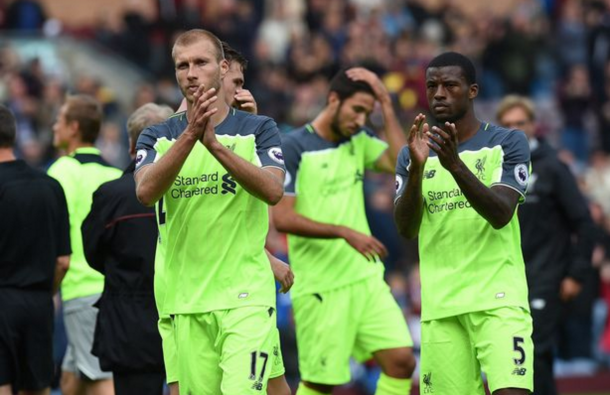 After two games, only Stoke City have conceded as many goals as Liverpool's five but Klopp insisted the root of their problems is not from defending, but their transition from attack to defence.
"I know we discuss this and we alwayts talk about it," continued Klopp on the goals his side leaked, stating that it's "an offensive problem" rather than "a defending problem."
He insisted that when they "lose the ball in the wrong moment" then their opponents "are gone", adding: "You can say that we should be ready in our development and these mistakes should not happen anymore, but obviously in our training drills we didn't play the ball straight to our opponent."
He admitted that they "did it in the game" and put themselves "under pressure" but said optimistically that it is still only "the second game" and they had "36 [games] left" which he says is "a big number."
And despite the disappointment of losing, Klopp felt that there were "a lot of good things" to take from the game, insisting a year ago - if he were told they would "play at Burnley like this" then he "would be really surprised."
Klopp admitted that his side "lost concentration" and "didn't force them to make these defensive movements again" but didn't get too carried away, declaring: "It's just an off day, just an experience that we didn't want."