Barcelona have confirmed, via a technical director, that Manchester City and the Catalan club have the "beginning of an agreement" for the signing of goalkeeper Claudio Bravo as England number one Joe Hart is pushed further down the pecking order.
It has arguably been the transfer story of the summer amongst City fans, with the inevitable departure of Joe Hart has caused a great divide within the City faithful. On one hand, there are those that say Guardiola ought to be trusted and that he needs full control over transfers and his squad. Meanwhile, there are those who see it as an outrage that Hart is being cast aside after many years of impeccable service to the club.
Guardiola close to bringing in goalkeeper that fits style
The replacement in question is Barcelona's Chilean international and two-time Copa America winner, Claudio Bravo. Since completing his move from Real Sociedad in 2014, Bravo has gone on to establish himself as one of the best keepers in La Liga. Last season he kept 16 clean sheets and averaged 3.40 saves per goal.
The news of Bravo's move has been speculated for a long time now but last night concrete information was presented. Barcelona's technical secretary, Robert Fernández was quoted by Barcelona's official Twitter account saying; "We have the beginning of an agreement with Manchester City for Claudio Bravo".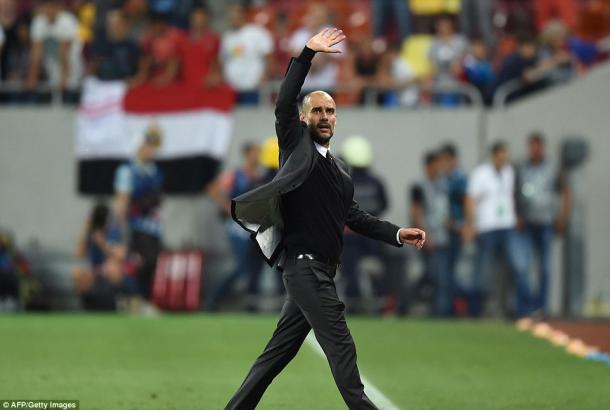 However, it is not his goalkeeping ability that has Guardiola interested, Bravo's ability with the ball is what the new manager desires most in his new look Manchester City side, a part of Joe Hart's game that is far from impressive. Whilst Hart can boast a greater distribution length in comparison to Bravo, an average of 40m to Bravo's 22m, Bravo's accuracy is far greater than Hart's, 86% compared to Hart's 59%.
Bravo signing pushes Hart away from Manchester City
Bravo's move to the Etihad is rumoured to be in the region £14m, a value for money deal some may argue given the pedigree of keeper City will be acquiring. This morning it was confirmed by Barcelona's official Twitter feed that Bravo had been granted permission to skip training presumably to finalise his deal with City.
So it would appear that Hart's departure is now a question of when now and not if. It will be a painful goodbye to one of the clubs best loved players, however faith must be put in Guardiola and his judgements must be respected. Bravo will be a fine addition to the squad and perhaps the difference in a title race, perhaps even a Champions League campaign, a prize Bravo has won and a prize that City dearly crave.